The Learning Journey Programme
Welcome to the Learning Journey!
Every week, the Learning Journey gives you suggestions for two worksheets (one English and one maths) that, over the course of the school year, will help your child review and master all the core areas of learning that they'll be taught in the National Curriculum that year… in just a few short at-home sessions each week. (There's also a science worksheet recommendation, if you'd like to follow to Science Learning Journey programme for your child's school year too.)
There is a Learning Journey programme for English, maths and science for every year of primary school – from Reception to Year 6. Work through the worksheets we recommend each week, and over the course of the year your child will cover all the key topics in the curriculum for their school year – including the relevant times tables and maths topics for their year as well as handwriting, reading and writing skills.
By following the programme, which closely mirrors what your child is being taught in school, you'll quickly be able to spot any topics that your child hasn't fully grasped and reinforce learning that is happening in the classroom at home. Your child will feel more confident in their own abilities and you'll know you are giving your child the very best chance of succeeding in school.
We'll even email the worksheets direct to your inbox each week, so all you have to do is print them out.
And there are fun games, reward charts and certificates to use along the way to make it an exciting learning journey for your child as well.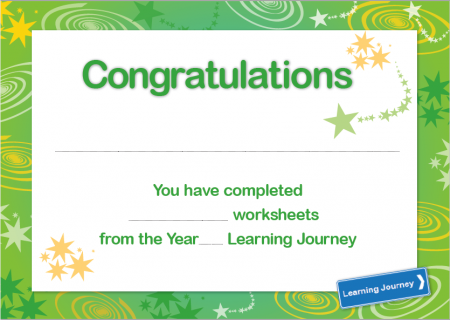 There are two different ways that you can use the Learning Journey:
Option 1: Pick and choose the worksheets you want from the listing in the site
If you prefer a less-structured programme but like the idea of being able to pick and choose from the 40 targeted English, maths and science worksheets in each year's programme, then just visit the appropriate Learning Journey on the site for your child's school year (use the slider at the bottom of the page to scroll through all the different Learning Journeys).
You can then go straight to a worksheet that will support an area in which your child needs extra support, or for children that are eager to get ahead, start a new topic. And, of course, you can supplement any worksheets in the Learning Journey with the 1000s already available on the site.
Option 2: Complete our suggested worksheets with your child (emailed to your weekly)
If you want to follow the programme, we'll send you an email every Wednesday with your two worksheets for that week (and an additional science recommendation) – as well as links to other great new worksheets on the site (see left for an example of the email).
The two worksheets that you will be sent in your email are specifically targeted at your child's school year and form part of a structured journey through the curriculum. They'll also be exactly the right kind of activity for stimulating the brain of a child of that age.
It doesn't matter if you start the Learning Journey part-way through the year either, as you can always go back to the Learning Journey on the website and download any worksheets from earlier in the programme that you think your child might benefit from.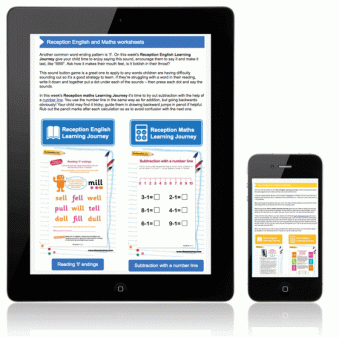 Our aim in creating the Learning Journey has been to make your job as a parent just that little bit easier – and to ensure that your child is receiving the kind of support at home that can make all the difference.
There's also:
A checklist for you so you can keep check of which worksheets you've done.
 
A colourful reward chart that your child can fill in themselves to get excited about the journey.
 
A collection of certificates.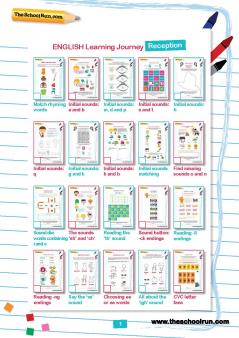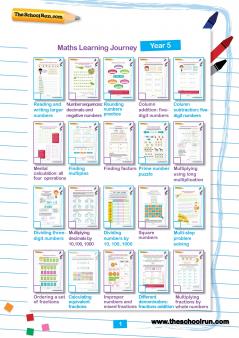 Plus.. check out our additional Learning Journey programmes for:
How to get started
Access to the Learning Journey is a benefit available to all TheSchoolRun subscribers. If you are already a subscriber just log in as usual and then use the slider at the bottom of the page to go to the English Learning Journey, Maths Learning Journey or Science Learning Journey for your child's school year. You'll automatically receive the weekly Learning Journey email each Wednesday.
If you aren't a subscriber, why not consider taking out a FREE 14-day trial? That would give you 14 days to explore the Learning Journey with your child and see how it could benefit you for the whole of your child's primary education. And, of course, your trial subscription will also give you access to all the other great educational resources on TheSchoolRun – there are now over 5000 worksheets, learning packs, workbooks and SATs practice papers on the website.
 
Find out more about How the Learning Journey works.