Starting school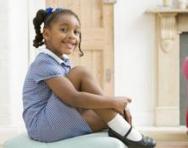 Worksheets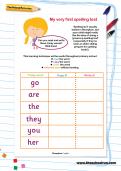 My very first spelling test
Spelling isn't usually tested in Reception, but your child might really like the idea of doing a 'grown-up spelling test' (especially if they've seen an older sibling prepare for spelling tests!).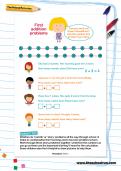 Can you use your addition skills to work out these calculations? Use the number line to help if you want.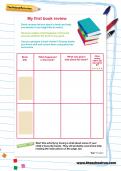 As your child grows more confident in their reading they will be asked to reflect on what they read and review it. Help them get used to reviewing books with our template – they can use words and pictures to share their views. Will they give the latest reading practice book five stars or one?
Also see:
Get your child's school days off to a flying start - no worries, no stress, no panic! Created especially for parents of new school starters, our brilliant eBook answers every question you might have about your child's primary education.
Inside The Essential Guide to the First Years of School, you'll find over 220 pages jam-packed with the latest information and guidance on every stage of your child's learning journey, plus handy hints, tips and at-home learning activities to help them reach their full potential.
This bumper eBook of carefully crafted, interactive activities is ideally suited for parents of children in the earliest stages of their education. With 60 bright, entertaining and beautifully illustrated activities, all with easy to follow guidelines, this book is perfect for getting 3-5 year olds on the road to learning fun.
In The Nursery and Reception Activity eBook, you will find activities that require nothing more than some quality time with your child and objects you have lying around your house.
The activities are grouped together by 10 themes – from dinosaurs to the farmyard, via nursery rhymes and 'people who help us'. Each activity is beautifully illustrated and comes with any accompanying worksheets or other resources (like board games) you might need to make the most of it.
Everything is laid out and explained simply, so that as you 'work' through the activities you will always understand how to go about enjoying them and exactly what your child is getting from each one.
With the emphasis on fun, interactive activities that we can enjoy with our young children, The Nursery and Reception Activity eBook is packed full of brilliant activities, games, songs, rhymes and more to make learning a real delight.