Word puzzles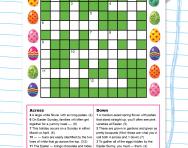 Who doesn't love a puzzle? The beauty of the word puzzles you'll find in this section is that they are a great way of getting your child to revise key literacy skills, without them even realising it!
We've got word puzzles for KS1 English and word puzzles for KS2 English. including wordsearches and crosswords that focus on core spelling and vocabulary skills such as suffixes, homophones, plurals, homonyms.
Plus, there are lots of seasonal crosswords to keep them busy in the holidays, as well as a KS1 word puzzle pack and KS2 word puzzle pack and recommendations for great word games and word puzzle apps.
Worksheets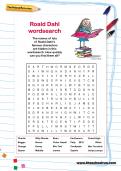 Witches, foxes, earthworms and more – they're all wonderful characters from Roald Dahl's books. See if you can spot the names of 20 children, villains and creatures from The BFG, Danny the Champion of the world, Charlie and the Chocolate Factory and other Dahl classics in this wordsearch. How quickly can you complete it?
View Worksheet
Write your own homonyms crossword puzzle
Homonyms are pairs of words that are spelled and pronounced the same way, but have different meanings. Look at these words. Can you work out the two different meanings? If not, look them up in the dictionary. On the next page you'll need to create TWO crossword puzzles where the homonyms are the answers. Each word will need two different clues, one for each meaning.
View Worksheet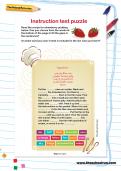 This instruction text worksheet helps your child understand the correct way to explain a detailed process, and also gives you a recipe for a tasty treat!
View Worksheet
Also see:
Take a break from homework and spelling drills with this collection of word puzzles for Key Stage 1! Each one covers a different concept that your child will learn in English lessons, but presents it as something to solve by remembering what they've been taught in class.
Are you and your child tired of the same old English revision and practice sessions? Try something completely new and give them these fun English word puzzles instead! They'll review everything from connectives to apostrophes, using what they learn in class to solve codes, crosswords and wordsearches.

Calling all crossword lovers!
Crossword are not only great fun, they are also a brilliant way of reinforcing spelling. Let your child have a go at these for starters: