Year 5 Science Learning Journey
How to get started on the Year 5 Science Learning Journey
You can work through the worksheets below in order or you can pick worksheets that match topics your child is currently covering at school.
There is also a Year 5 science Learning Journey checklist to help you keep track.
Alternatively, check out your child's dashboard on the home page. You'll find this week's worksheet from the Year 5 Science programme (as well as the Year 5 English programme and Year 5 Maths programme). You'll also find guides for parents on the topics your child is learning, so you can explain it to them, plus topic-focused activity packs for you to explore if you have time to spare.
In Year 5 science your child will learn about living things, their habitats and life cycles, animals (including humans), the properties and changes of materials and Earth and space. They will also investigate the forces of gravity, air resistance, water resistance and friction.
Learning how to be a scientist means starting to ask questions about scientific concepts and carrying out experiments to find out the answers. Your child will understand what variables are and how to control them, take measurements from a range of equipment, gather and record data, use test results to make further predictions and to set up further comparative and fair tests and finally make conclusions based on what they have observed.
For more information, we'd recommend you read Year 5 Science: what your child learns.
Don't forget! We have a whole section of the site about Year 5 Science where you'll find even more articles, games, worksheets and activities.
Celebrate success with a colourful certificate!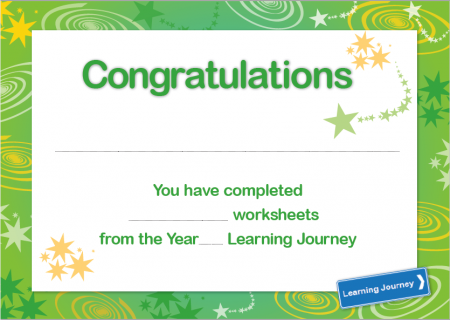 Click the signposts below for even more Year 5 science worksheets...