Subtraction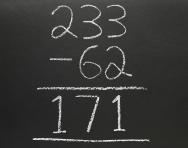 Learning about subtraction starts in the very first year of primary school and is developed right the way through to Year 6.
If your child is struggling with the concept, or has subtraction homework, you'll find lots of subtraction worksheets in this section to help you explain subtraction and reinforce learning at home of each of the subtraction skills, from counting back in hops and subtraction on a number line, to two-digit subtraction and three-digit subtraction, horizontal subtraction and decimal subtraction.
Worksheets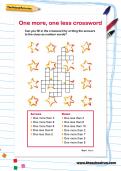 One more, one less crossword
Can you fill in the crossword by writing the answers to the clues as number words?
View Worksheet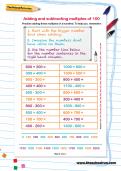 Adding and subtracting multiples of 100
Practise adding these multiples of a hundred. To help you, remember: 1. Start with the bigger number first when adding. 2. Imagine the numbers don't have zeros on them. 3. Use the number line for the number sentences in the right hand column.
View Worksheet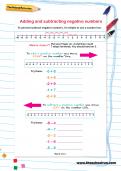 Adding and subtracting negative numbers
To add and subtract negative numbers, it's helpful to use a number line. See if you can complete these sums using the number lines.
View Worksheet