Reading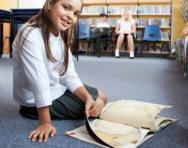 Learning to read, and then being able to understand a wide range of literary texts, is probably the most important skill your child will master in primary school, and it's almost certainly something you'll be asked to support at home. In this section of the site you'll find lots of advice and information for you to help your child learn to read, improve their reading, and experience a wide range of texts.
Find out about how reading is assessed and all about school reading schemes and then download reading worksheets to develop skills and foster a love of reading that will last a lifetime.
Worksheets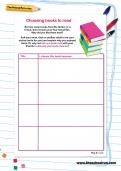 Borrow some books from the library or a friend, then choose your four favourites. Why did you like them best? Ask your mum, dad or another adult to be your scribe (write for you) and explain why you enjoyed them. Or why not set up a book club with your friends to discuss your book choices?
View Worksheet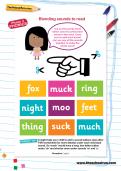 Blending sounds to read (Phase 3 phonics)
Cut out the pointy hand and use it to press each sound in the word. Once you've said each sound can you say all the sounds together to make the whole word?
View Worksheet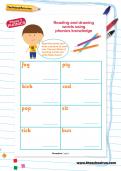 Reading and drawing words using phonics knowledge (Phase 2 phonics)
Read the words and draw a picture showing what the word says.
View Worksheet
Also see:
Help your child explore books and language with TheSchoolRun's Book reviews activity pack, a huge collection of reading comprehension and creative writing resources for Year 1 to Year 6.
Written by English teacher Sue McArdle, the Book reviews activity pack is filled with colourful templates, story starters and literacy-lovers' ideas to help Y1 to Y6 children explore texts and deepen their understanding of what they read.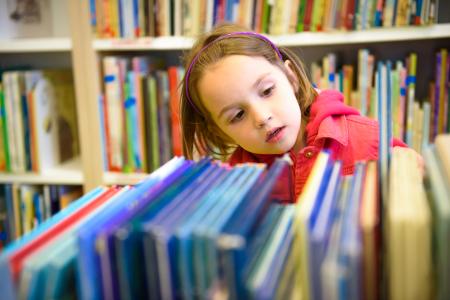 Books for every age, stage and interest
Whether they love fiction or non-fiction, short stories or sagas, poetry or prose, there's a world of books for your child to discover at the library and in bookshops. It can be hard to know where to start when you're choosing a great kids' book, so here are a few recommendations to add to your child's reading wish list.
And for specific ages and stages:
Best books for kids who know what they love to read:
And, of course, for seasons and events!