Reading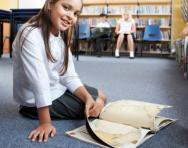 Learning to read, and then being able to understand a wide range of literary texts, is probably the most important skill your child will master in primary school, and it's almost certainly something you'll be asked to support at home. In this section of the site you'll find lots of advice and information for you to help your child learn to read, improve their reading, and experience a wide range of texts.
Find out about how reading is assessed and all about school reading schemes and then download reading worksheets to develop skills and foster a love of reading that will last a lifetime.
Worksheets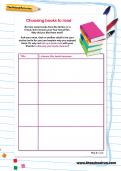 Borrow some books from the library or a friend, then choose your four favourites. Why did you like them best? Ask your mum, dad or another adult to be your scribe (write for you) and explain why you enjoyed them. Or why not set up a book club with your friends to discuss your book choices?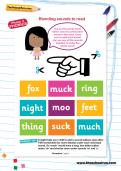 Blending sounds to read (Phase 3 phonics)
Cut out the pointy hand and use it to press each sound in the word. Once you've said each sound can you say all the sounds together to make the whole word?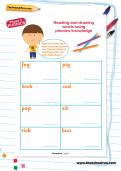 Reading and drawing words using phonics knowledge (Phase 2 phonics)
Read the words and draw a picture showing what the word says.
Also see:

Wish your child loved books as much as the TV and games console? Engaging with English is packed with ideas to make four classic books come to life. You and your child will enjoy every moment of having adventures in a deep, dark wood, organising a Gruffalo party, investigating your family tree, creating a photo-story, making a park scene in a box and discussing metaphors and similies - yet all the activities are designed to support literacy learning as detailed in the national curriculum. The books you will be reading and discussing are:
The Gruffalo by Julia Donaldson and Axel Scheffler
Stick Man by Julia Donaldson and Axel Scheffler
Voices in the Park by Anthony Browne
Looking after Louis by Lesley Ely and Polly Dunbar