Best books for Wimpy Kid fans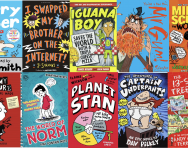 Does your child love the laugh-out-loud, comic-book style of the Wimpy Kid journals? Children's literature reviewer and primary school teacher Scott Evans has some book suggestions to keep fans of Jeff Kinney's hilarious Wimpy Kid diaries reading (and giggling).
(£6.99, Scholastic)
Almost as popular as Wimpy Kid on this side of the Atlantic is Tom Gates, created by Liz Pichon. Dubbed by some as 'The British Wimpy Kid', Pichon combines her wonderful illustrations with an equally well-constructed story in each of these best-selling books. You're guaranteed lots of laughs and a child who will want to devour the whole series!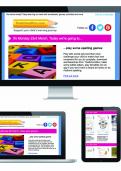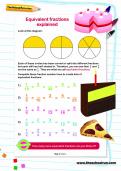 Boost your child's maths & English skills!
Follow a weekly programme
Maths & English resources
Keeps your child's learning on track
(£6.99, Orchard)
Norm feels like his life couldn't be any more unfair, but the book series he stars in is witty, warm and incredibly funny. You'll have to start reading to find out why he's about to pee in his dad's wardrobe... Accessible and easy to get into.
(£5.99, Macmillan)
Andy and Terry live in what has to be the world's best treehouse – and it seems to expand in the most imaginative ways with every book! Packed full of crazy cartoons and illustrations that add to the humour, this is sure to be a winner with Wimpy Kid fans. Perfectly pitched for children who are moving on to reading chapter books independently.
(£6.99, Egmont)
If you're a big fan of comic-book, "middle-grade" journals you're going to be a big fan of Barry Loser. It comes with ringing endorsements from children and adults alike, is a winner of the Roald Dahl Funny Prize and subsequent books in the series have been nominated for the Lollies (The Laugh Out Loud Book Awards). Get ready for the giggles!
(£5.99, Scholastic)
I can actually remember reading these books at primary school myself! This wildly popular series stands the test of time with its always-increasing army of fans. Recently made in to a film franchise and filled with enough toilet humour to last a reading lifetime, Captain Underpants will always be a big hit with kids aged 7 to 11.
(£6.99, Arrow)
Like me, you probably know James Patterson best for his chilling crime books written for adults, but
he has turned his hand to children's writing rather successfully too
. Aimed at slightly older readers (aged 9+), the hugely successful Middle School series features ordinary schoolboy Rafe and his trials, tribulations and encounters with bullies and broccoli and boogers at Hills Village Middle School, the site of the very worst years of his life.
(£6.99, Egmont)
THE TRUTH IS A LEMON MERINGUE! Pardon? THE TRUTH IS A LEMON MERINGUE! That's all you'll be saying after reading one of the wacky, crazy Mr Gum books, published in over 30 languages. (And just so you know, Mr Gum is a complete horror who hates children, animals, fun and corn on the cob. You'll love him.)
(£6.99, Walker)
Meet Timmy Failure, a resident expert in failure with his own detective agency (aptly named Total Failure, Inc.). Complete with endorsements from Jeff Kinney himself, this is the lesser-known, catastrophically funny series that should be recommended to every 8-9 year old reader.
(£6.99, Hodder)
A brilliant book best summed up by its brilliant title. Dylan has always wanted a superpower, but the one that's given to him is not the one he imagined having: talking to iguanas. Find out how Dylan makes the most of this unusual gift – and saves the world (of course)! If you're hooked, follow the adventures of the world's lamest superhero in the sequel,
Iguana Boy Vs. the 30 Second Thief
.
(£6.99, Bloomsbury)
Jonny hates his brother and decides to 'sibling swap' him for another one. But will technology turn out to be helpful or harmful? And will Jonny find that he's better off with a new brother or that he had the brother he wanted all along? Jo Simmons mixes humour with heart in this rollicking good story.
(£6.99, OUP Oxford)
Full of puns, with a main character who's reminiscent of a young Sheldon Cooper from
The Big Bang Theory
, Planet Stan is a highly entertaining ad-VENN-ture that's loveably BAR-my with hilarity, humour and hap-PIE-ness in all the right places… Mixing mathematics with laughs is a masterstroke – after all, who doesn't love a geek?
(£12.99, Simon & Schuster Children's UK)
A female version of
Wimpy Kid
, the
Dork Diaries
series has made author Rachel Renee Russell the seventh biggest children's book author in the UK, with over 45 million books in print worldwide. Like
Wimpy Kid
's Greg Heffley, the Dork Diaries' main character, Nikki Maxwell, chronicles her daily life in middle school in a diary format, with doodles, drawings and comic strips.
Birthday Drama
is the thirteenth book in the series, which was first published 10 years ago, and a new series with a male protagonist,
Max Crumbly
, is also available.
(£12.99, HarperCollinsChildren'sBooks)
If your child loves the blend of words and illustrations in chapter books, introduce them to the genre master, the inimitable Lauren Child (creator of Charlie and Lola, Clarice Bean and Ruby Redfort). Hubert Horatio is an intelligent, talented and sensible child – with irresponsible, unruly parents. Follow his laugh-out-loud adventures as he attempts to keep them out of trouble (an exhausting endeavour). Witty and wonderful.
(£6.99, Hodder Children's Books)
Omar is an ordinary British boy: his parents have decided he has to move house (fine) and move schools (bad) and the class bully thinks he makes the perfect target (awful)... but at least Eid is on the horizon, so there are feasts and presents to look forward to!
Tom Gates
-style adventures and funny illustrations make this diary of a Muslim schoolboy's life relatable to kids from all backgrounds.
(£12.99, Puffin)
Return to the world of Wimpy Kid with a new perspective: for the first time, Greg Heffley fans hear from his best friend Rowley, who sees things rather differently. Is Greg the great friend he thinks he is, or could he actually be a bit of a bully? Ask your child what they think after reading Rowley's journal and kick-start a discussion about how we all remember and feel differently about the same events.