You and your child's teacher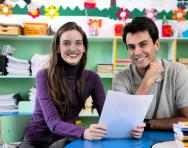 Also see:

Preparing for parent-teacher meetings
If you've got parents' evening coming up, or have made an appointment to see your child's issue, make sure you are prepared beforehand so you can make the most of your time. Here are some great tips:
Get your child's school days off to a flying start – no worries, no stress, no panic! Created especially for parents of new school starters, our brilliant eBook answers every question you might have about your child's primary education.
This eBook will help you:
    Understand what schools do and what their priorities are
    Understand what school life is like for your child – from the start of their Reception year, right up until they take their Key Stage 2 SATs in Year 6
    Learn more about the different people and initiatives that shape your child's learning experience
    Understand more about how you can help your child to get the most out of their time at school
Inside The Parents' Guide to Primary School you'll find over 220 pages jam-packed with the latest information and guidance on every stage of your child's learning journey, plus handy hints, tips and at-home learning activities to help them reach their full potential.
You and your child's teacher