Great gift ideas for teachers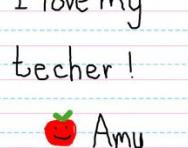 Chocolates or smellies are typically the gifts of choice but if you fancying giving something more original try one of these ideas.
Homemade cakes and biscuits
Making cakes or biscuits as an end-of-year gift for teachers shows plenty of thought, and is a fun activity for your child, too. Choose an easy but delicious recipe, such as white chocolate and cranberry muffins. 
Paint a mug
Tea or coffee is what gets most teachers through the day (we can all relate to that!) and a mug is a keepsake they can use for years to come. To make this gift more personal, buy a paint-your-own-mug kit and your child can decorate the mug themselves. Plenty of craft shops sell these kits, or you can buy one online at Hawkin's Bazaar. This is a gift that is personal and practical all in one go.
Homemade cards
You can probably spot a 'home-made' theme here, but most teachers' homes are proudly adorned with cards created by their children at this time of year. Obviously, all you need is card and come coloured pens or paints, stickers, glitter - whatever takes your child's fancy. To make the card extra special, your child could write a little poem inside to show what their teacher means to them.
Extra special plants
Anyone can pop down to their local garden centre or DIY store and pick up some bulbs, seeds or plants to give as a gift. But if you are willing to spend a bit extra, www.giftaplant.com sells a wide array of beautiful plants, such as orange or cranberry plants. They even have a teachers' section and can try to match your plant to the teacher's first name or surname.
Ethical gifts
According to a poll by Unicef and the Times Educational Supplement, most teachers would prefer ethical gifts, which involve a donation to charity. Most charities have online shops and sell gifts ranging from fair trade journals to jewellery. You can also make donations to education-related projects in the teacher's name. Or if your teacher is an animal-lover, you could 'adopt' an endangered animal for them through the WWF. Find out what charities or causes your teacher supports, then go to Global Giving, an excellent site which allows you to browse different charity projects and make a donation in the teacher's name.
Group presents
Presents from the whole class offer the opportunity to make teachers feel really appreciated. You could club together with other parents to buy something bigger, vouchers for example, or tickets to a show.