Division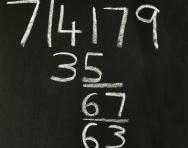 You're not alone if the thought of long division brings you out in a cold sweat! But division is taught differently nowadays to the way many parents learned and you'll need to understand the new method in order to be able to support your child at home.
In this section of the site you'll find lots of division worksheets covering areas including the sharing method of division, short division, the long division method, the chunking method, knowing your division facts, inverse operations – multiplication and division – long division with decimals and fractions as division.
Worksheets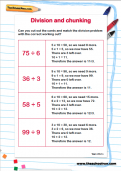 An activity involving cutting out cards and matching a division problem to the correct working out.
View Worksheet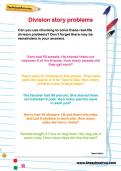 Real-life word problems to help your child practise using written methods for division.
View Worksheet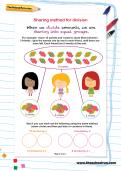 Sharing method for division
When we divide amounts we are sharing them into equal groups. Can you divide these numbers by sharing them into groups? Use counters or draw dots in the circles provided to help you.
View Worksheet
Also see:
Teach your child division is a reference guide and home-teaching kit which will help you understand exactly what division skills your child is expected to have mastered in each year of the primary school curriculum. Primary school teacher and parent Matt Revill has compiled information, tips and activities to ensure that you have the right information at your fingertips so you can quickly make sure your child has fully grasped and achieved each and every skill for their correct year group and using the same methods that they are taught (rather than confusing them with the one you were taught at school!). You'll be able to print off highly targeted and child-friendly fun worksheets from this eBook to help them master each of the essential skills as they progress through school – in fun, five-minute sessions.
Help your child grasp formal methods for division with TheSchoolRun's Mastering Long Division Step-by-Step action pack. Primary school teacher and parent Alice Hart has compiled explanations, examples, tips and practice questions to boost your child's confidence (and yours!) and ensure that they are never worried about dividing larger numbers in the classroom or at home.