Year 3 English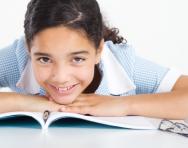 As your child moves into KS2, you can consolidate English learning at home with our Year 3 English worksheets for spelling, grammar and punctuation, handwriting practice and more.
This year your child will be faced with more challenging texts, such as plays and poetry and a range of non-fiction and, as writing skills develop, they will be encouraged to use more imaginative words, characters and dialogue.
Support your child in all their literacy learning with hundreds of targeted worksheets, games and activities.
Worksheets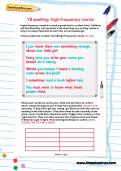 Y2 spelling: high frequency words
High frequency words are used a great deal in written texts. Children will find that they will use them a lot when they are writing, which is why it is really important to learn the correct spellings!
View Worksheet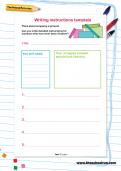 Writing instructions template
Think about wrapping a present. Can you write detailed instructions for someone who has never done it before? Think about what you will need and what your wrapped present should look like.
View Worksheet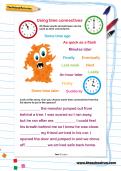 Here is a list of words and phrases that can be used as time connectives. Look at this story. Can you choose some time connectives from the list to put in the spaces?
View Worksheet
Also see:
Over the course of the school year, the Year 3 English Learning Journey programme will cover all the key topics in the curriculum. By following the programme of two worksheets a week, you'll quickly be able to spot any topics that your child hasn't fully grasped and reinforce learning that is happening in the classroom at home. Your child will feel more confident in their own abilities and you'll know you are giving your child the very best chance of succeeding in school.
And if you want to know if your child's learning is on track, just get them to take the Year 3 English Progress check. The checks are designed to help you understand if your child has grasped key areas of literacy and numeracy for Y3, and to help you identify any topics they might need more practice with. Three tests, each tailored to one of the school terms, are included, as well as answers to help you evaluate your child's work.
Help your child's imagination soar – and then recount their adventures on paper! The Year 3 English Booster pack will help them revise punctuation, persuasive text and more, but there are plenty of encounters with witches and conversations with elephants in the garden to keep them interested along the way.
Using hilarious 'links' to help your child remember how to spell any word, Thinkalink! will take them from mixing up letters to spelling even the most difficult words.
Spelling enthusiast Andy Salmon (or Sir Linkalot, as you'll come to know him) will show you and your child how to create quick and funny rhymes that put the letters in a word in the correct formation, making them far easier to remember. This fantastic book is packed with more than a thousand links to get you started, and a super simple guide to creating your own.