Telling the Time Learning Journey
Telling the time is a core numeracy skill that your child will be taught in stages during primary school.
From reading the time to the hour on a clock face to converting analogue to digital and understanding the 12-hour and 24-hour clock, you can ensure your child has picked up all the essential skills by working through the worksheets in this Learning Journey. They cover all the core learning objectives for each year of primary school.
Either start at the beginning and work through a couple at a time, or pick worksheets that relate to specific areas of the topic that you know your child is learning at school or needs extra support with at home.
Also check out our Telling the time section for lots more information, articles and top teaching tips.
Check out our fantastic Telling the time pack: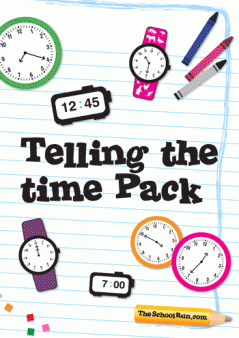 The Telling the Time pack is a complete guide to everything you need to know to support your child and help them get to grips with this vital skill, bursting with practical suggestions, advice from experts and activity sheets for all the key stages.
Click the signposts below for even more telling the time worksheets and games...