Reading comprehension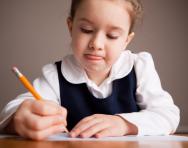 Learning to read is just the start of your child's literacy journey. From the early years of primary school they will be encouraged to understand what they read and really engage with words in their literacy lessons. Reading comprehension is also a big part of SATs.
In this section of the site you can find out how to improve your child's reading comprehension ability at home, as well as downloads lots of reading comprehension worksheet, divided by school year, to help your child develop this important skill. You can also find out about a fantastic reading comprehension learning pack.
Worksheets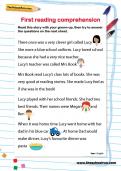 First reading comprehension
Use this reading comprehension to help your child with reading aloud and answering questions on a text.
View Worksheet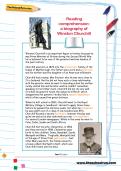 Reading comprehension: a biography of Winston Churchill
Winston Churchill is an important figure in history because he was Prime Minister of Britain during the Second World War. Read this biography and then see if you can answer the questions.
View Worksheet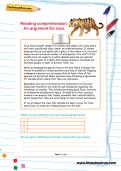 Reading comprehension: An argument for zoos
A zoos a good place for animals to live or not. Here is an argument for zoos. Read it and see if you agree with the writer's viewpoint or not.
View Worksheet
Also see: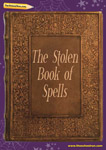 Reading comprehension doesn't have to be dull! The Stolen Book of Spells offers KS2 students an engaging story, challenging questions and a riddle to solve – they'll be so immersed in the narrative they won't even realise they're working on their literacy. Answers are provided so you can mark your child's work and help them improve their ability to comprehend, decode and interpret what they read.