Poetry and plays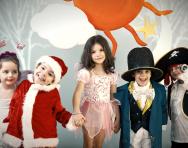 Your child will study a range of poetry and plays throughout primary school. As well as helping your child with any homework, you'll also want to foster a love of these literacy styles.
In this section of the site you'll find information on how poetry and plays are taught in school as well as poetry and playwriting worksheets that help your child develop the key skills needed to interpret these tests, such as identifying simile and metaphor, improving writing with adjectives, powerful verbs and WOW words and reading, writing and performing a play script.
We recommend classic poems to read with primary-school children, great poetry anthologies for kids and poetry apps. Who knows, you might even discover you have a budding poet or playwright under your own roof!
Worksheets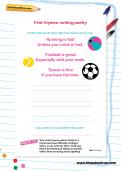 First rhymes: writing poetry
Continue this sporty poem with some rhymes of your own.
View Worksheet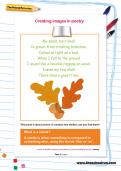 Creating images in poetry
A simile is when something is compared to something else, using the words 'like' or 'as'. This poem is about acorns. It contains two similes; can you find them?
View Worksheet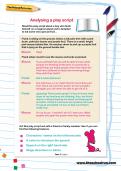 Read this play script about a boy who finds himself on a magical island and is tempted to eat some very special fruit, then act it out with a family member. Can you find the following features in the play script?
View Worksheet
Also see:

Inspire a love of poetry in your child
Coax out the budding poet in your child with great worksheets, activities and games:

To be or not to be...
Could your child be the next Tom Stoppard? There is lots you can do at home to encourage your child's enjoyment of the theatre. As well as taking them to see as many plays as possible, why not try the following:
Plus, visit the Homework Gnome and find out all about one of our greatest playwrights – William Shakespeare.