From reading rhyming poems to identifying rhyme schemes and rhyming couplets, we explain everything you need to know to help you support your child's love and learning of poetry at home.
What is rhyme?
When two words rhyme they have word endings that sound similar. For example:
I love to write poems that rhyme
I do this often in my spare time.
Rhyme in Key Stage 1
Children in Year 1 and Year 2 will read, perform and write their own poems involving rhyme.
Download a FREE Creative Writing toolkit!
KS1 & KS2 workbooks
Bursting with fill-in prompt sheets and inspiring ideas
Story structure tips, style guides and editing suggestions
A teacher will start with an engaging poem to read to the class. Children will be encouraged to read the poem altogether out loud and perhaps to memorise it. They may then go onto performing the poem in pairs or groups, with the accompaniment of musical instruments and actions. They may then be encouraged to contribute ideas to the teacher so that she or he can write a poem on the board. They may move onto writing their own poems using a writing frame, for example: 
My friend the alien had seven blue toes
My friend the alien had ____________ nose.
(The child simply needs to add adjectives and not find a rhyming word.)
For more able children the following might be appropriate:
The friend the alien had seven blue toes
My friend the alien ______________________
(In this case, the child would need to complete the line, making sure it ended with a word rhyming with 'toes'.) Teachers will often get children to generate a list of words rhyming with 'toes' to help them before they do this.
If your child enjoys rhymes, why not explore traditional nursery rhymes like The Muffin Man, Pop! Goes the Weasel and Oranges and Lemons with them?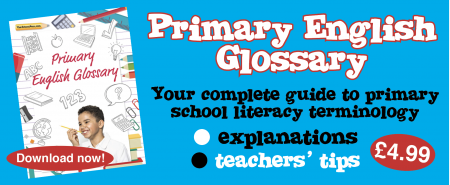 Rhyme in Key Stage 2
In Year 3, Year 4, Year 5 and Year 6 English children will read a variety of rhyming poems and will be asked to comment on the rhyme scheme.
My grubby little brother
Doesn't like to take a shower,
He goes for ages without a wash
While I smell like a flower!
Here, because the second and fourth lines rhyme, but the first and third lines don't rhyme, we would say the rhyme scheme is ABCB.
Sometimes a poem is written in rhyming couplets:
My auntie wears a floppy hat,
Lopsided glasses and a pink cravat.
She wears orange tartan braces,
Shiny red shoes with fluorescent laces.
Here, we would say the rhyme scheme was AABB.
Children in Key Stage 2 will look at rhyme schemes and will usually follow the same teaching sequence as in Key Stage 1, where they read poems aloud and then perform them. They will then be encouraged to write their own poems in a similar style. Children who find this difficult are often given a writing frame to support their ideas, but some children will be able to write their own rhyming poems from scratch.