Times tables
At some stage during your child's primary school years you are going to find yourself testing them on the times tables. It doesn't have to be a chore though.
In this section of the site you'll find lots of resources to make times tables learning fun, including times tables puzzles and games, interactive times tables worksheets, matching challenges, speed grids and quick quizzes. And you'll find even more fantastic times tables games and activities in our Times Tables Funpack and Times Tables Practice Book and our popular eBook I know my times tables.
If your child is due to take the Multiplication Tables Check in Year 4, we have the latest information about the test format and scoring.
There is even a Times Tables Learning Journey which you can work through with your child.
Worksheets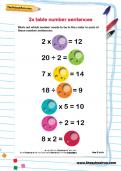 2 times table number sentences
Your child will need to be a 2 times table whizz to complete these number sentences correctly. Can they race against the clock to work through this worksheet in record time?
View Worksheet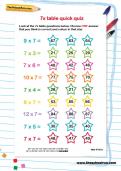 How well do you know the 7 times table? Test yourself by colouring in the correct answer to the number sentences on this worksheet.
View Worksheet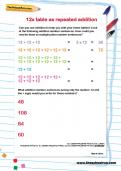 12 times table as repeated addition
Have your child visualise multiplication in a different way by breaking down the 12 times table into repeated addition
View Worksheet