Y6 SATs Challenge Learning Journey
How to get started on the Y6 SATs Challenge Learning Journey
The new KS2 SATs, introduced in May 2016 to reflect the new curriculum, are extremely challenging compared to previous years, with only 5% of pupils achieving a 'higher scaled score' of 110.
The ability to apply knowledge to a diverse range of questions, a high-level of mastery in grammar and actually knowing how to complete the test in the time allotted are all key requirements to scoring well in the new-look SATs, as is a disciplined approach to information processing and sophisticated decoding skills in reading comprehension. Following requests from parents, we've put together 50 subscriber-only KS2 SATs Challenge worksheets, 25 for maths (dividing fractions, tricky percentages, negative decimals, calculating the area of compound shapes, volumes of cuboids and more) and 25 for English (using powerful language, accessing older texts, etymology and inference skills, poetic language, reading literary non-fiction texts and more). Work your way through our challenge worksheets by following our Y6 SATs Challenge Learning Journey, below; you can track your progress on the downloadable Y6 SATs Challenge Learning Journey checklist.
Everything parents need to know about KS2 SATs is covered in our Y6 SATs hub page, with links to advice about curriculum areas tested in the exams, how the marking works and what you can do to support your child's revision.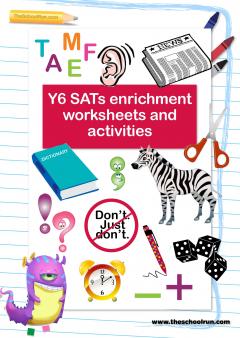 Click the signposts below for even more Year 6 worksheets...