Also see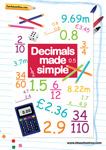 The Decimals made simple learning pack aims to take you through every aspect of primary-school decimal learning, from using decimal notation in money and measurements to converting fractions to decimals and rounding decimals to the nearest whole number. As well as a year-by-year guide to what your child learns you'll be able to complete 35 worksheets with your child to help them put their decimals knowledge into practice. And why not end a study session with a quick decimal game? Use the number spinner provided to try your hand at making the biggest (or smallest) decimal number, or speed-racing some decimal multiplication or division.
Maths is a core skill within the primary national curriculum. As we use maths every day, it is also a vital skill for life. But, some of us still dread our child coming home and asking for help with their maths homework, as learning methods and terminology are sometimes different from how we were taught.
If this sounds like you, you'll find Maths Homework Helper an immensely useful resource for two reasons. Firstly, it collates the main topics your child will need to know. Secondly, it acts as a refresher course for you, so you can revisit each topic and understand just what your child is learning during class time. It covers the crucial topics of numbers, using numbers, measures, shape and space, and data handling, so you and your child will be able to learn, understand and use maths skills in everyday situations.
There are also helpful rules to remember, a jargon-busting guide to key maths language, plus tips and ideas to help your child continue their learning away from their text books. With the Maths Homework Helper eBook, you will never be stumped by your child's primary maths homework again!