Art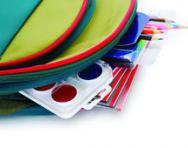 Worksheets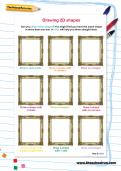 Practise drawing the following shapes: a semi-circle; a shape with 4 corners; an octagon; a shape with 3 sides; a hexagon; a shape with no corners; a shape with 4 equal length sides; a shape with 1 side; a pentagon. You might find you have the same shape in more than one box. A ruler will help you draw straight lines.
View Worksheet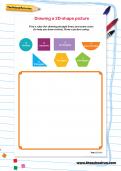 Drawing a 2D-shape picture
Find a ruler (for drawing straight lines) and some coins (to help you draw circles). Draw a picture using: 5 circles; 6 squares; 4 rectangles; 3 semi-circles; 2 triangles; 1 hexagon; 1 pentagon.
View Worksheet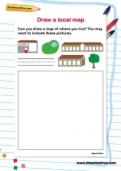 Worksheet with pictures to encourage your child to draw a map of the place where they live.
View Worksheet
Also see:
Juggle fruit. Work on the technology of the future. Plot and design a lost city, create a zoo of invented animals, learn to talk sdrawkcab and bake a pizza clock and a pastry map. How many of our wonderful brain-boosting challenges can you fit into a school holiday? All you need are some art materials, imagination and an enquiring mind to have a go at a whole host of practical and reflective activities, suitable for primary-school children (and parents, of course). Have fun!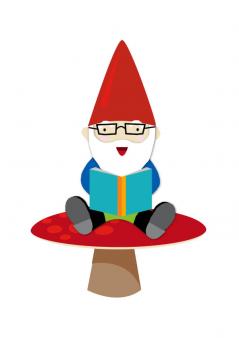 Find out what this cheeky chap has to say about art and culture in the past: