Spelling
Worksheets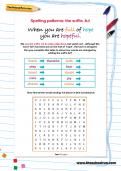 Spelling patterns: the suffix -ful
We use the suffix -ful to make adjectives, but watch out – although the word 'full' has been put on the end of 'hope', the last l is dropped. Can you complete this table to show how words are changed by adding the suffix-ful? Then find all the words ending -ful above in this wordsearch.
View Worksheet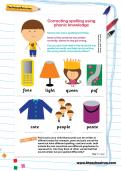 Correcting spelling using phonic knowledge
Sammy has had a spelling test today. Some of the words he has written correctly, others he has got wrong. Can you put a tick next to the words he has spelled correctly and help him by writing the wrong words out properly below?
View Worksheet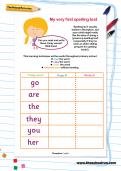 My very first spelling test
Spelling isn't usually tested in Reception, but your child might really like the idea of doing a 'grown-up spelling test' (especially if they've seen an older sibling prepare for spelling tests!).
View Worksheet