Key Stage 2 English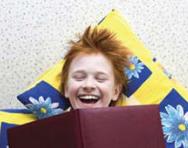 Key Stage 2 English covers a range of topics such as myths, poetry, novels, plays, newspaper articles, information texts, biography and autobiography.
You can support your child at home with hundreds of KS2 English worksheets to boost their reading, writing, speaking and listening skills, and ensure they are reaching the required level for spelling, punctuation and grammar, reading comprehension and handwriting.
Worksheets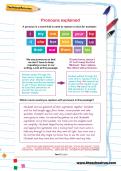 A pronoun is a word that is used to replace a noun. We use pronouns so that we don't have to keep repeating a noun in our writing. Which nouns would you replace with pronouns in this passage?
View Worksheet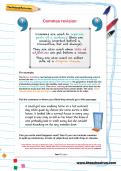 Commas are used to separate parts of a sentence (they are usually inserted before a connective, but not always). They are also used when lists of adjectives are put before a noun. They are also used on either side of a drop-in clause. Put the commas in where you think they should go in this passage.
View Worksheet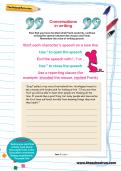 Continue a conversation between two characters, remembering the rules of writing speech: Start each character's speech on a new line, use " to open the speech, end the speech with !, ? or , and use " to close the speech. Don't forget to use a reporting clause (for example: shouted the mouse, replied Frank), too!
View Worksheet