Best books to read with five year olds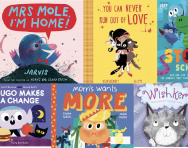 Reading time is time to laugh, share and explore stories with your child. Choose books that have a strong rhythm to them and are full of humour, rhyme and attractive illustrations. We've picked ten of our favourites to read with five year olds.
Reading together at this age is vital as it helps younger children understand how stories work and exposes them to a vast range of vocabulary. Whilst a child may not understand every word they hear, they will have access to words, sounds, rhymes and phrases that they can begin to explore and copy. Studies show that children who are read to and enjoy reading for pleasure have a better grasp of vocabulary, general knowledge and do well at school.