What your child learns in Reception year
Understand what your child is learning in their first year of school, and find out how you can help them do their best.
Starting school can be just as big of a change for parents as it is for children. You can help to ease the transition into this new learning journey by understanding what your child will be doing in Reception year.
Download TheSchoolRun's Reception Taster Pack for free for an overview of what your child will learn and some English, maths and science activities to try at home with them.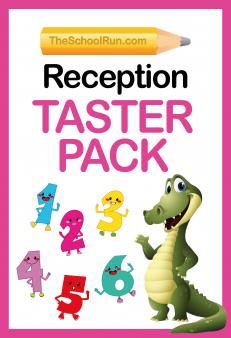 Reception maths
Children in Reception year will just begin to learn about numbers and how to work with them in basic calculations. Your child will probably bring home a number line that will help them add, subtract and count in twos, fives and 10s.
Your child will also be taught to describe and recognise 2D shapes, 3D shapes and the location of objects, as well as form patterns and describe events in a chronological order.
Our parents' guide offers a detailed look at the Reception maths curriculum.
Help your child remember the skills they've learned in the classroom with these Reception year maths worksheets.
Start the Reception Learning Programme today!
Weekly maths & English worksheets direct to your inbox
Follows the National Curriculum
Keeps your child's learning on track
Reception English
Your child will get a foundation in literacy through communication and language activities such as role play, listening exercises and show and tell. They will also learn the alphabet and high frequency words, and begin to be taught phonics blends.
In addition, children in Reception year will begin to write; you can help them with this and practise handwriting at home. They'll be shown how to hold a pencil, form letters and, eventually, sentences. Basic grammar is taught at this point, but this will be continued in Year 1.
Read our Reception English introductory guide for more information.
Use these Reception year English worksheets with your child.
Reception science
While your child is learning key listening and communications skills in their English lessons, they will also learn how to observe, reason and discuss in Reception Science classes. They will often be asked to present information in charts, which is a simple activity to practise at home. They'll receive their first instruction in ICT as well.
Understand more about the Reception science curriculum to help support your child's learning at home.
You can download these Reception year science worksheets.
Find out what your child will learn throughout the rest of their primary education in Year 1, Year 2, Year 3, Year 4, Year 5 and Year 6.