Best children's books about coronavirus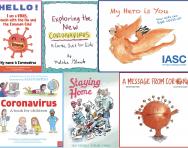 Even adults are finding it hard to get their heads around the new "normal" – so how can you help your child understand how and why the coronavirus pandemic has up-ended our lives? Whether you're reading to a preschooler or want your tween to have scientifically-accurate facts, these free, downloadable eBooks will help you explain COVID-19 to kids.
A Message from Corona
​Written by final year dental student Charity Tedder and beautifully illustrated by artist Leighton Noyes,
A Message from Corona
explains how the virus has travelled around the world and why hand-washing, social distancing and lockdown are so vital. It's clear and informative and can be read to young children or self-read by ages 6-7 and above.
Charity is the daughter of eminent virologist Professor Richard Tedder, who is at the forefront of research into the coronavirus; he has endorsed the book and helped to ensure that all text provided is correct.
The eBook and complementary interactive puzzles are free to download, but funds raised from donations will support NHS and key worker charities.
Staying Home
Staying Home by Sally Nicholls and Viviane Schwarz
Author Sally Nichols is spending lockdown at home with her family, her husband and four-year-old and two-year-old. In
Staying Home
, a family of raccoons go through a day in lockdown – there's no school, no nursery, no work outside the home, but lots of hand-washing, time together, a daily walk and lots of questions about what's happening (and when it's going to end).
A wonderful and warm way to explain to the youngest members of your family how they're doing their part to save lives just by staying home,
Staying Home
might become a new favourite read, even after this crisis is over. Download it for free and
read more about how Sally's daily experiences inspired the story
.
COVIBOOK
COVIBOOK by Manuela Molina
Author Manuela Molina prefaces her short eBook with a letter to families.
Dear families and educators all over the world,
I have created this short book to support and reassure our children, under the age of 7, regarding the COVID-19. This book is an invitation for families to discuss the full range of emotions arising from the current situation. It is important to point out that this resource does not seek to be a source of scientific information, but rather a tool based on fantasy. My recommendation is to print this material so children can draw on it. Remember that emotions are processed through repetitive play and stories read multiple times. Share COVIBOOK and help ease kiddos' anxiety all over the world.
Available to download for free in 25 different languages, including Welsh.
Coronavirus: A book for children
What is the coronavirus? How do you catch it and what happens if you do? Is there are coronavirus cure? What can we do to help the coronavirus helpers and when will life return to normal? In simple language,
Coronavirus: A book for children
answers kids' most common questions about COVID-19, and the fantastic illustrations from
The Gruffalo
illustrator Axel Scheffler make the book's format and style reassuringly familiar (and comforting for grown-ups, too!).
The digital eBook for primary-school age children aged 5 to 9 is free for anyone to read on screen or print out. It was written by publisher Nosy Crow's staff and had expert input from Professor Graham Medley of the London School of Hygiene & Tropical Medicine, two head teachers and a child psychologist.
Exploring The New Coronavirus: A Comic Just for Kids
Based on a US radio story from NPR education reporter Cory Turner, who interviewed experts from the University of Illinois School of Social Work, the LSU Health Sciences Center in New Orleans and he National Institute of Mental Health,
Exploring The New Coronavirus: A Comic Just for Kids
answers kids' common questions about coronavirus.
Download and print the free ezine in English, Spanish or Chinese.
My Hero is You, Storybook for Children on COVID-19
Produced by the Inter-Agency Standing Committee Reference Group on Mental Health and Psychosocial Support in Emergency Settings using survey results from 1700 parents, caregivers, teachers and children in 104 countries,
My Hero is You
is a story developed for and by children around the world.
A picture book about the health heroes around the world who are working to resolve the coronavirus emergency, the eBook is suitable for children aged 4 to 8 and is available to download for free in 26 different languages.
What You Can Do About COVID-19
What You Can Do About COVID-19 by Scott Emmons
Perfect for younger children and preschoolers,
What You Can Do About COVID-19
is an information book for kids to colour in, a spoonful of creative, artistic sugar for the wash-you-hands, stay-at-home instructions you share with your children 15 times a day. Download the file for free; if you can, you can also make a charity donation.
​The Book of Hopes: Words and Pictures to Comfort, Inspire and Entertain Children in Lockdown
A wonderful collection of short stories, poems, essays and pictures edited by Katherine Rundell and including contributions from more than 110 renowned children's writers and illustrators, including Lauren Child, Anthony Horowitz, Michael Morpurgo, Liz Pichon, Axel Scheffler, Francesca Simon and Jacqueline Wilson.
The collection, published by Bloomsbury, is free to read online and dedicated to the world's doctors, nurses, carers, porters, cleaners hospital workers.
Everybody Worries
A bright, friendly picture book to help children understand that it's okay to worry about coronavirus. Fun rhyming couplets keep the message positive and reassuring, with plenty of ideas for getting worries under control.
Everybody Worries
offers your child the reassuring message that this crisis will pass and by sharing and caring for each other we will get through this together.
Free to read online on the Oxford Owl website.
Winnie and Wilbur Stay at Home
Over 9 million Winnie and Wilbur books have been sold – and now the famous witch and her big black cat Wilbur are staying at home, like all of us. Luckily they find plenty to do, from online exercise classes to baking, painting and reading stories. Winnie even makes a magic rainbow for her neighbours when they're clapping for carers!
Winnie and Wilbur Stay at Home
is free to read online on the Oxford University Press website.
The Big Thing
The Big Thing by Angela Meng and Alexander Friedman, illustrated by Alvaro Gonzalez
A picture book collaboration from writers, artists and translators from China, the US, Latin America and Europe, The Big Thing explains the COVID-19 crisis through the eyes of a five-year-old girl, teaching children about the concept of silver linings and how to find them in their changed lives.
The book is free to download and available in eight languages, with proceeds of print copies going to Covid-19 charities.
Hotel Flamingo - Life in Lockdown
Anna's hotel is no ordinary hotel: all of her staff and guests are animals! In the
Hotel Flamingo
series the doorman is a bear, a mouse helps in the lift and a lemur acts as a receptionist, but there is always a warm welcome to be had. Read about Anna and her array of animal friends in a free, downloadable
Hotel Flamingo
story set in pandemic times, and find out how the team comes together to help their community and spot all the silver linings of lockdown life.
The Princess in Black and the Case of the Coronavirus
The Princess in Black
fans will love to see heroes assemble to defeat a germ so tiny we can't even see it by washing hands, staying at home and making some space. A great, comic book reminder of public health messages from a hugely popular chapter-books role model.
Simon and Rosie
Simon and Rosie by Lucy Moonen and Gillian Johnson
Set in the current context of COVID-19,
Simon and Rosie
is a tale of loneliness and connection, creativity and self-acceptance. It takes place in a local park and features a park bench, a little girl and the journey of the imagination they go on together. Download for free or read the story online.