Cheap and easy ideas for last-minute World Book Day costumes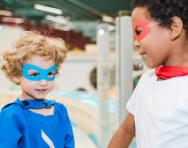 World Book Day: the time of year that can send all parents into a last-minute, no-costume panic. Don't stress: with a bit of thrifty creativity your child can still join in with the literary dressing-up fun, even if the shops are closed and it's the night before the school costume parade.
It's wine o'clock and the kids are in bed when it happens: the sinking realisation that in just twelve hours your child is supposed to be dressed up as a book character for school. We've all been there, which is why TheSchoolRun has compiled a list of super easy, extremely last-minute costume ideas for WBD. No-costime panic sorted!