Free school meals for infants: your questions answered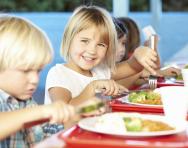 Since September 2014 all children in Reception, Year 1 and Year 2 have been entitled to a free school meal at lunchtime. But what's the point, what's on offer, and what if your child prefers packed lunches? We answer all your questions.
Free school meals coronavirus update
While schools are closed due to coronavirus, the government has stated that they expect English schools to provide a daily meal or alternative to pupils who usually qualify for free school meals on the grounds of receiving certain benefits (children in Reception and KS1 who usually receive free lunches at school do not qualify).
There are several possible options:
Meals or food parcels provided by the school's usual caterers (in-house caterers, local authority caterers, or private caterers) delivered in accordance with social distancing rules.
Meals of food parcels provided by another local provider, such as another school acting as a community hub.
A centrally-funded voucher scheme where families are given £15 per child per week to spend in major supermarkets (Asda, M&S, Morrisons, Sainsbury's, Tesco or Waitrose). This is provided as an online eCode or eGift voucher.
A voucher worth £15 per child per week for a specific supermarket chosen by the school.
These should be issued automatically if your child usually has free school meals.
The government has also confirmed that free school meals or the equivalent should be provided to qualifying children over the Easter holidays.
In Scotland, local councils are making sure families whose children get free school meals continue to get them while schools are closed.
In Wales, the government is developing its own voucher scheme. Currently, schools must make provision themselves until the end of the Easter holidays.
In Northern Ireland, Stormont has pledged to make direct payments into the bank accounts of families receiving free school meals. There is no need to apply.
We will update this page if this information changes.
What are free school meals?
In September 2013, the government announced that from September 2014, all children in Reception and Years 1 and 2 at state schools in England would be offered a free school lunch, regardless of their family's financial circumstances. Children in Years 3 to 6 still have to pay for lunch, unless they are eligible for free school meals because their families are on a low income.
Why are free school meals being provided?
Free school meals for infants are provided under the Children and Families Act, which came into force in March 2014. It's based on solid evidence that well-nourished children perform better at school. In pilot areas, children who had a school meal at lunchtime were found to be two months ahead of their peers academically.
Offering a free school meal promotes the healthy eating message by providing nutritionally balanced meals. Before the new initiative was introduced, under 50 per cent of children had school dinners, and only one in 100 packed lunches met the nutritional standards required of school meals. Research has shown that children are 23 per cent more likely to eat vegetables at lunchtime if they have a school dinner.
Universal free school meals also help families save money. About four out of 10 children live in poverty, and not all of them meet the current criteria for free school meals. Buying a school dinner every day for an academic year costs the average family £437, and a survey by The Guardian found that half of teachers have taken food into school for hungry children.
What sort of meals are on offer?
New rules introduced in January 2015 stipulate what schools can and can't serve at lunchtime. Meals have to adhere to the nutrient-based standards for schools, which set out precise requirements such as calorific value, minimum levels of key nutrients like iron, calcium and carbohydrate, and maximum levels of salt, fat and sugar. The new rules also state that:
One or more portions of vegetables or salad must be offered every day
At least three different types of fruit and three different vegetables must be offered across the week
Wholegrain foods should be used as much as possible, rather than refined carbohydrates
Water should be the drink of choice
Fruit juice can be served in portions of no more than 150ml
Added sugars or honey in other drinks are restricted to five per cent
Deep-fried, battered or breadcrumbed food can be served no more than twice a week
Pastry products can only be served twice a week
One portion of low-fat milk has to be offered every day
Schools are being advised to develop menus that are appealing and familiar to children, and to keep meals simple, with not too many options, to make it easy for them to choose.  
Where's the money coming from?
The government provides schools with £2.30 per child per day to cover the cost of free school meals. 
What if my child has special dietary requirements?
Schools are expected to make reasonable adjustments for children who have special dietary requirements, whether these are religious, medical or ethical. If your child has dietary needs, ask to speak to the head teacher about their requirements, backing up your request with medical notes, if you have them. Ideally, schools should involve parents and catering staff in coming up with meal plans for children with special dietary requirements, with the help of a dietician if necessary.
My child prefers packed lunches. Do they have to have free school meals?
No. Although all infant school children have to be offered a free school meal, it's not compulsory to accept. Schools are free to set their own policies for bringing packed lunches, and this won't change under the new system. Around 87 per cent of children in Reception and Years 1 and 2 will take their free meals.
How do I sign up?
This is up to each individual school, but you'll probably receive a form from your child's school to state whether you intend to take up their free school meals. Schools are also being encouraged to work with parents and children to make school dinners an appealing prospect, for example through menu consultations and tasting sessions. Salmon fishcakes with sweet potato wedges? Sign us up!
What about KS2 pupils?
Children in Years 3 and above aren't automatically entitled to free school meals; however, they are provided for children who come from low income families.
Previously, all children whose families received certain benefits were entitled to free school meals, but from April 2018 the eligibility criteria have changed.
Children may be eligible for free school meals if their parents receive the following benefits:
Universal Credit, provided the annual net earned income does not exceed £7,400 (£616.37 per month)
Income Support
Income based Employment and Support Allowance
Income based Job Seekers Allowance
Child Tax Credit (conditions apply)
If you think that you may be eligible for free school meals, visit the Free School Meals Eligibility Checker and enter the required details (Parent/Carer's full legal name, date of birth and National Insurance Number or National Asylum Support Service Number). 
If your child used to receive free school meals but you no longer meet the criteria, your child will continue to receive free school meals until the end of the Universal Credit rollout period (currently scheduled to end in March 2022). This will apply even if your earnings rise above the new threshold or if you stop being entitled to Universal Credit. 
After that, any pupil who was claiming free school meals but no longer meets the eligibility criteria will still be entitled to free school meals until the end of their stage of education (i.e. primary or secondary school).