Museums reviewed by parents: National Space Centre
The National Space Centre is a day out that the whole family will enjoy; it's a fun, interactive and accessible way to learn about the universe we live in. Just don't be surprised if you leave with a budding astronaut or two!
Travel the length and breadth of the universe at the National Space Centre in Leicester and wonder at the immensity of space. Dani Zur visited with Eva, 11, and her friend Adam, 11.
If you've ever stood outside at night with your child, gazing up at the sky, you're bound to have been asked some tricky questions like: 'What are stars made of?'; 'How far away are the planets?'; 'How big is the galaxy?' and 'Do aliens really exist?'
Download fantastic science resources today!
Experiments And Science Fun pack
Science Learning Programme for each school year
All the instructions, questions and information you need
That sense of wonder about space never leaves us, which makes a visit to the National Space Centre a sure hit with children and adults alike.
Step inside this impressive East Midlands building, and you can watch the birth of the universe, see stars be born and die, take part in the space race and train as an astronaut for a mission to one of Jupiter's moons… and that's all before lunch!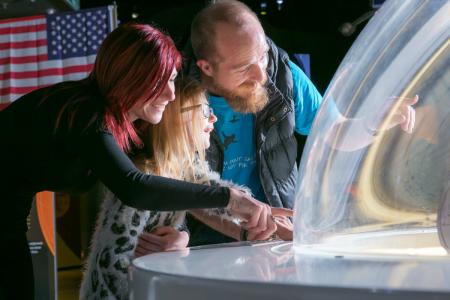 Best for nursery and Reception kids
A lot of the activities are not suited to very young children – and there are height restrictions on some of them – however there are special events that even the youngest family member would love, like a chance to meet the Clangers. Check out what's on before you plan your visit.
Best for KS1 kids
The exhibition on exploring the universe is sure to capture young minds. We loved finding out how the Solar System was made, how long it takes for the light from a star to travel to Earth, and how big the universe is (a trip in the image enhancer to the outer edge of the known universe made us realize just how tiny we are). We even watched a video about how our own sun, Sol, is going to die!
And if you've ever fancied presenting the weather on TV, now's your chance. You can film your own weather forecast for a day in the year 2085 (and then email yourself the video). The effects of global warming mean it's going to be a scorcher!
KS1 kids will also love the chance to experience what it's really like to be an astronaut, from dealing with weightlessness to space sickness and even going to the loo! You can have a go at building a rocket, get your hands on the controls of a Mars rover and even use thrusters to go on a space walk.
Best for KS2 kids
Our KS2 kids loved exploring the Rocket Tower, where they followed the journey from early dreams of going into space, through the space race to the moon landing. Adam (11) got to send his friend Eva (also 11) into space, following in the footsteps of Yuri Gagarin. 'I hadn't really understood how brave astronauts were before,' Adam said afterwards. 'It must have been terrifying being in that tiny, hot capsule and hurtling away from Earth.'
They also loved the interactive star maps, which allowed them to zoom in on constellations, star systems and planets and taking the agility test to see if they were fit for space.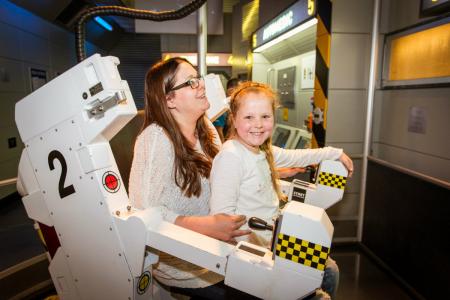 Don't miss!
The highlight of our visit was the Planetarium. We watched We Are Stars, which told the story of us: what we are made of; where we came from; and our journey from the birth of the universe to life on Earth. Sitting back in the comfortable seats we were completely immersed in the 360-degree cinema experience. It was one of the best shows of its kind we'd ever seen and worth the price of the ticket alone.
We also loved the SIM 3D flight to Europa, which is a high-quality journey blasting off from Earth's moon, through radiation clouds and dodging asteroids, to arrive at Jupiter's inhospitable ice moon.
We spent a whole afternoon at the Space Centre, but it really wasn't long enough and we'll definitely go back again. There was an amazing variety of things to do and so much to learn. By the time we left Adam had added 'astronaut' to his list of possible future career options. Eva had a few reservations though: 'I don't think I'd want to go into space as I'd miss my dog too much – oh, and my family too!'
Half-term and holiday events for families
Check out what's on before you visit as there is an exciting calendar of special activities and events.
During our visit there was a chance to learn about all the gross stuff our bodies do in space, and there are events coming up to celebrate the return of Tim Peake. 
Food and drink options
We stopped for drinks and snacks in Boosters Café, which has hot and cold drinks, sandwiches and light snacks, as well as some healthy children's options. 
Getting there, prices and opening hours
The Space Centre is easy to find (it's just a couple of miles off the M1 in Leicester) and there is a large car park that costs £3 for the day.
Tickets are £14 for adults, £11 for children aged 5-16 and under 5s go free. Opening times are Monday to Friday 10-4, Saturday and Sunday 10-5.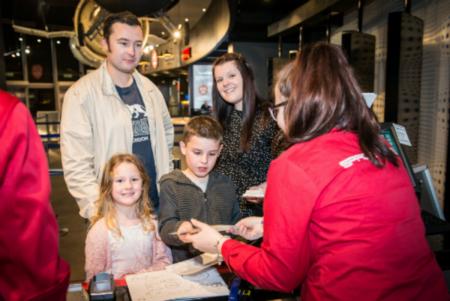 Pocket-money shop purchases
There is lots to buy in the shop, including pencils, stationery, posters, science toys and books. We spent our pocket money on a projector torch (£4.99), alien egg (£1.99) and rocket launcher (£7.99).
Online treasures if you're too far to visit
Links to the National Curriculum
A visit offers inspiration and hands-on learning for primary-school children studying: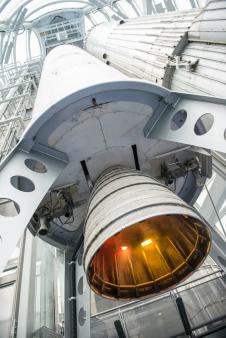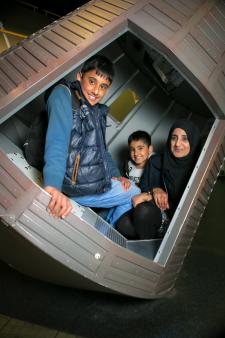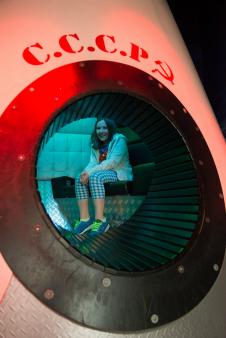 Photography: © National Space Centre
Museum reviews for parents: we need YOUR help!
TheSchoolRun is looking for families to visit museums and other educational venues around the country and 'review' them. Get in touch to have your say about the best family days out (with a learning twist!).