Museums reviewed by parents: Science Museum London
Contemplate the awe-inspiring complexity of life and human scientific achievement at London's Science Museum, one of the world's leading attractions. There's something for the whole family to enjoy, from toddlers to teens, and the addition of the new Wonderlab permanent gallery for kids makes it a must-visit destination. On your marks, get set... wonder!
Elena Dalrymple took her children Emily, 6, Tom, 10, and Kate, 13, to the Science Museum's new kids' gallery, Wonderlab.
From rockets to robots, the Science Museum offers amazing artefacts, interactive displays, live demonstrations and shows and an almost overwhelming choice of galleries to discover. A visit to Wonderlab, the new Statoil gallery for children, is a brilliant centerpiece for a whole day out finding out more about our scientific past and our scientific future, but beware – you'll be planning your next visit before you've even left the building!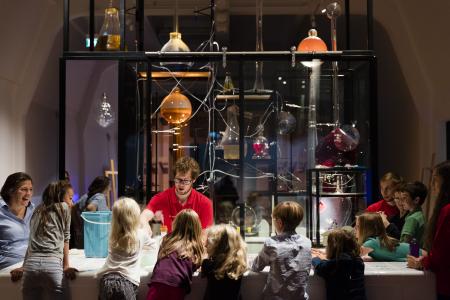 Claim four puzzle packs!
Word Puzzle Packs
Numeracy Puzzle Packs
Challenging and exciting |  Boost key skills
The Garden is free to visit, and so popular that you might have to queue to get in at the weekend and during school holidays, so be prepared with some activities to occupy the troops as you wait.
Best for nursery and Reception kids
The Garden, an interactive gallery deep in the Museum's basement created for visitors aged 3 to 7, is a must-see destination (it will be very difficult to drag the kids – and yourself – away from the huge water table, giant foam construction bricks and giant whispering sound tubes; don't say we didn't warn you). Through play children can find out more about sound, motion, floating and sinking and shadows and reflections, and red-T-shirted "explainers" are on hand to help them explore the construction, water and light and sound areas. 
Best for KS1 kids
Wonderlab, opened in October 2016, is billed as "the most spectacular interactive gallery in the world" – and it doesn't disappoint. More than 50 hands-on, try-it-yourself science experiences are on offer, from giant friction slides (definitely the highlight of the visit for our six-year-old tester) to water drop photography, a cloud ring maker, pulley swing seats, infinity boxes, a wander around a giant model of the Solar System, a paper aeroplane flight tester and a huge magnetic sculpture.
On our visit the whole family could easily have spent three hours in the exhibition (but we got hungry so went to look for some food!); we will definitely be back.
Also perfect for KS1 children and easy to miss amongst the free gallery options is the Pattern Pod in the Wellcome Wing; drop in with under-8s to explore water ripples (no actual water involved), create mesmerising symmetrical images and follow animal and robot trails.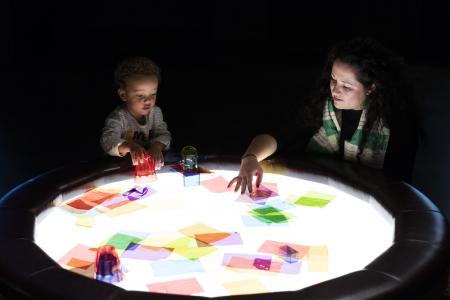 Best for KS2 kids
Again, Wonderlab got top marks from our Y6 and the Y8 student testers, who loved meandering around trying their hand at maths puzzles, playing with pitch around the Theremin Bollards and watching live chemistry experiments at the Chemistry Bar. Some brilliant live science shows (Live Wire! / Flash! Bang! Wallop! / The Rocket Show / Under Pressure!) are also included in the cost of your Wonderlab ticket. They last 20 minutes and are packed with explosions, big bangs and flashes of fire – not to be missed!
The rest of the Science Museum also offers plenty to keep KS2 (and older) minds engaged. Who Am I? in the Wellcome Wing is packed with touch screen games and quizzes to help kids explore what makes them individuals, Atmosphere explores our changing climate, Engineer Your Future introduces older kids to real-life problem-solving through engineering games on huge screens and Information Age takes visitors on a whistle-stop tour of our journey from the telegraph network in the 19th century to the telecommunications world of today.
Don't miss!
The "heritage" galleries like Making the Modern World or Exploring Space, which feature incredible artefacts from our industrial and scientific past like Stephenson's Rocket and a real piece of the Moon. Look out for costumed characters (Yuri Gagarin, Michael Faraday, Isaac Newton and many more) talking about their life and scientific achievements amongst the exhibits, too.
Half-term and holiday events for families
There are loads of (free) interactive science events taking place around the Museum at all times; check the digital screens at the entrance for details of what's on where on the day you're visiting. 
For a special-day-out treat you might also want to book tickets for a screening at the Museum's IMAX Theatre (the screen is the size of four double-decker buses; documentaries about space and Earth are on offer) or at the Discovery Motion Theatre, where a 3D film is accompanied by special effects like wind, lights and moving seats.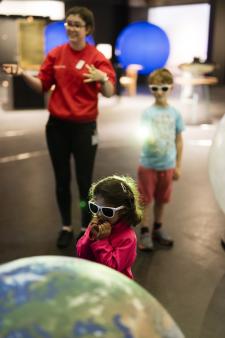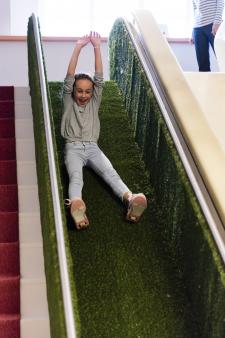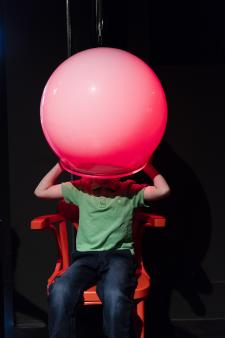 Food and drink options
There's a huge array of options, from the family-friendly Basement Cafe and Shake Bar milk shake and ice-cream offering to the self-service Energy Cafe and the wonderfully blue-hued Deep Blue Diner restaurant.
Indoor picnic areas are also available in the Basement and on Level 3 if you want to bring your own food and top up with hot drinks from the cafes. 
Getting there, prices and opening hours
Entry to the Science Museum is free, but charges apply for Wonderlab (from £8 for adults and £6 for children for a day pass and £14 for adults and £10 for children for an annual pass), the IMAX 3D Theatre, simulators and some special exhibitions.
Tickets are available online or inside the Museum.
The main Museum entrance is on Exhibition Road in South Kensington, London, SW7 2DD; travel by public transport is strongly recommended.
The Science Museum is open seven days a week from 10am to 6pm.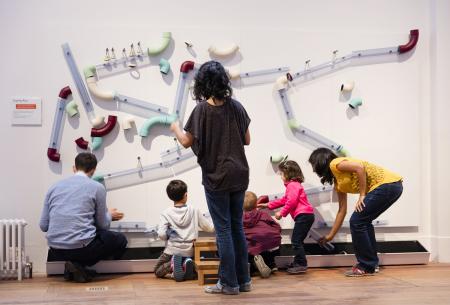 Pocket-money shop purchases
The Science Museum shop is a cornucopia of science gifts, from freeze-dried space food and perpetual puzzles to kids' science sets and robots. The vast selection is also available online from the Science Museum Shop.
Online treasures if you're too far to visit
An immense amount of information is available on the Science Museum website.
Highly recommended are free online physics, chemistry and biology games, apps including Journeys of Invention, which features objects from the Museum's collections and offers 14 interactive journeys through the most revolutionary scientific inventions of all time and subject-specific websites about climate change and human genes.
Links to the National Curriculum
Learning about life and living things and animals and their classification is part of science lessons in primary school. 
Materials (KS1)
Habitats (KS1)
Forces and magnets (KS2)
Light (KS2)
Earth and space (KS2)
Evolution and inheritance (KS2)
Electricity and circuits (KS2)
Science investigations (KS2) 
Photography: © Plastiques Photography, courtesy of the Science Museum
Museum reviews for parents: we need YOUR help!
TheSchoolRun is looking for families to visit museums and other educational venues around the country and 'review' them. Get in touch to have your say about the best family days out (with a learning twist!).