29 fantastic activities for the October 2018 half term holidays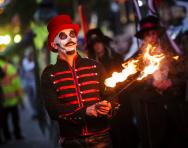 Take part in a festival of scary scarecrows, brew a cauldron of slime and even learn how to lie on a bed of nails (yes, really) this October, with 29 creepy, kooky and altogether spooky activities for you and your family to enjoy this half term. So ready, get set – ghoul! By Hetty Walton
October 2018 half term holiday family activities in England
Monsters' ball
What: Southport's spooky side comes out to say boo with its famous annual Halloween Festival. There's a haunted maze in the Town Hall Gardens, a visit from a ghostly pirate crew and a ghoulish fancy dress Trick or Treat Trail – and look out for two giant dragons as they swoop and soar through the streets breathing smoke as they go. If that wasn't enough there's also a super spooky Scarecrow Festival!
Where: Southport, various venues.
When: Halloween Festival 25-28 Oct, Scarecrow Festival 20-31 Oct.
Need to know: Venues and times vary, most events free and drop-in.
Image: © Visit Southport
Flower power
What: Head to IWM London or IWM North this holiday for your last chance to catch incredible modern artworks Weeping Window or Wave as they finish their four-year UK tour. A cascade of thousands of ceramic poppies and a huge arch of suspended red poppy heads, both structures together contain 11,000 flowers. First created in 2014 by artist Paul Cummins and designer Tom Piper, they were shown at the Tower of London surrounded by 888,246 ceramic poppies to represent every British and Colonial life lost in the Great War.
Where: IWM North, Trafford Wharf Road, Trafford M17 1TZ (Wave), IWM London, Lambeth Road, London SE1 6HZ (Weeping Window)
When: Wave on display until 25 Nov. Weeping Window on display until 18 Nov.
Need to know: Admission to museums and displays free.
Get the bigger picture
What: First launched in the year 2000, The Big Draw is now the world's largest celebration of drawing, painting and illustration, bringing together more than 4 million art lovers across the world in over 25 countries. There are thousands of events to choose from being held across the UK, from drawing discos to comic book creation. So get ready, steady, sketch!
Where: Venues around the UK.
When: 1-31 October, times vary.
Need to know: For events near you, visit The Big Draw Half Term Highlights website.
What the doctor ordered
What: Be Beamish bound this October and discover more about the history of health and healthcare. From 1950s NHS clinics and Georgian medicines to the dangers of being poorly through the ages, there's lots to see and do. You'll be able to find out about wartime first aid training, have a go at wound dressing and try out some period life-saving techniques and see if you've got what it takes to work on a Second World War battlefield.
Where: Beamish Museum, Beamish, County Durham DH9 0RG
When: 20-28 October, 10am-4pm
Need to know: Events free with admission. Family ticket £49.50.
Fantastic fireworks
What: Spark your curiosity in science and engineering with this Fireworks and Fairgrounds special at Winchester Science Centre. Find out what gives fireworks their colour, whizz and bang in an explosive science show and get creative in the Invention Studio by designing and constructing your own fairground rides. And don't forget to check out their new Explorer: Space exhibition, with interactive exhibits covering everything from meteorites to stardust, robots to coding and atmospheric pressure to human space flight.
Where: Winchester Science Centre, Telegraph Way, Winchester SO21 1HZ
When: 19 Oct-4 Nov, 10am-5pm.
Need to know: Tickets from £10, under 3s free. Planetarium shows £3.50 extra.
Kidding around
What: Get set for Kidtropolis, the UK's biggest and best show for children, which takes place this month in central London. There's an amazing line up of interactive shows and entertainment for kids under the age of 12, with lots of beloved characters being brought to life, such as My Little Pony, The Grinch, Masha and the Bear, Oddbods, Thunderbirds, BoogieBug, West End Kids, The Lorax and Pikachu. Plus, there's inflatable fun, magic shows, dance performances, go-karting, a chance to meet YouTubers and film stars and much more.
Where: ExCeL London, Royal Victoria Dock, 1 Western Gateway, London E16 1XL
When: 20-22 October, 9.30am-1.30pm & 2.30-6.30pm
Need to know: Half day tickets £13.20 per person. Full day tickets £19.20.
Play's the thing
What: Shakespeare's Schoolroom and Guildhall invites you to get back into the classroom this October as they bring to life the schooldays of the Bard. The award-winning 16th century visitor attraction opened in 2016 after a £1.8million restoration and now boasts interactive exhibits, film screenings and lessons with a 'real' Tudor School Master in the very room Shakespeare was taught. There's also quill writing and a chance to dress up to create a perfect Shakespearian selfie!
Where: Shakespeare's Schoolroom & Guildhall, Church Street, Stratford-upon-Avon, Warwickshire, CV37 6HB
When: 22 Oct-4 Nov, 11am-5pm.
Need to know: A family ticket costs from £15.30 online.
Creepy creatures
What: Get ready for hairy but not too scary Halloween fun at ZSL Whipsnade Zoo. Find out what animals go bump in the night with the Super Natural Neighbours challenge and explore the creepy kitchen and pungent pond. Afterwards, try out some spooky art and craft activities, including mask making, pumpkin carving and face painting. You can also meet the zoo's owls in an Owloween Encounter or discover weird and wonderful stories with Monster Mythbusters.
Where: ZSL Whipsnade Zoo, Dunstable, Bedfordshire, LU6 2LF
When: 20-31 October, 10am-5pm
Need to know: Tickets cost from £25.45 for adults and £18.50 for children.
Fantabulous fun
What: Get set to explore Roald-Dahl-style in a wood near you with a special family day out and a most marvellous Forest Adventure Kit. Inspired by Dahl's James and the Giant Peach, the kit (created with Forestry Commission England) contains everything you need to find insect friends, including a backpack, activity booklet, foldout binoculars, magnifier, collecting tray, forest find cards, stickers and a pencil. It's perfect for Roald Dahl themed family fun days across the UK, with games including character hunts, peach volleyball, three-legged centipede race and more.
Where: Various Forestry Commission locations across England
When: 22 October-4 November
Need to know: Events are free. Forest adventure kit costs £7.50
Bath time
What: There's some serious celebration in the south west this half term, as Bath and North East Somerset host an array of special events and activities as part of Museums Week. With more than 100 activities taking place during the nine-day celebration, you'll be able to weave your own tartan at the Fashion Museum, make a Gorgon's head badge at the Roman Baths, help create a giant banner to celebrate the city, go on a fossil hunt, listen to Asian ghost stories an enjoy daily bun tastings at Sally Lunn's.
Where: 21 venues across Bath and North East Somerset
When: 27 October-4 November, times vary.
Need to know: Prices vary. Some events are free.
Tell me a story
What: Storystock, the travelling circus of stories, is returning to Battersea Power Station this October with a programme of literary fun for all ages. Shows include The Ruby Redfort Stage Show, The School of Comedy Show, The Harry Potter Show, Malala's Magic Pencil and Ben Hoare's Anthology of Intriguing Animals. Aspiring storytellers can develop new skills with comedy, puppetry and comic book workshops, as well as enjoying storytelling sessions bringing to life tales by Julia Donaldson, Judith Kerr and Dr Seuss.
Where: Circus West Village, Battersea Power Station, Arches Lane, Circus West London SW11 8AB
When: 22-24 October
Need to know: Prices vary between events.
Art of the matter
What: Be amazed this half term at the Liverpool Biennial, the largest contemporary arts festival in the UK. Celebrating its 20th anniversary, the festival has taken over more than 20 galleries, buildings and outdoor spaces with tons of free art exhibitions and events for families to explore. Highlights include climbable artwork designed at Liverpool Metropolitan Cathedral, family gardening and growing sessions at Mohamed Bourouissa's Garden of Resilience, creative workshops at Victoria Gallery & Museum and even a 5,000-year-old Abyssinian god made of mud!
When: Until 28 October.
Where: Various locations in Liverpool.
Need to know: All activities are free.
Here Comes The Sun
What: Get set for some serious solar power at London's Science Museum with their new illuminating exhibition. From golden religious artefacts from the Nordic Bronze Age to details of NASA and ESA solar missions, The Sun: Living With Our Star tells the story of human dependence on, and changing understanding of this powerful star. You'll be able to bask in sunlight on an indoor beach, virtually try on a range of historic sunglasses in a digital mirror and see the Sun rise in different seasons and locations around the world on a huge illuminated wall display.
Where: Science Museum, Exhibition Road, South Kensington, London SW7 2DD
When: 6 October-6 May, 10am-4pm
Need to know: Tickets from £15.
Beast quest
What: Find fantastic beasts down at Cornwall's Eden Project as it celebrates Halloweden. Come face-to-face with Sapphire the winged dragon and Pongo the 8ft-tall flightless bird, and hear tales of mythical monsters before heading to the medieval marketplace to make food for your magical creatures and create amulets to let other animals know your garden is a safe space to be.
Where: Eden Project, Bodelva, Cornwall PL24 2SG
When: 20 October-4 November, 9.30am-6pm
Need to know: Most activities free with admission. Family ticket from £64 online.
Grand designs
What: Be constructive this half term at the Nottingham Contemporary, with this free family workshop where you can imagine what your perfect place might look like. You can explore, imagine, plan and build an ideal community. Work together to make imaginative structures and open spaces, share and connect. From concrete to cardboard, tents to tunnels... get building!
Where: Nottingham Contemporary, Weekday Cross, Nottingham NG1 2GB
When: 20 October-4 November, 11am-3pm
Need to know: Free. Drop-in.
Best face forward
What: Face paint brand Snazaroo has teamed up with bookshop Waterstones to run a series of fun free events to help get families in the real Halloween spirit. Skilled face painters will transform little angels into little monsters and share hints and tips so you can re-create the look on Halloween night. You can also enjoy listening to Halloween classics such as Funnybones, Meg and Mog and Ten Little Monsters.
Where: Waterstones Brighton, Edinburgh, Liverpool, Manchester and London Piccadilly.
When: 27 October, 11am-4pm
Need to know: Free, but book in advance to guarantee a place.
Triple terror
What: For those who dare, the award-winning Lion Salt Works Museum in Northwich, Cheshire will be getting into the spirit of the October break with three spooktacular Halloween events. You'll be spell-bound with their Museums at Night Trick or Treat trail, be spooked by making some scary decorations or chilled to the bone with their adaption of The Haunted Man by Charles Dickens.
Where: Lion Salt Works Museum, Ollershaw Lane, Marston, Northwich, Cheshire CW9 6ES
When: 27-31 October, event times vary.
Need to know: Family ticket from £16.40. Book online.
Body talks
What: Get set for a range of biological-based workshops looking at the human body, all held in a unique cell-shaped pod suspended above the laboratories of London's Blizard Institute. You can explore the wonders of your magnificent muscles and brilliant bones or go giddy about your gut and unravel the fascinating structure and function of the digestive tract, find out why 'you are what you eat' and what makes the perfect poo!
Where: Centre of the Cell, Blizard Institute, 4 Newark Street, Whitechapel London E1 2AT
When: 23-26 October, times vary.
Need to know: Adults £7.50, children (3-15) £5.50. Book online.
Roll up, roll up!
What: Get ready for the greatest show at the Museum of London with a three-ringed spectacular of an October half term. Marking 250 years since the circus was born in London, this free show explores the serious science behind the greasepaint and glitz. You'll get the chance to discover the science behind lying on a bed of nails, how tightrope walking works and even shooting clowns out of cannons!
Where: Museum of London, 150 London Wall, EC2Y 5HN
When: 20-28 October, 10am-6pm
Need to know: Free, book online in advance.
Fire and water
What: Cheshire's most thrilling firework display is back with a bang and bigger and better than ever. Watch dramatic explosions of colour light up the autumn night sky above the picturesque River Weaver as you stand on the lawned terraces of the majestic Victorian Anderton boat lift. There's also food, music, a ghost train and children's adventure play area.
Where: Anderton Boat Lift, Lift Lane, Anderton, Northwich, Cheshire CW9
When: 27 October, 6.30-11pm
Need to know: Family ticket from £20 online.
Seaside science
What: Start your holidays with a Big Bang at Brighton Science Festival, back for its 10th year and featuring a whole host of science-y fun in the shape of workshops, activities, talks and shows. Have a go at creating a vomiting pumpkin, manipulating electrostatic forces with a drinking straw, brewing a huge cauldron of slime or battling tiny robots... the choice is yours!
Where: Various locations in and around Brighton.
When: 16 October-4 November
Need to know: Prices vary. Some activities are free.
October 2018 half term holiday family activities in Scotland
Weird science
What: Go north for some seriously scientific fun at Dundee Science Festival. Covering a wide range of topics including physics, computer science, engineering, psychology and astronomy, you can make your own hovercraft, then find out what happens when dictators have toothache and how microbes keep your ice cream stay cold!
Where: Dundee Science Centre, Greenmarket, Dundee DD1 4QB
When: 6-21 Oct, 9am-6pm
Need to know: Prices vary. Many events free.
Top of the pups!
What: The Scottish Mask and Puppet Centre's annual Magipup Festival will keep everyone entertained this holiday. Take your pick from shows and workshops featuring everything from Chaplinesque comedy, shadow theatre, ghost shadow puppets, Punch & Judy, funky masks, funky balloons and the Pied Piper of Hamelin.
Where: Scottish Mask and Puppet Centre, 8-10 Balcarres Avenue, Glasgow West End G12 0QF
When: 13-20 Oct, times vary
Need to know: Events range from free to £6.50 a ticket.
Graveyard smash
What: Celebrate Hallowe'en in style with some spine-tingling spirits at Scone Palace. Running for seven nights of spookiness, you can follow the illuminated ghostly trail through the Palace grounds featuring some truly gruesome characters from Scottish history brought back to life with blood-curdling stories inspired by local folklore. Enjoy some ghostly story telling, try not to get lost in the maze of nightmares and have a go at marshmallow toasting.
Where: Scone Palace, Perth, Scotland PH2 6BD
When: 25-31 October, 6-10pm
Need to know: Book online. Tickets from £6.25 (child), £12.50 (adult).
October 2018 half term holiday family activities in Wales
Absolutely batty!
What: For fearless young adventurers wanting to explore the spooky side of wetland wildlife, WWT Llanelli Wetland Centre is hosting a special Bat Box building workshop. There are also Halloween crafts and the chance to discover mystery skeletons, intriguing insects and the centre's slimy, wriggly and slippery pond inhabitants! 
Where: WWT Llanelli Wetland Centre, Carmarthenshire
When: 27 Oct-4 Nov, 11am-2pm
Need to know: Events included in admission; £8.60 adult, £5.45 child.
Apple-y ever after
What: Take part in a celebration of all things apple at Erddig with a whole host of apple-themed games and craft activities, from making chocolate apple pops to apple printing. With apple trails in the garden, Nordic walking and a fungal foray, there's something for everyone.
Where: Erddig, Wrexham, LL13 0YT
When: 28 Oct-4 Nov, 11am-4pm
Need to know: Event free with admission. Family ticket from £20. Wellies recommended.
Feast of fun
What: Get set to party in the medieval town of Conwy this holiday, when it's transformed by a weekend festival that boasts the largest celebration of music, art and food in Wales. The quayside, castle and medieval streets will be bursting with flavour, sound and sights for kids including cookery sessions, art drop ins, a farmyard of real live animals and even a mini beast world.
Where: Gwledd Conwy Feast, Civic Hall, Castle Street, Conwy LL32 8AY
When: 26-28 October
Need to know: Weekend ticket, £30 per family.
October 2018 half term holiday family activities in Northern Ireland
Fear festival
What: Celebrate the ancient festival of Hallowe'en at Ulster Folk & Transport Museum with this fun family festival. Come dressed to scare as you embark on a mysterious adventure through the museum's misty rural dwellings and dark train carriages and enjoy traditional Halloween apple games before carving your own family turnip lantern to ward off evil spirits. You can also see creepy crawlies, catch a magic show and meet some spooky owls.
Where: Ulster Folk & Transport Museum, Cultra, Holywood BT18 0EU
When: 31 October, 10am-4pm
Need to know: Tickets £11 adult, £6 child. Book online in advance.
Tree-mendous!
What: Take a trip walking with the shadows this October as you enjoy three days of woodland Halloween fun at An Creagan. Join in with fun, games and music as well as art and craft sessions, fancy dress and a treasure hunt trail through the spooky forest.
Where: An Creagan, 186 Barony Road Creggan, Omagh. Tyrone BT79 9AB
When: 31 Oct-2 Nov, 12-3pm
Need to know: Costs £1 per child.