27 fantastic activities for the October 2020 half term holidays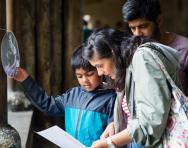 It's the half term holiday and despite it being a little different this year, there are still plenty of fun and educational activities for you to safely enjoy with the kids. From Gruffalo-hunting to secret spy training, here are 27 of the very best family learning events for October 2020. By Hetty Walton
October 2020 half term holiday family activities in England
Westminster wonder
What: Uncover the 1,000-year history of one of the world's greatest churches with this special family day and online tour of Westminster Abbey. You'll be able to find out the history of the building, how it got created and be inspired by the people lived, worked and are buried there. Enjoy tremendous tales with special storytellers, follow a historic trail, and meet an important lady from the Abbey's past. Or why not go behind the scenes with a free online tour, taking you to parts of the building never seen before?
Where: Westminster Abbey, 20 Dean's Yard, London, SW1P 3PA
When: 28 October, 11-11:45am, 2-2:45pm (online tour), 30 October, 10am-3:30pm (family day)
Need to know: Free. Booking essential. Suitable for children aged 5+.
Image: © Westminster Abbey
Elephant man
What: Step aside Elmer, Bernard wants to play! Get control of your inner monster and explore classic children's author David McKee's new exhibition at Seven Stories in Newcastle. Find out more about his other famous characters like Mr Benn, Charlotte and her Piggy Bank, sad Veronica and of course Bernard, play family games and activities and make your own monster to take home. It's also the last chance to catch McKee's Elmer and Friends exhibition. Make a patch to add to the giant Elmer and discover your 'true colours'.
Where: Seven Stories, The National Centre for Children's Books, 30 Lime St, Newcastle upon Tyne NE1 2PQ
When: 6-31 October, 10am-4pm, closed Mon.
Need to know: Family ticket, £23.10. Exhibition tickets, £10 (Bernard) and £7 (Elmer).
Spider girl
What: Find a magical, mystical world of stories and surprises with Manchester's HOME this half term. Storyteller Ella McLeod introduces Celina and the Spider, a series of three online tales, featuring handmade puppets and mythical gods. When Asae Ya the Earth Mother, Nyame the Sky God, and Brother Death come to Anansi the Spider with a problem, the trickster's usual genius strikes. They pay a visit to their best friend, Celina the Moon Goddess and plan to help their elders – with a healthy dose of mischief!
Where: Online via HOME, Manchester's centre for international contemporary culture
When: 26, 28, 30 October, 11.30am
Need to know: For ages 5-11, tickets available on a pay-what-you-can-basis.
Scary splash
What: Dive into the dangerous deep with the return of SEA LIFE's Ascarium trails at centres across the UK. See if you're brave enough to find the missing potion ingredients hidden alongside some of the creepiest creatures of the deep, as well as a few of the more charming ocean dwellers, such as seahorses, rays and clownfish. Spot them all, then solve the riddle to complete the spell for the sea witch and to claim a tasty reward for your Halloween bravery! Throughout the trail, you can also learn about the many monsters of the deep that make SEA LIFE their home, including its resident sharks!
Where: SEA LIFE centres across the UK
When: 10 October - 1 November, 10am-4pm
Need to know: Booking essential. Adult ticket from £17.20, child prices from £15.50.
Go-go-Gruffalo
What: Explore the deep, dark wood of Kew Gardens 14,000 trees and see if you can track down a fantastic beast to celebrate Julia Donaldson's classic book, The Gruffalo. Follow the little brown mouse trail with a special map to discover the footprints, feathers and marks of some of the book's much-loved characters and even unearth the Gruffalo himself! Discover the secret world of plants and animals and how their lives are interconnected as well as enjoying Kew Gardens' beautiful autumn landscape.
Where: Kew Gardens, Kew, Richmond, London, TW9 3AE
When: 17 October - 1 November, 10am-6pm
Need to know: Book your time slot in advance. Family ticket costs £40.
Eye spies
What: For one weekend only this half term, they're looking for new operatives for IWM Duxford's spy school. Think you're up to the challenge? You'll get a crash course in camouflage, learn top tips for coding, take on a spy assault course and more. You can also learn more about Captain Tom and the Burma campaign he served in, thanks to their new Captain Sir Tom at 100 display, or travel back in time to D-Day 1944 and build your very own bespoke cockpit.
Where: IWM Duxford, Duxford, Cambridgeshire CB22 4QR
When: 24 October - 1 November, 10am-3pm (Spy School 24-25 Oct)
Need to know: Events free with admission. Family ticket costs £51.55
Going on a Wally hunt!
What: Stripy, secretive and always wearing a bobble hat, track down the elusive Wally in museums up and down the UK as he celebrates the launch of his new book, Where's Wally? Spooky Spotlight Search. With over 75 museums across the country taking part, just pick up an activity sheet and hunt for the bespectacled hero hidden alongside the exhibitions and objects. Spell out the correct spooky phrase with the letters hidden next to him and you could receive a special "I found Wally!" prize. You can also enter the Where's Wally? grand prize draw and win an ArtFund Family Membership and a bundle of Where's Wally? goodies.
Where: Where's Wally Spooky Museum Search, 75 museums across the UK
When: 9 October - 1 November, times vary.
Sounds familiar
What: Have you 'heard'? Winchester Science Centre has a brand-new interactive exhibition exploring sound and vibration. Play a tune on a 10-metre long guitar, learn about acoustics with the sonic rocket, climb inside a giant ear, or even join a rescue crew to save Humphrey the humpback whale. Plus, you can delve deeper with a science of sound live show, or visit the BIO:SPACE outdoor experiment zone and discover the wildlife in South Downs National Park with plenty of hands-on challenges.
Where: Winchester Science Centre, Telegraph Way, Winchester SO21 1HZ
When: Weekends from 17 Oct 2020, all week 26-30 October, 9.20am-5pm (last entry 3pm).
Need to know: All tickets must be booked online. £10.80 per person if booked a week or more before visit, £12 per person otherwise.
Creepy creatures
What: Get set for some spook-tacular hairy, but not too scary, Halloween fun at Whipsnade Zoo. Follow Wizard Wolfgang's magical trail and practice your spellcasting skills as you learn fascinating animal facts on the hunt for clues. There are also pop-up animal talks focusing on the ghoulish and gruesome side of nature and you can try to work out which of the zoo's inhabitants is behind a monstrous creation in a game of 'Poo at the Zoo'. 
Where: ZSL Whipsnade Zoo, Dunstable, Bedfordshire, LU6 2LF
When: 24 October - 1 November, 10am-4pm, except 24 Oct, 10am-5pm.
Need to know: Adult tickets, £25.45, child tickets £16.54. Online booking essential.
Things that go bump in the knight
What: Prepare yourself for a ghoulish day out at Dover Castle. Follow the trail of clues through medieval tunnels and winding staircases (don't disturb the castle ghosts!), hear tales of strange, spooky and downright silly goings-on, or get up close to some creepy creatures in a Zoolab workshop. There's a frightful fancy dress competition too and some chocolate workshops, where you can discover the history of making chocolate before creating your own edible masterpiece! 
Where: Dover Castle, Castle Hill, Dover, Kent CT16 1HU
When: 24 October - 1 November, 10am-5pm.
Need to know: Family ticket £44.20, chocolate workshop, £10 per child. Advance booking essential.
Dinky delights
What: It's teeny tiny time at Beaulieu National Motor Museum with their newly opened Motoring in Miniature exhibition, set to appeal to car buffs from 5 to 95. Featuring an impressive collection of over 800 toy cars from across the decades, you can find out how they developed from crude wooden replicas to battery-operated ride-on machines and check out car travel games, construction kits, I-Spy books, computer games and much more. You can also search for models hiding around the museum or visit Little Beaulieu – a new adventure playground which features a zip line, climbing wall, trick bookcase, lookout tower and secret passage.
Where: Beaulieu, New Forest, Hampshire SO42 7ZN
When: 24 October - 1 November, 10am-5pm.
Need to know: Book in advance. Family ticket £53.
Dead good
What: Head for the Herbert this half-term and get creative with some spooky arts and crafts. Inspired by traditional Day of the Dead decorations, you can paint a luminary lantern (used to light up doors and windows) with images of skeletons and flowers, create a personalised sugar skull mask, or learn how flowers were used to guide the spirits of the dead home while fashioning some tissue paper blooms into a flower garland.
Where: Herbert Art Gallery & Museum, Jordan Well, Coventry, CV1 5QP
When: 24-30 October, 10:30am-3:30pm
Need to know: Admission free. Workshops, £6.43 per child, advance booking essential.
Deeply Dippy
What: After a few months of social distancing, the Natural History Museum's superstar Diplodocus dinosaur Dippy will be welcoming visitors to Rochdale's Number One Riverside. Explore the world of dinosaurs, discover what Rochdale was like 150 million years ago and learn about the planet of the future and what you can do to protect it. As well as discovering Dippy, you can also enjoy the Nature and History exhibition at Touchstones Rochdale, where you can meet expert scientists and travel back in time to gather information about the town in the Carboniferous Period.
Where: Number One Riverside, Smith Street, Rochdale OL16 1XU and Touchstones Rochdale, The Esplanade, Rochdale OL16 1AQ
When: 11 October - 12 December, 10am-4pm. Closed Mondays.
Need to know: Free. Touchstones exhibition must be booked online in advance.
Tasty tales
What: Following in the footsteps of Roald Dahl and David Walliams, bestselling author and former McFly frontman Tom Fletcher is the latest writer taking part in the McDonald's Happy Readers programme. Specially written for the programme, eight new stories follow the adventures of Izzy, her cousin Benjy and their time-travelling van and will be given away with the purchase of a McDonald's Happy Meal. Tom will also be reading some of his new stories in a special online edition of the Happy Readers Story Club during half-term.
Where: Available at McDonalds across the UK.
When: Books available from 7 October, Happy Readers Story Club runs 26 October - 1 November.
Need to know: One book given away free with the purchase of a McDonald's Happy Meal (meal price varies with location).
Black History Month
What: Discover the stories of Black Londoners as the Museum of London and Museum of London Docklands celebrate Black History Month this October. Explore a series of bitesize digital talks, which uncover the city's Black heritage, visit two new exhibitions charting the story of the Krio people of Sierra Leone and the impact of dub reggae on London's music scene, or follow the Story Sleuths digital trail to explore how the legacies of London's past Black inhabitants continue to influence the city and its people today.
Where: Museum of London, 150 London Wall, Barbican, London EC2Y 5HN and Museum of London Docklands, 1 Warehouse, West India Quay, No, Hertsmere Rd, London E14 4AL.
When: 11.30am-3.30pm, Mon-Fri, 10am-6pm, Sat/Sun.
Need to know: Entry to both museums is free, but tickets must be booked in advance.
Lockdown letters
What: Visit London's Foundling Museum this October for a special exhibition of 'The Covid Letters' – a collection of artworks created by under-16s who customised a COVID-19 warning letter to express their feelings about the pandemic. Curated by artist and fashion designer Jonny Banger, the exhibition features 200 artworks ranging from righteousness to rudeness, with messages to help the NHS displayed alongside anti-government graffiti. There's also a series of free workshops to make your own unique statement T-shirt inspired by Jonny's 'Sports Banger' designs using scissors, glue, markers and a range of provided logos, a fabric Halloween face mask inspired by the images in the exhibition, or a spooky silhouette lantern.
Where: The Foundling Museum, 40 Brunswick Square, London WC1N 1AZ
When: Sat & Sun, 10am-4pm.
Need to know: Book in advance. Admission £9.50 per adult, under 21s free.  
Terrifying Tudors
What: With more medieval monsters than you can shake an axe at, Past Times Living History returns to Berkeley Castle for four days of seriously spooky shenanigans. Meet the horrible Henry VIII and his two beheaded wives as they tell the terrible tale of how they lost their heads, take part in a gruesome gameshow and discover the most revolting Tudor remedies for plagues and pustules and make sure you dodge Grim the Executioner and Wee Jobbie the Gaoler as they prowl the castle so you don't end up in the dungeon.
Where: Berkeley Castle, Gloucestershire, GL13 9BQ
When: 25-28 October, 11am-4.30pm
Need to know: Advance booking essential. Tickets, £14 adults, £7 children (3-16).
Roman holiday
What: Go gaming Roman-style this October at Lunt Roman Fort. Costumed guides will run interactive demonstrations of the most popular board games of the Roman world – try your hand at Tria, Duodecim Scripta, Terni Lapilli, or even the challenging Mendax Tesserae! All gaming materials are provided, just book in and play on the day. You can also explore the site and discover the Fort's place in history.
Where: Lunt Roman Fort, Coventry Road, Baginton CV8 3AJ
When: 26-30 October, 10am-12pm & 1-3pm
Need to know: Book in advance online. Adult, £5.12, child, £4.33.
Water world
What: Enjoy the best of nature and art together with Unravelled, a new outdoor exhibition woven throughout the lakes, ponds and reedbeds of London Wetlands Centre. To mark the centre's 20th anniversary, this 10-month contemporary art programme is being carefully threaded throughout the watery habitat for visitors to enjoy as they watch the wildlife. See if you can spot the three different buildings of Alec Stevens's 'That Sinking Feeling' – a Bangladesh stilted house, a London Victorian semi-detached and a Miami Art Deco Hotel – as they rest above the water on the lake.
Where: London Wetlands Centre, Queen Elizabeth's Walk London SW13 9WT
When: 1 October - 26 March 2021, 9.30am-4.30pm.
Need to know: Advance booking essential. Family ticket from £36.63.
Secret garden
What: Uncover myths and legends alongside gruesome scientific fact and history at Alnwick's Poison Garden Tours. Featuring many deadly plants growing in your back garden and wild in the British countryside, how much do you know about the plants around you – and do you dare to enter?
Where: The Alnwick Garden, The Gardeners Cottage, Greenwell Road Alnwick, Northumberland NE66 1HB
When: 10am-4pm
Need to know: Pre-booking essential. Family admission, £36.30.
October 2020 half term holiday family activities in Wales
Science from your sofa
What: Take your minds on a journey of discovery this half term courtesy of Wales's largest free science festival, the Swansea Science Festival. This year it's gone digital, with over 30 online shows, talks, workshops and tours, featuring famous faces such as Brian Cox, Konnie Huq and Steve Backshall exploring the worlds of nature, science and climate change. You can take part in a sand dune-based dance workshop, be part of a worldwide online event exploring a famous dream or even have a go at extracting DNA from a banana!
Where: Online
Need to know: 21-31 October, times vary
Hogwarts from home
What: Join award-winning science communicator Jon Chase as he uncovers the science behind the magical world of Harry Potter in a digital family event from the National Museum Wales (there are loads of other online science-themed talks on offer, from science rap to explosive food and even a Fartology Show!).
Where: Online
When: 31 October 2020, 6pm (other shows' timings vary)
Need to know: Advance booking essential but tickets are free
October 2020 half term holiday family activities in Northern Ireland
Lights, camera, action
What: What: Experience some of the best world cinema from the comfort of your home thanks to the Virtual Cinemagic Film Festival, an annual celebration of film and television designed by and for young people. Highlights include Marona's Fantastic Tale, the animated story of a little black-and-white dog's life of companionship and devotion to its former owners, and Forward, a documentary showing how children from across the globe are changing the world by fighting against poverty, inequality and climate change.
Where: All films available to stream online.
When: Until 5 November, films are available to view for one week at a time.
Need to know: Each film costs £5 to rent for 48 hours.
Ship shape
What: Enjoy a Titanic Experience in Belfast this month when children can visit absolutely free. Discover the world's most famous ship and earn a special certificate as you complete the Explorer Trail on the way round, interacting with characters throughout the exhibition's nine interpretive galleries. Explore the shipyard, travel to the depths of the ocean and uncover the true legend of Titanic in the city where it all began. You can also hop on board SS Nomadic, the last remaining White Star Line vessel with an impressive wartime history.
Where: Titanic Belfast, 1 Olympic Way, Queens Road, Titanic Quarter, Belfast BT3 9EP
When: Until 31 October, 10am-3pm
Need to know: One free kids (10 and under) ticket with one paying adult ticket (£19), in October. Must be booked online in advance.
October 2020 half term holiday family activities in Scotland
Building boffins
What: Are you a budding architect? Come to the Holyrood Palace's quadrangle to find out how this fascinating building was built over hundreds of years, from curious columns to creative carvings. Then put your artistic skills to the test and make a pop-up paper promenade inspired by the architecture of the quadrangle and pick up a multimedia guide to explore the palace with the help of palace architect William Bruce. 
Where: Palace of Holyrood House, Canongate, The Royal Mile, Edinburgh, EH8 8DX
When: Sat-Sun from 10-31 October, 1-4pm
Need to know: Pre booking essential, family ticket £42.50
Bright ideas
What: Unleash your inner innovator with Glasgow Science Centre's latest exhibition – Idea No59 – as it celebrates Scotland's industrial heritage of invention by exploring the process of how ideas are dreamt up and brought to life. Discover stories of boundary-breaking research into artificial intelligence, augmented reality, graphene, 3D printing and even vertical farming. See if you've got what it takes to become an inventor by taking a range of problem-solving challenges, including controlling the motion of a snake and memorising the correct path of lights, then enter the Design Studio to build your own weird, wacky and wonderful creations.
Where: Glasgow Science Centre, 50 Pacific Quay, Glasgow G51 1EA
When: 10am-5pm, weekends and 9-25 October
Need to know: Adult tickets, £10.90, children, £9.09. All tickets must be booked in advance online.
Strange brew
What: Follow the winding footpaths and venture into the lost lands of the Calder Witches at Almond Valley Heritage Centre. In the day enjoy scary crafts and grab your sheet and look for clues on a spine-chilling trail of terror around the old farm; at night strings of tiny lights guide your way to secret places, while strange creatures are revealed in the shadows. Take a spell in the witches' kitchen where a herbal brew will calm your nerves...
Where: Almond Valley Heritage Centre, Millfield, Livingston Mill Farm, Livingston, West Lothian, EH54 7AR
When: 10-31 October, 10am-5pm
Need to know: Advance booking essential. Adult tickets, £9.50, children (aged 3-15) £7.50.