Settling a child with SEN back into school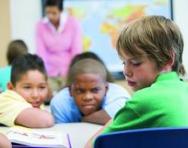 After the school holidays any child can find it unsettling heading back to school but it can be especially worrying for children with SEN. Here's what you can do to help.
Katherine Whaewell's 13-year-old son Adam rarely enjoys a day at school and is not looking forward to returning for the new term. Adam has been diagnosed as being on the autistic spectrum and is currently being treated for ADHD as well as dyslexia. His lack of self-awareness and reluctance to cooperate throw up constant challenges for Katherine.
"Adam doesn't care about how he's dressed – matching socks and clean underwear are always a challenge – and going to school with pyjamas on under his clothes is a regular occurrence. Last year we were not checking his bag for a while and trying to encourage him to do this himself, but it then came to light he was walking round with mouldy food in his bag!" she says.
Katherine says that Adam's own personal worries about returning to school are mainly concentrated around the prospect of new teachers. "He also says the people in his class bully him and he wants to change to another class," she says. "This is an option that has been previously discussed with school, however it was felt that whichever class Adam was in the situation would remain the same."
Settling SEN kids at school: common concerns
These are very common issues for parents and children living with a special educational or behaviour need, says Holly Evans, a member of the advisory board of ADDISS, The National Attention Deficit Disorder Information and Support Service.
"Children worry about everything," she adds. "Bullying is really big on their list, as is getting lost, not finding the toilet, having an accident, being asked to read in class when they can't, forgetting their stuff, being on their own, not having anyone to have lunch with or losing their money. You name it, they worry about it."
So after school holiday bliss, settling back into routines, facing new challenges and coping with a possible change in teachers can be extremely worrying for both child and parent.
"It can be tough sending your child off to school if they are anxious, particularly if they are going to high school for the first time, a new school, or if there were problems last year," says Dorit Braun of Family Lives (previously Parentline Plus). "These are concerns that parents of all children face but for those who have children with particularly prominent educational needs the concerns become greatly intensified."
School worries: finding solutions together
It is up to parents and the school to do as much as they can between them to make the situation easier for the child. Holly says it is imperative that, as a parent, you are well ahead of the game, which means communicating with the school as early as possible so you can make arrangements for the future together. "If your child has specific issues ask to meet the SENCO in school and talk about these so they can be addressed. Plan for success, it doesn't just happen," she says.