Top 10 activities to get kids active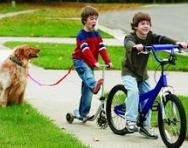 Struggle to peel your child off the sofa to get some exercise? Try these fun activities to get them up and out.
Walk or cycle to and from school with the kids as often as possible.
Build a den or treehouse with them in the school holidays. Or, under supervision, encourage them to climb a tree or two.
Go roller skating, roller blading or skateboarding, indoor or out. In winter, go ice skating. Kids also love scooters.
Do an activity challenge together, such as working towards a fun run or a walk for charity.
Take the dog for a walk. If you don't have one of your own, ask to borrow a neighbour's or friend's dog. They'll probably be glad of the help!
Support your kids in sports, clubs or any other activities that may interest them. Joining a weekend club sport ensures commitment to a team and regular exercise.
Find time every weekend to do something active with your children. Play frisbee or football in the park, go trampolining or try indoor rock climbing.
Fly a kite. The Kite Society of Great Britain's website lists a number of groups that regularly meet for special flying days with experienced members who offer advice and assistance. Some also run kite-making workshops.
Forget lying on the beach for your next holiday; choose the active option instead. See UK Parks for ideas on how to plan a camping adventure.
The National Parks website has lists of events such as guided walks and children's fun days for fresh ideas for active days out.