What is a story map or story mountain?
Your child will be taught to use different planning and analysis tools in primary literacy. Story maps, story flowcharts and story mountains are diagrams to help them think clearly about the plot and structure of what they're writing. We explain what parents need to know.
What is a story map?
To help children to understand the structure of a story that is being studied in class, they may be encouraged to draw a story map.
A teacher may give them a frame on which to work, or they might give them a blank sheet of paper and ask them to draw it themselves. The idea is that the children are aware of the main events of the story and can remember how they are sequenced. This is an example of an empty story map: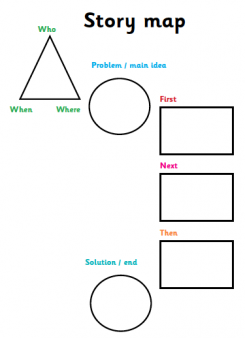 Download a FREE Creative Writing toolkit!
KS1 & KS2 workbooks
Bursting with fill-in prompt sheets and inspiring ideas
Story structure tips, style guides and editing suggestions
It is a good idea to encourage children to draw pictures on a story map, to help them to visualise the story. Teachers sometimes encourage them to include speech written within speech bubbles.
What is a story flowchart?
Similar to a story map is a story flowchart which may be set out as follows: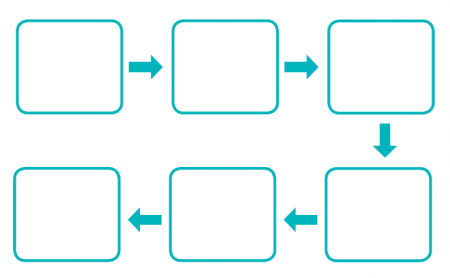 What is a story mountain?
A story mountain is another tool to help children to understand story structure.
The benefit of using a story mountain diagram to analyse text is that it enables children to understand that some stories often start with a description of setting and characters and then start to build up the action. Around the middle of the story there is often a problem where something exciting or scary happens. This is known as the climax of the story. There then needs to be a resolution of this problem and then a suitable ending to round off the story.
Description of setting / characters
Build up to the action
Climax
Resolution
Ending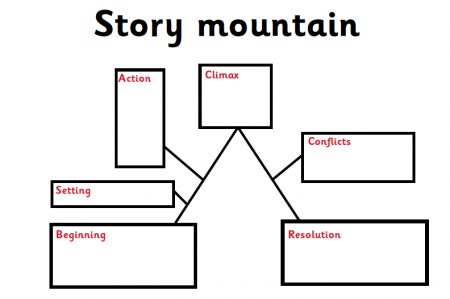 When marking a child's story map, mountain or flowchart, teachers check whether a child has understood that the idea of this process is to remember the main events of a story without including all the detail. Children are expected to write in note form, rather than full sentences when completing a diagram like this.

How are story maps used in the primary classroom?
Teachers often ask children to plan their own stories using maps, flowcharts or mountains. This helps them to think clearly about the plot and structure of their story, and how they plan to divide it into different paragraphs, before they start writing. It can also greatly improve the quality of their writing if they mimic the structure of a story they have read and enjoyed.
When working on non-fiction texts it's more common for children to use spider diagrams to organise their ideas and make notes.