Communicating online: how to keep your child safe
Worried about whether apps like Zoom and Houseparty are safe for your primary school child? Here's our advice, with help from internet security experts ESET.
The use of video calling apps has increased enormously, and many of the new users are children wanting to keep in touch with friends and family.
 
Video calling is a godsend for kids missing out on socialising or seeing people (for various reasons), but many parents are understandably worried about how safe their children are when using these apps and websites.
Download fantastic science resources today!
Experiments And Science Fun pack
Science Learning Programme for each school year
All the instructions, questions and information you need
Indeed, a survey of 2000 parents by ESET found that 80% think the internet has increased children's exposure to risk, and a worrying one in 20 children has given out their address online.
 
So how can we make sure our children are interacting safely online?
Video calling safety: the basics
Adults are generally quite wise when it comes to negotiating social media and communication apps, but children need more guidance to avoid making potentially risky mistakes. Some of the risks include:
Talking to strangers
Sharing personal details like addresses, phone numbers and school names
Finding it hard to manage interactions with friends on social media
Cyber-bullying and grooming
Exposure to explicit language or images
Making in-app purchases without parental permission
Security breaches (hacking) 
While you shouldn't have to restrict your child's use of communication apps altogether, it's important to set some ground rules through open and honest discussion.
 
For example, we warn kids about stranger danger in real life, so the same should apply online: your child should understand that they can only connect with people they know on the apps.
 
In the case of mass online gaming, where hundreds of people around the world may be playing one single game, the stranger danger message is harder to enforce, so it's important that your child knows how to recognise and alert you to suspicious behaviour, such as cyber-bullying or asking for private pictures or personal contact information.
 
It's important to be aware of age limits, too. Most platforms have a limit of 13 or above, but children can swerve this by fabricating their age. Many parents are happy for younger children to use the app, but they should supervise them closely.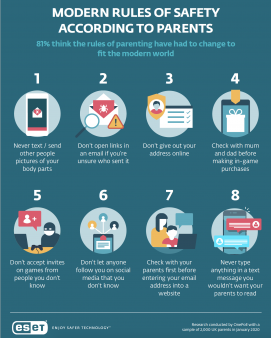 Here's our guide to some of the most popular apps and the safety issues you need to know about.
 
TikTok
A social media app where users can make and share short videos. Comedy sketches, challenges and lip syncs are popular subjects.
 
TikTok age limit: 13
 
TikTok potential risks: Registered TikTok users can see anyone's videos, follow accounts and send messages to other people, so there's a risk that strangers could watch your child's videos and contact them through the app. If, however, your child sets their account to private, only they can see their videos, and they can approve or reject followers and restrict incoming messages to people they know.
 
Because children can view any public videos, they may see inappropriate content, including explicit language. At the moment, the only way to prevent this is to supervise your child while they're using the app, but TikTok is rolling out new safety features, including a block on under-16s sending or receiving messages.
 
You'll also need to talk to your child about the sort of videos they make, as some 'challenges' encourage users to outdo each other in risky or silly behaviour or pranks.
 
Zoom
This video-calling program is frequently used for business meetings, but has had a huge upsurge in personal use since lockdown, as well as organised activities for children like dance classes and Brownie and Cubs meetings.
 
Zoom age limit: 16, unless the child is a School Subscriber using Zoom for Education
 
Zoom potential risks: The main risk is that it's easy for strangers to join a Zoom chat if your child posts the link anywhere online, but there are ways to prevent this, including setting a password to enter the meeting, and locking the meeting when all participants are there.
 
You can also set a waiting room feature so no one can join the meeting unless you (or your child) admit them, and can remove any participant who's unwanted or disruptive, or mute them and/or disable their video.
 
Houseparty
From the makers of Fortnite, Houseparty is a video-networking app for meetings of up to eight friends. A user can send out chat requests to friends, and as soon as they respond, the video chat is ready to begin. This means friends can 'hang out' as if they were all in the same room.
 
Houseparty age limit: 12
 
Houseparty potential risks: Houseparty is relatively secure, but it's possible for other people to enter the 'room' once a video chat is underway. There are several features that prevent this, including Room Lock, which prevents others from joining the room during a chat, and Stranger Danger, which alerts you if someone unknown enters the room.
 
Location sharing is another potentially risky feature, but this function can be switched off.
 
Because chats are live and unscreened, there's also the possibility that your child will see inappropriate content, so it's important to keep an eye on what they're doing and talk about what to do if something makes them feel uncomfortable.
 
Google Meet and Google Chat
Also known as Hangouts, these services allow you to talk to others by audio or video call or message. They're built into other Google facilities (known as the G Suite), including YouTube and Gmail.
 
Google Meet and Google Chat age limit: 13
 
Google Meet and Google Chat potential risks: Google Hangouts are generally quite safe, although there's the usual risk of your child communicating with strangers. They should only add or accept people they know and trust.
 
It's also possible to block a person who is causing concern, not only from a specific chat but from contacting your child altogether.
 
WhatsApp
The ever-popular WhatsApp allows your child to communicate by message, voice chat and video chat. It's particularly useful for making groups: for example, a family group, or a group to discuss homework.
 
WhatsApp age limit: 16
 
WhatsApp potential risks: Despite the age limit, WhatsApp is pretty strong on security, mainly because you can limit who you communicate with. To prevent your child interacting with strangers, make sure their settings are switched to 'My contacts', so that only these people can see information like their profile picture and status.
 
You can block users so they're unable to contact your child, but if they want to completely cut ties with a person on WhatsApp, they'll need to delete them from their phone contacts.
 
By default, WhatsApp shares your location on a map, so ensure that this function is switched off so your child can't be tracked and traced.
 
FaceTime
FaceTime is a video-calling app that's only available (and is automatically built in) on Apple devices. You can FaceTime people individually, or in groups of up to 32.
 
FaceTime age limit: 13, but you can create an Apple ID on your child's behalf if they're under 13.
 
FaceTime potential risks: On FaceTime, children can only communicate with their own contacts. It's impossible to contact someone unless you have their phone number or email address, so it's unlikely that your child could call, or be called by, a stranger.
 
It is possible, however, for an unknown person to contact your child if they have their phone number or email address, so it's vital that they know not to share this information with anyone they don't know or trust.
 
If your child is younger, or liable to make mistakes, you can set up restrictions so they can only access FaceTime with a password that you can keep to yourself.
 
Facebook Messenger
This free service is built into Facebook and allows users to share messages, photos, videos, gifs and stickers, and to chat by audio or video with up to 32 people at a time. You can also download the app without a Facebook account.
 
Facebook Messenger age limit: 13
 
Facebook Messenger potential risks: One of the risks of Messenger is location sharing, which you can disable in settings so the people interacting with your child can't see where they are.
 
Privacy settings are another concern. Your child can add everyone in their phone book to Messenger by syncing contacts, but you can limit this to their Facebook friends only by skipping this stage when setting up the app, or overriding it in Messenger settings.
 
You can prevent strangers, including friends of friends, messaging them by switching privacy settings from basic filtering to strict filtering. Messages from people they're not friends with on Facebook go into the Requests folder, and unless your child replies, they can't enter into a conversation.
 
Snapchat
This app is hugely popular amongst tweens and teens for sharing photos and videos, often with filters and special effects. Photos appear on screen for just 10 seconds after being opened and then disappears, although you can create Snapchat Stories which can be seen for 24 hours.
 
Snapchat age limit: 13
 
Snapchat potential risks: The biggest issue with Snapchat is that because photos disappear so quickly, kids may believe their images are gone forever.
 
However, nothing online ever disappears completely, and there's nothing to stop your child's contact taking a picture of the screen with another device and sharing it, so it's vital that your child understands not to share anything that might put them at risk or upset others.
 
Inappropriate content is often disseminated through popular marketing ploys like quizzes, and despite the age limit of 13, this may still be unsuitable for young teens.
 
Privacy is also an issue, as your child may end up with lots of people they don't know on their friends list, and also share their location. By going to the 'Who can…' section, you can control safety features like location sharing and who can view your child's story.
 
Discord
Discord is a voice, video and text app that was created for gamers to interact. Users can join chats that they've been invited to, and create servers for others to join.
 
Discord age limit: 13
 
Discord potential risks: Discord causes concern amongst internet safety experts. There have been multiple reports of bad language and explicit content being used on private servers, as well as worrying accounts of grooming and paedophilia.
 
You can block unwanted messages in the user settings area, and prevent unsolicited friend requests in the same menu by deselecting 'everyone' and selecting 'server members' (although if your child has added strangers to their server, they will be able to contact them directly).
 
There's also an explicit content filter that will automatically detect and delete explicit images and uploads, although profane language isn't filtered.