101 fantastic activities for the summer 2018 school holidays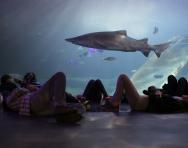 Learn how to fly a broomstick, go hunting for dragons, enjoy International Bog Day fun or celebrate at the biggest birthday party in London's history (yes, really) with our pick of this summer's 101 amazing and educational activities from across the UK. By Hetty Walton
Summer holidays 2018 family activities in England
Under the sea
What: Visit the National Marine Aquarium in Plymouth this holiday for a real 'SEA-lebrity' summer! Each week focuses on a different sea animal, showcasing their important role in the marine world. There's heaps of activities too, including joining the red carpet, sea life selfie stations and even some media myth-busting.
Where: National Marine Aquarium, Rope Walk, Coxside, Plymouth PL4 0LF
When: 31 July-31 August, 9:30am-6pm
Need to know: Family ticket from £48.15 online.
Image: © National Marine Aquarium
Titanic tales
What: Embark on a dramatic voyage in Shrewsbury with their new Titanic: Honour and Glory exhibition and delve further into the great ocean liner's incredible story. From her conception to her premature demise, the legend of Titanic is expertly illustrated through rare and previously unseen artefacts from both the ship itself and props from the famous James Cameron movie. You can even recreate that famous Leonardo DiCaprio and Kate Winslet scene on a replica prow of the ship on the museum balcony!
Where: Shrewsbury Museum & Art Gallery, The Music Hall, The Square, Shrewsbury SY1 1LH
When: 2 July-30 September, 10am-5pm
Need to know: Family ticket costs £10.
In the dark
What: Explore the world of nocturnal animals at this new exhibition at London's Natural History Museum and find out how these amazing creatures have evolved to survive in the dark. Venture into a bat cave, see yourself through the eyes of a cave boa, watch live footage from the bottom of the sea and even try to match the sound to the nocturnal animal.
Where: National History Museum, Cromwell Rd, London SW7 5BD
When: 13 July-9 January, 10am-5.50pm
Need to know: Adults from £11.50 online. Under 16s free.
A Very Big Birthday!
What: Join in with some serious celebrating, as you're officially invited to the biggest birthday party in London's history, marking 150 years of Smithfield Market. Around 30,000 partygoers are expected to attend this enormous, free family festival, which will be held over two days and includes puppetry processions, comedy workshops, hula hooping master-classes and horrible history shows, as well as a traditional fairground, crafts and live music. The birthday party is being held as part of the Culture Mile project and includes events on at The Barbican, City of London and Museum of London.
Where: Smithfield Market, London, EC1A 9PS
When: 25-26 August, 11am-8pm
Need to know: Party and events are free. Small charge for fairground rides.
Oh help, oh no – meet the Gruffalo!
What: Re-discover Discover, the children's literature museum in South East London, and enjoy their current exhibition based on the books of Julia Donaldson and Axel Scheffler. You can meet the Gruffalo, hide in the Highway Rat's cave, journey through the underwater worlds of Tiddler and The Snail and the Whale and take the ride of your life with The Room on the Broom! There are also author visits, film screenings, crafts, games and amazing, immersive worlds where you can conquer a pirate ship, climb into a tree house and slide down a fearsome monster's tongue!
Where: Discover Children's Story Centre, 383-387 High Street, Stratford, London E15 4QZ
When: 28 July-31 August, 10am-5pm.
Need to know: Exhibition & admission costs £22 for a family of four
Birds of a feather
What: Go west and wild with an afternoon of nature-based exploration at Says Court Solar Farm, in the company of the Hawk & Owl Trust. Learn all about the birds of prey they look after, enjoy a picnic and go bug hunting, nature spotting and more in this secluded wildflower meadow surrounded by traditional farmland.
Where: Says Court Farm, Badminton Road, Frampton Cotterell, BS36 2NY
When: 7-9 August, 12-2.30pm
Need to know: Costs £2.50 per person. Bring a picnic. Book online.
Rock and stroll
What: Get back to nature and spend a day of discovery in an area of outstanding natural beauty at this Rocky Funday in the Mendip Hills. You can paint and make clay fossils, explore the Mendip Rocks and take a tour inside a working quarry as well as following their 'step back in time' geological trail through the woods too.
Where: Somerset Earth Science Centre, Moons Hill Quarry, Stoke St Michael, Radstock BA3 5JU
When: 29 August, 10am-4pm
Need to know: Free. Bring picnic lunch and boots and waterproofs for quarry tours. 
Some kind of blue
What: Why is the sky blue? Why don't birds go grey with age? Explore the science and history of the colour Blue at the Potteries Museum & Art Gallery. This exhibition explores the existence of the colour in the natural world, as well as its meaning, creation and use by humans over the centuries. You can follow a blue trail and take part in art and crafty sessions - ranging from making your own slipware to a balloon owl.
Where: The Potteries Museum & Art Gallery, Bethesda St, City Centre, Stoke-on-Trent ST1 3DW
When: 25 July-28 October, 10am-4pm
Need to know: Exhibition free. Some charges for craft workshops.
Roundhead revels
What: Travel back to 1659 and relive the preparations for the final battle of the English Civil War at Anderton Boat Lift this August. You can interact with soldiers at camp, learn how they lived and worked, watch live demonstrations of period activities and crafts, catch pike and musket and sword displays and more. You can also take part in drill practice, try on armour and visit the sutlers tent to taste test the food the cook prepares for the officers and soldiers.
When: 11-12 August, 10.30am-3.30pm
Where: Anderton Boat Lift, Lift Lane, Anderton, Northwich, Cheshire CW9 6FW
Need to know: Free
Go fish!
What: National Fishing Month begins on 27 July this year and aims to encourage everyone no matter what age to pick up a rod and wait for a nibble. Qualified fishing coaches will give up their time to show angling novices how to get hooked on the sport at lots of free angling events up and down the country.
Where: Various locations throughout the UK.
When: 27 July-2 September, times vary.
Need to know: Coaching and entrance fees should be free. There may be charges for tackle.
Going global
What: Enjoy a worldwide day out at Port Lympne Reserve in Kent this summer. Jump on board a safari truck and journey through their South American, Asian and African Experiences spotting spectacled bears, camels and antelope, baby giraffe and baby rhino along the way. You can also explore the forest that time forgot with the UK's largest outdoor dinosaur exhibition featuring a spine-tingling Spinosaurus, tremendous T-Rex and soaring Pterodactyls, or join the park rangers for daily fact-packed animal talks and tours.
Where: Port Lympne, Port Lympne Wild Animal Park, Lympne Nr. Hythe, Kent CT22 4PD
When: 21 July-2 September, 9.30am-5pm
Need to know: Events free with admission. Family ticket from £92.
Fun with food
What: Enjoy gastronomic games for all the family at The Big Feastival – brainchild of chef Jamie Oliver and Blur's Alex James – down at James's Cotswolds farm. There's plenty of good music, street food, local producer stands, cookery classes and top chef demos alongside lots for the kids with TV faves Dick and Dom, Justine Fletcher, Paddington and Peppa Pig, arts and crafts workshops, tree climbing, circus skills and vintage funfair.
Where: Alex James' Farm, Near Kingham, Oxfordshire OX7 6UJ
When: 24-26 August, 11am-10pm
Need to know: An adult day ticket costs from £69, under 12s go free
Play's the thing
What: Get set for some Shakespearean fun down in Stratford this summer, when the RSC plays host to a plethora of family friendly activities and workshops. Highlights include creating a play in a day, a gory wounds workshop and learning how to screen print theatre posters as well as free drop-in craft activities, kid-friendly performances, Shakespeare dressing up and their fab Play's The Thing exhibition.
Where: RSC, Bancroft Terrace, Stratford-Upon-Avon, Warwickshire CV37 6BB
When: 31 July-28 August, 10am-5pm
Need to know: Some events free and drop-in, workshops from £2.50-£28 per child.
History mystery
What: Uncover marvellous monarchs, learn about tower power, meet some medieval monks and immortalise yourself as a statue at these fun historical workshops at Westminster Abbey. You can also enjoy lunchtime free concerts from some of the UK's best brass bands.
Where: Westminster Abbey, Cloister Entrance (or Education Centre if wet), 20 Deans Yard, London, SW1P 3PA
When: 24-26 July, 31 July-2 August, 7-9 August, 14-16 August, 11am-1.30pm
Need to know: Suitable for 5+. Free, but pre-book.
Catch a cliffhanger
What: Enjoy a special children's theatrical performance in the beautiful open-air setting of the Minack Theatre. Founded and created in 1932 by Rowenna Cade, the theatre is carved out of the granite cliff with the deep blue sea of Porthcurno Bay far below. Shows include children-friendly hour-long productions featuring music, puppetry and comedy and cover everything from tree-top tales and lighthouse keepers to curious creatures of myth and legend…
Where: Minack Theatre, Porthcurno, Penzance, Cornwall TR19 6JU
When: 21-31 August, 10.30am
Need to know: Tickets cost £5 adult, under 11s, 50p. Book online.
Festival spirit
What: A week-long celebration of creativity aimed at children and families, the Just So Festival combines art, music and literature against a natural woodland backdrop. Kids can brave the custard catwalk, enter the ministry of games, sneak out for a midnight feast, take part in a bake off, witness a tribal tournament and get arty and crafty in hundreds of making, doing, painting, singing and musical workshops.
When: 17-19 August, 9am till late
Where: Rode Hall Parkland, Scholar Green, Cheshire ST7 3QP
Need to know: Day tickets £45 adults and £20 children; weekend tickets £145 adults and £50 children and must be booked in advance.
Sea life
What: Get back to nature with this series of watery workshops hosted by WWF UK and travel into the blue to celebrate some of the special marine wildlife that lives in our oceans. You can find out practical things to do to help protect our seas and create beautiful sea-themed arts and crafts which you can take home or add to their giant summer artwork.
Where: WWF UK, The Living Planet Centre, Brewery Rd, Woking, Surrey GU21 4LL
When: 7, 9, 14, 16, 21 & 23 August, 10.30am, 11.15am and 12pm
Need to know: Suggested donation £3. Book online.
Perfect patterns
What: Make your own printing tools using different textured materials at this fun op-art workshop at Tate Liverpool. Experiment with printing and try creating straight, bendy and zig-zag lines to make striking patterns. Use the amazing shapes and designs in their Op Art in Focus display as your inspiration and dazzle with your designs as you animate them at the stop-motion station.
Where: Tate Liverpool, Albert Dock, Liverpool Waterfront, Liverpool L3 4BB
When: 8-11, 15-18 August, 1-4pm
Need to know: Free. Drop-in.
Goofy-ing around
What: Devise your own animal manga character, make a clay face animation or design a Beano front cover at one of these great arty workshops being held at London's Cartoon Museum.
Where: Cartoon Museum, 35 Little Russell Street, London, WC1A 2HH
When: 31 July-24 August, 11am-1pm & 2-4pm.
Need to know: Sessions cost £12-25. Book online.
Climb a Faraway Tree
What: An adventure in a wood complete with climbs, slides, building, swinging, den building, boats, story-telling and imagination, this Norfolk nature park comes with Twiggles, Boggles and enchanted tree houses and is based on a story by local children's author, Tom Blofeld. Cook up a storm in the crafty kitchen, decorate your own feather crown, then join the noisy parade around the park with puppets and lots of musical mayhem.
Where: BeWILDerwood Norfolk, Horning Road, Hoveton, Norfolk NR12 8JW
When: Throughout the summer, 10am-4pm
Need to know: An adult ticket £15.50, children £13.50 - check prices online as they vary by date.
Become a mini Masterchef
What: Get fresh down in the kitchen with these fun range of cookery classes in London. You'll learn essential cookery techniques to create a range of both savoury and sweet dishes, entirely from scratch using fresh ingredients. You'll work independently to create the dishes and at the end of the session your food will be packaged up ready to take home, along with copies of the recipes you've followed.
Where: The Kids' Cookery School, 107 Gunnersbury Lane, Acton, London W3 8HQ
When: 27 July & 29 August, 10am-12.30pm, 2-5pm
Need to know: Costs £32 for 2hrs 30mins. Classes for 3-4 years, 5-7 years, 8-10 years and 11-14 years. Book in advance.
On your marks, get set... PLAY!
What: Analysing risk, building self-confidence and developing decision-making ability are just some of the amazing skills children get when they play, so take time out for some serious fun on 5 August, the UK's national day of play. Look out for all the free community play activities happening near you...
When: 5 August, all day.
Where: All around the country
Need to know: Playday is the national day of play in the UK and as well as a celebration of children's right to play, aims to highlight the importance of play in children's lives and celebrate their right to play.
Farmyard fun
What: You'll go animal crackers down at Tatton Park this summer with their range of fun farm activities. Learn more about where your food comes from with the Field to Fork story and come face to face with their newly-hatched chicks in the hatchery. You can watch the Mill machines running, enjoy storytelling and learn how to milk a cow and make butter. Then catch the highlight of the day: sheep racing!
Where: Tatton Park, Knutsford, Cheshire, WA16 6QN
When: 24 July-24 August, 12pm-4pm
Need to know: Events included in admission. Family ticket from £19.
Trip the knight fantastic
What: Step back to the days of fearsome battles and secret romances and find out what life was really like for knights and ladies at Windsor Castle in medieval times. You'll be able to watch chainmail armour and weapon demonstrations, get creative at a knight-time art workshop, try on costumes and maybe even get a knighthood!
Where: Windsor Castle, Windsor, Berkshire SL4 1NJ
When: 21 & 28 July, 1-27 August, 11am-4pm
Need to know: Events free with admission. Family ticket costs £54.70.
Body matters
What: Get set for a range of biological-based workshops looking at the human body, all held in a unique cell-shaped pod suspended above the laboratories of London's Blizard Institute. You can explore medical gore and more from the First World War, discover the wonders of magnificent muscles, brilliant bones and limber ligaments, get to grips with your gut or even unlock the mysteries of the human heart.
Where: Centre of the Cell, Blizard Institute, 4 Newark Street, Whitechapel London E1 2AT
When: 30-31 July & 2-28 August, 2-4.15pm
Need to know: Adults £7.50, children (3-15) £5.50. Book online.
Tudor-tastic
What: It's 1544 and you have been invited to celebrate with King Henry VIII at Dover Castle as he prepares to invade France. Hear the sounds of cannons, muskets and drums during an impressive, colourful parade showcasing the strength of the king's army and watch a re-enactment of a dramatic siege. Then step into the encampment and laugh with the King's hilarious fool and merry musicians before trying your hand at striking Tudor coins, feeling the weight of Henry's armour and learning about the foods eaten by courtiers and peasants.
Where: Dover Castle, Castle Hill, Dover, Kent CT16 1HU
When: 11-12 August, 10am-5pm
Need to know: Free with admission, family ticket £55.90.
Survival skills
What: Your light airplane has crash-landed in dense forest hundreds of miles from civilisation. It is bitterly cold and wet and you need fire and shelter fast. How will you survive? Solve the problems and stay alive at this fun survival challenge adventure in Hamsterley Forest in County Duram.
Where: Hamsterley Forest, Redford Ln, Hamsterley, Redford DL13 3NL
When: 14 August, 1.30-4.30pm
Need to know: Suitable for 8-16 year olds. Tickets £15 per child. Book in advance.
Recreate Roman rituals
What: Use music, dance and other fun activities to explore the ancient rituals of Roman London in the Museum of London Docklands' interactive family shows. Styx, stones and Roman bones was inspired by Roman Dead, the latest major exhibition at the museum, which explains the rituals and beliefs of the first Londoners by displaying items that were left behind in their graves by families and loved ones to prepare them for a journey to the afterlife.
Where: Museum of London Docklands, No.1 Warehouse, West India Quay, London E14 4AL
When: Wednesday, Thursday, Friday and Saturday in August, 11.30am and 1.30pm
Need to know: Free (entry to the museum is also free)
Go show-boating
What: Want a theatre trip with a difference? Then take to the water to see classic tales The Town Mouse and Country Mouse and Red Riding Hood performed by unique hard-carved wooden marionettes in this 55-seat theatre set on a canal barge.
When: 21 July-30 September, 2.30pm
Where: Puppet Theatre Barge, opposite Terrace Gardens, Petersham Road, Richmond TW10 6UT
Need to know: Ticket prices £12 adult, £8.50 child.
Sunset safari
What: Experience the wild and wonderful side of WWT London Wetland Centre with an exciting night adventure this holiday. Build dens in camp for the evening, explore the centre with all your senses, listen to wildlife and look for bats and other nocturnal animals. If it's a clear night you'll go star-spotting and finish with stories around the campfire toasting marshmallows.
Where: London Wetland Centre, Queen Elizabeth Walk, London SW13 9WT
When: 3-24 August, Fridays only, 7-10pm
Need to know: Suitable for 7+. Costs £25 per child and accompanying adult. Book in advance.
Go Conkers!
What: Enjoy seven weeks of summer holiday activities including magic, puppetry, fun, science, bushcraft, outdoor activities and more at Conkers, an indoor and outdoor playground set in an 120-acre woodland site in deepest Derbyshire. There's a huge range of activities each day as well as the Conkerchoo Train, outdoor play area, Enchanted Forest, wobbly bridges, assault course, Fairy Labyrinth, Rolls Royce maze, Hi and Lo Rope course and Barefoot Walk.
Where: Conkers, Rawdon Road, Moira, Nr. Ashby-de-la-Zouch, Derbyshire DE12 6GA
When: 19 July-2 September, 10am-6pm
Need to know: Events free with admission. Family ticket costs £35.95.
Toy stories
What: Explore the wonderful world of play at Coventry Transport Museum this summer. Discover different types of toys, learn new skills and build your very own to take home. Make toys that go high (soaring kites, bus towers and space suits), toys that go low (worm mansions, oxygen tanks and your own Ker-plunk game), toys that go fast (junk-model go-carts, spinning tops and race car board games) and toys that go slow (jigsaws, knitting frames, fort building and an etch a sketch!).
Where: Coventry Transport Museum, Millennium Place, Hales Street, Coventry CV1 1JD
When: 30 July-31 August, 10.30am-3.30pm
Need to know: Admission free. Workshops cost £2.50 per child.
Take flight
What: Uncover the world behind YA author David Almond's books with Where Your Wings Were, a new exhibition at Newcastle's Seven Stories. You'll embark on a journey through Tyneside like never before, discovering how its landscapes, language and people inspired his magical stories. Delve into the writer's dreamlike world where tales such as Skellig and My Dad's a Birdman took root. Bringing to life Almond's archive, the exhibition explores themes of love, loss and hope though characters real and imagined. Meet angels and devils, question what it means to be human and experience the North East through the eyes of one of its most creative sons.
Where: Seven Stories, National Centre for Children's Books, Ouseburn Valley, Newcastle NE1 2PQ
When: 21 June 2018 - 20 June 2019, 10am-4pm
Need to know: Event free with admission. A family ticket costs £23.10. Under 4s go free.
Enter the dragons!
What: Get set to welcome the big beasts to Kew Gardens with this new exhibition and opening of the 18th century Great Pagoda this July. Find out more in the Here Be Dragons exhibition and be inspired to design your own, before following the Dragon Trail to hunt for sculptures in the gardens. The exhibition celebrates the restoration of Kew's Great Pagoda, which includes the re-introduction of 80 dragons to the 10-storey octagonal tower. Completed in 1762, the Great Pagoda stands almost 50m high, giving an amazing view across the London skyline.
Where: Royal Botanic Gardens, Kew Road, London TW9 3AB
When: 13 July-30 September, 10am-5pm
Need to know: Family ticket from £38 online. Pagoda tickets cost £4.50 adults, £3 child; booking online essential.
Weird science
What: Marking 200 years since the publication of Mary Shelley's Frankenstein, head to the Thackray Museum and delve into the science of the novel to explore the links between electricity and the body, and discover just how vital electricity is to human life. You can play a game of giant Frankenstein Operation, have a go at making stop motion animation and take part in an electronics workshop too!
What: Thackray Museum, 141 Beckett Street, Leeds, LS9 7LN
When: 23 July-31 August, 11am-3pm
Need to know: Family ticket £24.50, under 5s free
Go Geffrye
What: Enjoy summer in Shoreditch this holiday in the surrounding of the Geffrye Museum's beautiful gardens! Enjoy a packed programme exploring kids' adventures at home, including craft and digital workshops and multi-sensory, hands-on activities. Special family-friendly tours of the restored 18th century almshouse will also be on offer, giving a glimpse into the lives of London's poor and elderly in former times.
Where: Geffrye Museum, 136 Kingsland Road, Shoreditch, London E2 8EA
When: 16-17, 23-24, 30-31 August, 10am-4.30pm
Need to know: Free. Suitable for 5-16. Almshouse tour costs adults £5, children free.
We are the champions
What: Join award-winning contemporary artist Grayson Perry as he coordinates the biggest, brightest and most colourful Royal Academy Summer Exhibition yet, a 250th annual celebration of "art made now". There's more than 1,300 works on show including works by Anish Kapoor, David Hockney, Tracy Emin and Martin Parr. Catch the exhibition then make a miniature garden inspired by the techniques used by painter Thomas Gainsborough.
Where: Royal Academy of Arts, The John Madejski Fine Rooms, Burlington House, Piccadilly, London, W1J 0BD
When: Workshop, 12 August, 11am-3pm. Exhibition, 12 June-19 August, 10am-4.30pm
Need to know: Workshops free, drop in. Exhibition £18 adult, under 16s free.
Candle creation
What: Celebrate Ironbridge's world-changing industrial life this summer at Blists Hill Victorian Town. Join in and get hands-on making bricks, building a mini steam engine and dipping colourful candles. You can also find out how the Victorians lived and worked in their shops and homes: learn about Morse Code in the Post Office, pack tea in the Grocers, typeset at the Printers and have a lesson in the Victorian School House. You can watch the town's travelling troupe of actors' perform a scene from Shakespeare's A Midsummer Night's Dream and have a go on the Victorian fairground, too.
Where: Ironbridge Gorge Museum, Ironbridge, Shropshire TF8 7DQ
When: 21 July-2 September, 10.15-1pm & 1.30am-3.45pm
Need to know: Events free with admission. Tickets £17.75 adult and £10.90 child.
Ingenious inventions
What: Get your thinking caps on and head to We The Curious's Festival of What If?. Become an inventor and work together to make an elaborate chain reaction (also known as a Rube Goldberg) machine or explore how your curious thoughts and unexpected ideas might just change the world! You'll also be able to meet the first Briton in space, Helen Sharman, get hands on with colourful chemistry experiments, make your own Aardman model and create beautiful prints on fabric using natural dyes from flowers, leaves and roots.
Where: We The Curious, Anchor Road, Harbourside, Bristol, BS1 5LL
When: 26-31 July, 10am-5pm
Need to know: Free with admission (family ticket £40.50). Chemistry workshops for 7+. Book at front desk on arrival.
Seeing is believing
What: Get creative in Nottingham this summer making works of art at these drop-in family weekend workshops inspired by the gallery's current exhibitions by Mexican artist Pia Camil and Swiss architects and designers Trix and Robert Hausmann. You can customise furniture with neon and leopard print, create illusions with mirrors, design and print your own t-shirt and make a costume that the whole family can wear (at the same time!).
Where: Nottingham Contemporary, Weekday Cross, Nottingham NG1 2GB
When: Weekends from 14 July-17 October, 11am-3pm
Need to know: Free, drop in.
Back to the future
What: Step back in time this summer to the New Forest where living history characters will bring Beaulieu to life with the sights and sounds of the past. Delve into over 800 years of history and see veteran and vintage vehicles as they drive around the grounds with their occupants dressed in period costumes, catch amazing falconry displays, visit the cook or the kitchen maid in the Victorian Kitchen, play some old-fashioned Victorian games and puzzles on the lawns of Palace House and enjoy popular music from singers and performers of the time.
Where: Beaulieu, New Forest, Hampshire SO42 7ZN
When: 21 July-31 August, 11am-6pm
Need to know: Events free with admission. Family ticket from £49 online.
Victorian values
What: Grab your pith helmet and butterfly net and head to Powell-Cotton Museum in Kent to become an honorary explorer. Hone your survival skills by learning how to build shelters from the natural environment, discover how to identify animal tracks, go on safari and make an animal cast, find out about the uses of plants and then create your own bathtub tea before making your very own map to find the treasure!
Where: Powell-Cotton Museum, Quex Park, Park Lane, Birchington, Kent CT7 0BH
When: 31 July-31 August, 11am-12.30pm & 1-3.30pm
Need to know: Adults free, children £4 (does not include admission to museum, house and gardens).
Fun and games
What: Are you competitive? Find out at this fun week at the Herbert Art Gallery and design your very own games to bamboozle family and friends. You can make a grid maze, fusball, board game or hoopla, or design an artistic pixelated art piece of your favourite gaming character. You can also discover more about the world of play in their interactive exhibition and discover how people have played for over 2,000 years, from marbles to Meccano and from dolls to dressing-up.
Where: Herbert Art Gallery, Jordan Well, Coventry CV1 5QP
When: 13-18 August, 10am-3.30pm. Exhibition 30 Jun-23 Sep 2018.
Need to know: Free but donations welcome.
Prom, Prom, Prom
What: Fancy the chance to perform on the stage of the Royal Albert Hall? Well thanks to these workshops you could join professional musicians on stage as part of The Proms Family Orchestra & Chorus. Whether you play an instrument or sing, whether you're a novice or a virtuoso, you could be part of the music!
Where: Imperial College Union, Beit Quadrangle, Prince Consort Road, London SW7 2BB
When: 29 July, 10.30am; 2 August, 5.15pm; 5 August, 11am; 6 August, 5.15pm; 11 August, 1.45pm, 12 August, 2.15pm; 23 August, 5.45pm; 1 September, 11am.
Need to know: Free. Book online. Suitable for 7+.
Underwater world
What: This summer set sail for Greenwich and create LEGO robots fit for a watery world! Design and build a machine for underwater exploration and try your hand at coding to make it come to life. The ocean has long been a subject of deep wonder and mystery, and using your imagination you'll be able to map a world for your robot as you create an animated film to see your robot in action.
Where: National Maritime Museum, Park Row, London SE10 9NF
When: 8-11 August, 10am-4pm
Need to know: Tickets £60 adult and accompanying child.
Scandi summer
What: Go Nordic this summer at the V&A Museum of Childhood, and join in with a series of family days, inspired by their Century of the Child: Nordic Design for Children exhibition. You can enjoy folk inspired performance, storytelling and story drawing or join designers to take part in design activities themed around Nordic homes and furniture. There's also storytelling and craft activities all about Nordic nature with help from the animals at Spitalfields City Farm or become a fashion designer working with bold patterns and bright colours like some of the clothes in the exhibition.
Where: V&A Museum of Childhood, Cambridge Heath Road, London E2 9PA
When: 2-30 August, 11.30am-4pm
Need to know: Free. Drop in.
Reach for the stars
What: Get ready to hit the heights with Salisbury's Lift Off festival this August, a four-day celebration of the arts across the city including free music, fireworks, street theatre, storytelling and more. You can watch familiar fairy tales being performed in surprising ways in streets around the city, solve puzzles as you discover work created by local artists on three visual arts trails, catch a free drop in workshop with Harry Potter illustrator Cliff Wright, create some crisp packet art or witness the bewonderment machine (a magical cycle-powered carousel, incorporating puppetry and animated sculptures).
Where: Various venues around Salisbury
When: 24-27 August, times vary.
Need to know: Most events free with admission.
Totally spellbound
What: Fly away to Lancaster Castle this August and enjoy a mystical mix of family-friendly events with their Lancashire Witches Weekend. Commemorating the Lancashire women imprisoned and tried at the Castle in 1612, you'll discover the tale of the notorious trials from 400 years ago, experience the story of Demdike in the depths of the infamous Well Tower dungeon or take flight with the Witches Academy and begin your broomstick training.
Where: Lancaster Castle, Castle Parade, Lancaster LA1 1YJ
When: 18-19 August, 10am-4pm
Need to know: £1 entry per person into Castle grounds. Ticketed events range from £3.50-£8.
Fairy good
What: Get hands on with history and tip-toe around the gardens of Wrest Park this summer to find their smallest, most magical residents. Join in with Victorian adventurers as they guide you around the site and tell you fascinating stories inspired by Sherlock Holmes author Arthur Conan Doyle and his Cottingley Fairies. How many doorways will you find?
Where: Wrest Park, Silsoe, Bedfordshire, MK45 4HR
When: 23-27 July, 20-24 August 11am-5pm
Need to know: Event free with admission. Family ticket costs £28.30.
Pirates on parade
What: The Pirates are back and are taking over Chatham Historic Dockyard this summer! You can make your own movable Pirate, create a thaumatrope, try your hand at knot tying and even swing in a hammock! Will you be able to find the hidden pirate characters and discover their treasure chests filled with plunder from the seven seas?
Where: Chatham Historic Dockyard, Chatham, Kent ME4 4TE, England
When: 28 July-1 September, 10.30am-3pm
Need to know: Event free with admission. Family ticket from £58 online.
Hands-on history
What: Come along and get hands on with Wirhalh Skip Felagr (Wirral Vikings) as they demonstrate everyday Viking crafts and show how people in the Liverpool area lived 1,000 years ago. You can also get hands on with archaeology and examine the museum's finds: see and feel real Stone Age flint tools and Roman household pottery as well as modern metal-detector discoveries from the local area.
Where: Museum of Liverpool, Pier Head, Liverpool Waterfront, Liverpool L3 1DG
When: 25-26 July, 11am-4pm & 23-26 July, 11am-12.30pm & 1.30-3.30pm
Need to know: Admission and workshop free.
Kick up a stink
What: It's time to find out who the lousiest Londoners were by creating your own Top Trumps-style cards at the Museum of London. How will the Great Stink fare against medieval wee doctors, and who will come out on… bottom?! Just ask for a free game pack on arrival and don't forget to challenge one of the hosts to a duel! Or join a Victorian 'tosher' in an smelly storytelling session and discover how they used to hunt the sewers for treasure to sell on the streets of London.
Where: Museum of London, 150 London Wall, London EC2Y 5HN
When: 7-28 August, 10am-4pm
Need to know: Free
Brilliant beasties
What: Discover more about the wonderful world of butterflies and minibeasts in this new family-friendly exhibition in Surrey. Find out lots of fascinating facts and learn more about these much-loved creatures with touchable cut-out models, dressing up, puzzles, garden trails and bee and butterfly craft activities.
Where: Haslemere Educational Museum, 78 High Street, Haslemere, Surrey GU27 2LA
When: 30 June-1 September, 10.30am-1pm
Need to know: Workshops £4 per child.
Food for thought
What: Join MasterChef quarter finalist Chris Hale at the Hepworth Wakefield and cook up a storm this summer. Create food with a surrealist twist inspired by their current exhibitions Lee Miller and Surrealism in Britain and Viviane Sassen: Hot Mirror. Play with colour creating open, rainbow tacos with beetroot wraps, sweetcorn salsa, chicken and guacamole. For dessert create your own edible garden, with chocolate mousse, fresh fruit, chocolate soil and edible flowers within a plant pot dish.
Where: The Hepworth Wakefield, Gallery Walk, Wakefield, West Yorkshire WF1 5AW
When: 8 August, 11am-12.30pm & 1.30-3pm
Need to know: Book online. Suitable for children 8-14. Cost £20 for one child and adult, £12 for additional child.
Think big!
What: Get ready to celebrate at Halifax's Eureka with their Big Summer Festival, a boredom-busting festival of tech, science, performance and play, including Fusion: Adventures in digital art, a new exhibition featuring some of the best digital art from around the globe. Have a go at making alien slime, learning to hula hoop or painting with light and discover more about DNA and get ship-shape with the Eureka! Pirates.
Where: Eureka The Children's Museum, Discovery Road, Halifax, West Yorkshire, HX1 2NE
When: 21 July-1 September, 10am-5pm
Need to know: Tickets cost £12.95 per person. Events free with admission.
Coastal creations
What: Get creative and have some holiday fun at Tate St Ives inspired by the wonderful artists and magical stories of Porthmeor. Add to the giant clay sculptures and create new creatures, textures and features or add anemones, limpets and strange seaweeds. You could also build a beautiful barnacled home or invent new shoreline structures.
Where: Tate St Ives, Porthmeor Beach, St Ives, Cornwall TR26 1TG
When: Wednesdays, 1-29 August, 10am-4pm
Need to know: Costs £4.50 per child, adult free. Suitable for 5-12s.
A little night magic
What: Have a surprising summer in Cheshire at Durham Massey. Explore the Midnight Garden trail with Edwardian 'children' Roger and Jane, play traditional Edwardian games on the lawn (croquet anyone?), listen to tales of adventure during interactive storytelling, and get creative with art and craft sessions. You might even spot some midnight animals hiding around the house…
Where: Durham Massey, Altrincham, Cheshire, WA14 4SJ
When: 20 July-3 September, 10:30am-4pm.
Need to know: Event free with admission. Family ticket from £33.75
Nothing but the tooth
What: Discover the story of smiles at this new exhibition at London's Wellcome Collection. From folk remedies and tooth fairies to barber-surgeons and professional dentists, Teeth tells the tale of the pursuit of a pain-free mouth and perfect smile. Explore over 150 objects, including ancient protective amulets and dental bling, dentures and drills, sketches and spittoons, tooth transplants and toothpaste ads.
Where: Wellcome Collection, 183 Euston Road, London NW1 2BE
When: Until 16 September, 10am-6pm, closed Mondays.
Need to know: Free.
Brontë brilliant
What: Lovers of all things Brontë should head for Haworth this holiday, for a series of wild Wednesday workshops. Be inspired by Emily Brontë's love of plants and nature and create a simple leaf brooch or collage, weave a natural coloured art piece, listen to old Yorkshire tales of faeries, boggarts and beasties and make your own out of clay.
Where: Brontë Parsonage Museum, Church Street, Haworth, Keighley, West Yorkshire, BD22 8DR
When: 1 August-1 September, 10am-5pm
Need to know: Activities free with admission. Family ticket costs £20.
The Greatest Show
What: Make for Newcastle this summer and catch the Great Exhibition of the North 2018, a huge celebration of art, design and innovation. You can explore Deepframe, the world's largest mixed reality display, create your own product with the Northern Design Challenge, discover the works of Newcastle's great artists, designers and inventors at the "Which Way North" exhibition and much, much more. 
Where: Newcastle, multiple venues across the city.
When: 22 June-9 September. Times vary.
Need to know: Most events and activities are free, see website for details.
Clay stations
What: Discover your inner sculptor at London's V&A museum and craft your own ceramic object inspired by the structures and surfaces of The Sackler Courtyard. You can explore drawing, create an architectural structure from geometric shapes, experiment with surface textures and make animated gifs with clay building blocks at the Animation Station table.
Where: Victoria & Albert Museum, Cromwell Rd, Knightsbridge, London SW7 2RL
When: 15-22 August, 10.30am-12.30pm & 2.30-4.30pm.
Need to know: £8 per child. Booking essential. Children must be accompanied by an adult.
Going loco
What: Teach yourself trains at the National Railway Museum this holiday. Have a go at designing your own streamlined locomotive or railway carriage and create a mini railway for a micro-robot to follow. Watch live shows explaining the science of railways, past and future and catch a steam engine or turntable in action, as well as hearing some steam stories.
Where: National Railway Museum, Leeman Rd, York YO26 4XJ
When: 21 July-2 September, 10am-4pm.
Need to know: Entry to museum and all activities are free but donations welcome.
Can we fix it?
What: Celebrate Year of Engineering 2018 this summer at Manchester's Museum of Science and Industry. Meet real-life engineers at the Engineering Action event and complete challenges and chat with the people who help build our world. And don't miss Invent, Shape, Create: Our City where you can take part in a whole host of free family-friendly activities including making a mechanical paper bee, saving (or destroying) Manchester in a video game powered by your movements, becoming a city planner with the help of a LEGO Discovery Centre Master Builder and discovering how diamonds are changing science. Hard hats optional!  
Where: Museum of Science & Industry, Liverpool Road, Castlefield, Manchester M3 4FP
When: 3 August, Engineering Action:10.30am-4pm, 25 & 26 August, Invent, Shape, Create: Our City: 10am-5pm.
Need to know: Entry to museum and activities free but donations welcome.
Tanks a lot!
What: The Tank Museum in Dorset is marking the centenary of the Battle of Amiens this summer, the turning point for the Allies in the First World War. See First World War vehicles in action in the arena, including armoured cars and French, British and German tanks and enjoy living history performances, aircraft and other WWI artefacts, art and craft activities and spectacular cavalry displays.  
Where: The Tank Museum, Linsay Rd, Bovington, Wareham BH20 6JG
When: 8 August, 10am-5pm.
Need to know: Family ticket from £36. Under 5's free. 
Get ship shape
What: Set sail for HMS Belfast's Ship Shape Saturdays and help preserve this iconic warship. You can learn from an expert conservator how to keep the ship in tip-top condition, then set to work hunting down insect pests, restoring the fittings and furniture and using special tools to care for fabrics.
Where: HMS Belfast, The Queen's Walk, London SE1 2JH
When: Every Saturday, 28 July - 5 August 11am-4pm
Need to know: Sessions free with admission. Family ticket from £39.
On the move
What: Delve into the fascinating world of science during six weeks of STEM-related activities at London Transport Museum. Each week explores a different theme, including steam, electricity and design. You can tackle an obstacle course with a mini wind-up bus, watch a steam cannon, find out about circuits, explore the All Aboard family play zone and more. 
Where: London Transport Museum, Covent Garden Piazza, London WC2E 7BB
When: 21 July-3 September, 10am-7pm
Need to know: Adult tickets £17.50, children under 17 free.
Summer sleuthing
What: Play archaeology detective in Northumberland this summer and you'll uncover clues, handle armour, explore a sand pit dig to discover secrets from Roman times, practice your sword skills and have a go at hobby horse racing.
Where: Chesters Roman Fort, Chollerford, Hexham, Northumberland, NE46 4EU
When: 21 July-2 September, 11am-5pm
Need to know: Family ticket from £18.10.
Stay safe
What: Research by the national governing body of swimming, the Amateur Swimming Association (ASA), shows that 1 in 10 parents say their child only swims on holiday, yet most have no awareness of the dangers of open water. The Swim Safe initiative offers young swimmers the chance to learn about beach and sea safety through 60-minute sessions, including a talk with RNLI lifeguards, followed by 30 minutes of in-water tuition with ASA qualified swimming teachers. At the end of the session you will get a goody bag containing a Swim Safe T-shirt, swimming cap and swimming badge.
Where: Isle of Wight, Sefton, St Ives, Windermere, Sandhaven, Aberdour, Isle of Man, Scarborough, Longsands, Margate, Stanborough, Bridlington and Harwich.
When: 20 July-31 August, times vary
Need to know: Free. Suitable for  7-14. Must be able to swim 25 metres. Bring swimwear and a towel. Wetsuits, rash vests and swimming caps provided. Booking required.
Rock of ages
What: Release your inner artist at the Corinium Museum and learn the natural methods people have been using to make pictures for thousands of years. Find out about the lives of early hunter-gatherers through Prehistoric art and take inspiration from cave paintings of animals, handprints and people to use natural pigments and create your own masterpiece to take home.
Where: Corinium Museum, Park Street, Cirencester, Gloucestershire, GL7 2BX
When: 31 July, 10.30-11.30am
Need to know: Workshop £5.50 per child. Drop in. Booking required.
Secret gardens
What: Visit Cornwall's Lost Gardens of Heligan and go exploring! Reconnect with nature as you meander your way through summer adventures, create your own stick art in 'The Gallery of the Glorious Stick,' build dens with your friends out of bamboo sticks, have fun with outdoor play along the Woodland Walk, and brave the giant Barefoot Trail.
Where: The Lost Gardens of Heligan, Pentewan, Saint Austell PL26 6EN
When: 28 July-2 September, 10am-4pm
Need to know: Family tickets £37.50. Under 5's free. Walking boots recommended!
Dedicated followers of fashion
What: Find out about fashion at Bath Fashion Museum with a range of holiday family-friendly activities. Create a stylish cravat, design an outfit fit for a king or queen, make a tassel keyring and more.
Where: Bath Fashion Museum, Assembly Rooms, Bennett Street, Bath BA1 2QH
When: 24 July, 7, 14, 21 & 28 August, 10.30am-12.30pm & 1.30-3.30pm
Need to know: Included in admission price. Family ticket from £29.
Picture this
What: Nick Sharratt, the man behind the instantly recognisable illustrations for Jacqueline Wilson's Tracy Beaker books, is the subject of this colourful hands-on exhibition at the River & Rowing museum in Oxfordshire. Exploring Nick's passion for drawing, from childhood doodles to internationally-renowned illustrator and author, the exhibition features well-known characters such as Tracy Beaker, Daisy, Hetty Feather and Pirate Pete. Find out what inspired him to become an illustrator, have a go at drawing a character based on his drawings and try on a costume inspired by his books.  
Where: River & Rowing Museum, Mill Meadows, Henley on Thames, Oxfordshire, RG9 1BF
When: 22 June-16 September, 10.30am-5pm.
Need to know: Events free with admission. Adult £11, child £9. Under 4s go free.
Flying high
What: Grab your kite and head to Dunstable Downs and you could be part of a two-day kite-ing extravaganza! Watch performances by expert display teams, giant kites and power kites. There are also children's activities, craft stalls, a BBQ and ice cream.
Where: Chilterns Gateway Centre, Dunstable Road, Whipsnade Road, Dunstable, Beds LU6 2GY
When: 28-29 July, 11am-5pm
Need to know: Free. Car park costs £2.
Out of this world
What: Take the trip of a lifetime at the Eden Project this summer. Go on a Mission to Mars aboard a rocket with spectacular views, get top tips on space travel from Bort, the alien travel vlogger, see live shows and explore the fiery surface of Venus with state-of-the-art virtual reality technology. Plus planet-hopping activities including caveing, a giant slip 'n' slide, mini golf and moon buggy driving. 
Where: Eden Project, Bodelva, St Austell, Cornwall, PL24 2SG
When: 21 July-2 September, 9.30am-7pm (Fri to 6pm, Sun to 4.30pm).
Need to know: Free with admission. Family ticket from £64 online.
Top toga tales
What: Find out everything you needed to know about Roman dress in this sartorially savvy family workshop. Discover what different classes of Roman would wear to the baths and try on some outfits yourself for size.
Where: Roman baths, Stall Street, Bath BA1 1LZ
When: 21 & 28 July, 4, 11, 18 & 25 August, 10am-12.30pm & 1.30-4pm.
Need to know: Event free with admission. Family ticket from £48.
A walk In the park
What: Discover the wonders of the natural world at Hyde Park with their holiday Discovery Days. With themes based on meadow, water and underground creatures, there's nature trails, arts and crafts, pond dipping, building a badger sett and more.
Where: The LookOut, Hyde Park, London, W2 2UH
When: 1-2, 22-23 August (meadow), 8-9 August (water), 15-16 August (underground), all 11am-3pm
Need to know: Free. Booking not necessary.
Serious science
What: Ever wondered what it's like to be a real scientist? Find out at Newcastle's Life Science Centre. Carry out practical experiments using real tools and materials, meet real-life working scientists and ask them questions about their work, and help in actual research projects taking place in the region's universities. You'll be able to try your hand at DNA extraction, become a food scientist or discover healthy bacteria.
Where: Life Science Centre, Times Square, Newcastle, NE1 4EP
When: Throughout the holidays, 11am-4pm (Mon-Fri) 10am-5pm (Sat) 11am-4pm (Sun)
Need to know: Free with admission. Family ticket from £36.
Medieval mayhem
What: Immerse yourself in the sights, smells and excitement of the Middle Ages in the fairy tale setting of Herstmonceux Castle. Now in its 26th year, England's Medieval Festival features jousting, archery, traditional crafts and music, hands-on demonstrations and realistic historical battles. There's plenty for children too with jesters, archery, a puppet theatre, carriage rides and magicians!
Where: Herstmonceux Castle, East Sussex BN29 1RN
When: 25-27 August, 10am-6pm
Need to know: Family day tickets from £48, family weekend tickets from £254 (includes 4 nights camping and dinner at the Medieval Banquet)
Supersize sculpture
What: Immerse yourself in an imaginative world of sculpture making with these large-scale outdoor workshops. Will you make an enormous cartoon character or a mythical monster, a sculpture that could be from another world or something that celebrates shape and pattern? Let your imagination guide you as you choose from branches, stones, pipes and other found material.
Where: Yorkshire Sculpture Park, YSP Centre, West Bretton, Wakefield WF4 4LG
When: Every Tuesday during the holidays, 11am and 1.30pm
Need to know: £3 per person. Wear sturdy footwear, outdoor clothing and sun protection.
I should cocoa
What: Discover the untold story of women in confectionary with York's Chocolate Story's Times of Change exhibition from Mary Tuke, who created a successful cocoa business and paved the way for companies such as Rowntree's, to Mary Ann Craven's humbugs and French almonds. Often overlooked, these women created some iconic innovations still used today, and have been the unsung heroes of York's sweet heritage.
Where: York's Chocolate Story, King's Square, York, YO1 7LD
When: 8 March-12 December, 10am-4pm.
Need to know: Event free with admission. Family tickets £39.95. Under 4's free. 
Go greener
What: Go eco at Jodrell Bank Discovery Centre and find out how environmental science is helping to protect the planet with their fun hands-on holiday programme. Find out what's problems the planet faces and what the solutions might be in the live science show and meet scientists, astronomers and environmentalists who will answer your questions and tell you all you ever wanted to know about space and our universe. 
Where: Jodrell Bank Discovery Centre, The University of Manchester, Macclesfield SK11 9DL
When: 28 July-31 August, 10am-4pm
Need to know: Family ticket from £24.
Nature know-how
What: Come and explore nature in Flatford Wildlife Garden in Suffolk with a range of free family activities. Dscover more about beautiful beetles, brilliant birds, fluttering butterflies, happy hedgehogs and darting dragonflies, with activities ranging from making willow sculptures and finger puppets to nature trails and owl pellet dissection. You can even take a turn in a child-sized nest box!
Where: RSPB Flatford Wildlife Garden, Flatford Rd, East Bergholt, Colchester CO7 6UL
When: 23 July-31 August, 10.30am-3.30pm
Need to know: Activities free. Car parking costs £4.
Summer holidays 2018 family activities in Scotland
Quick on the draw
What: Join illustrators Chris Riddell, Meg MacLaren, Jarvis and others at the Edinburgh International Book Festival in a 'Big Draw' for budding young artists of all ages. You'll get the chance to brighten the day of Terry, the not-so-tropical fish, have a go at drawing ballet-dancing bunnies, create a magical creature inspired by Egyptian mythology, and meet the fearsome Steve, Terror of the Deep. And on 15 August families can get truly into the spirit of the festival by creating their own book character costumes as part of author-illustrator Tor Freeman and Book Aid International's all-day takeover of the Ballie Gifford Story Box tent.
Where: Edinburgh International Book Festival, 5A Charlotte Square, Edinburgh, EH2 4DR
When: 15 August and 20-24 August, 2.30-4.30pm (20-23 Aug), 11am-1pm (23-24 Aug)
Need to know: Free, drop-in.
Airborne antics
What: Take off with Scotland's spectacular National Airshow at the National Museum of Flight. Throughout the day amazing aerial displays will showcase flying machines old and new, including Spitfires, Lancaster bombers and the RAF Red Arrows. On the ground there will be live music, local crafts and a chance to explore the museum's recently refurbished collection of iconic military and civil aircraft.
When: 28 July, 10am-5pm
Where: National Museum of Flight, East Fortune Airfield, EH39 5LF
Need to know: Family ticket costs £58. Under 5s free. Advance booking recommended.
It's Play Time!
What: Celebrate children's right to play at the Summerlee Museum in North Lanarkshire with  a special day filled with story-telling, outdoor games and arts & crafts. There's also traditional games, mine tours, tram rides, an award-winning play area and museum exhibitions.
Where: Summerlee Museum of Scottish Industrial Life, Heritage Way, Coatbridge, North Lanarkshire, ML5 1QD
When: 1 August, 11am-4pm
Need to know: Entry to museum free. Small charge for some activities.
Battling Bruce
What: Discover the history of Robert the Bruce, one of Scotland's most famous kings, at Scone Palace in Perth. During the day there will be reenactments of famous battles and Robert the Bruce's coronation, performed by the Strathleven Artizans, as well as weaponry demonstrations, a chance to try on costumes of the time, and you can even decorate your own sword to take home!
Where: Scone Palace, Perth, Scotland PH2 6BD
When: 5 August, 12pm-4pm.
Need to know: Family ticket costs £25.
Doctor, Doctor
What: Discover more about doctoring at Dundee Science Centre and find out about the city's pioneering advances in medicine. Get hands-on with interactive exhibits: you can try out keyhole surgery, experience a Virtual Reality heart operation, and discover the stories of the people behind the research. 
Where: Dundee Science Centre, Greenmarket, Dundee, DD1 4QB
When: 2 July-12 November 10am-5pm
Need to know: Adult £8.25, child £6.25. Under 3s free.
Fair play
What: Have fun with these free drop-in arty workshops inspired by John Knox's Glasgow Fair painting at the People's Palace in Glasgow. You can learn some circus skills, create your own magic lantern slide, make a 19th century hat and much more!
Where: People's Palace, Glasgow Green, Templeton Street, Glasgow, G40 1AT
When: 14, 26, 28, 29 & 31 Jul, 2-3, 6-11 Aug, 1.30-4pm
Need to know: All activities free and drop-in.
Feline groovy
What: From the moment his tall, red and white striped hat appears around the door, Sally and her brother know that the Cat is the funniest, most mischievous creature they've ever met. With the trickiest of tricks, he turns a rainy afternoon into an amazing adventure. Based on the much-loved book by Dr Seuss, The Cat in the Hat was originally produced by the National Theatre. Expect towering hats, mischief and fun that is funny!
Where: The Grand, Pleasance Courtyard, 60 Pleasance, Edinburgh EH8 9TJ
When: 1-19 August, 10.30am
Need to know: Tickets from £7-£12.50. Book online or by phone.
Summer holidays 2018 family activities in Wales
Pirate science
What: Ahoy me hearties, pirates have taken over the National Museums this summer for a range of seriously swashbuckling events. At the Waterfront Museum you can join award-winning CBBC's science communicator Jon Chase for dastardly hands-on experiments and demos to uncover a pirate's science secrets!
Where: National Waterfront Museum, Oystermouth Road, Maritime Quarter,Swansea SA1 3RD
When: 13-16 Aug, 11:30am, 1:00pm & 3:00pm  
Need to know: Age 7+. Entry to museum and workshops free. Book in advance.
Hit the heights
What: Experience an all-new high ropes course perched in the beech trees of St Fagans National Museum of History. Climb, swing, balance and wobble your way through 18 different obstacles, including a balance beam, zig-zag bridge and cargo net and see the sights of St Fagans from above, before taking the zip wire back down to earth.
Where: St Fagans National History Museum, Cardiff CF5 6XB
When: Until October half term, 10am-3pm
Need to know: Costs £10 per person. Minimum height 110cm. No booking necessary, purchase tickets on the day from the Museum's front desk.
Safari so good
What: Embrace your inner Steve Backshall and head down to WWT Llanelli for an adrenaline-filled wildlife weekend. Jump aboard the 1km canoe safari for a watery treasure trail spotting a range of wonderful wildlife as you paddle. Or get your helmet on and mountain bike your way along the winding trackside nature trail to experience the wetlands on wheels!
Where: WWT Llanelli, Llwynhendy, Llanelli, Carmarthenshire, SA14 9SHq      
When: 25 Jul-3 Sep, 12-4pm
Need to know: Events included in admission. Family ticket from £26.35. Canoes for over 5s only.
Terrifying tours
What: Take a trip back in time through Carmarthen's creepy past on a spooky evening tour through the town. Meet 'murderers' and their victims (not real ones, honest), visit the sites of grisly executions and uncover secrets from bygone days with the help of your guide, the spooky Dr Grimoire. There's a peek inside the town's original Victorian police station and plenty of magical twists to keep you on your toes...
Where: Carmarthen Guildhall, Guildhall Square Carmarthen SA31 1PN
When: Until 17 October, Weds, 7pm
Need to know: Family ticket £23. Booking essential.
Fromage homage
What: Head for the South Wales town of Caerphilly this summer for The Big Cheese, a free three-day extravaganza celebrating the cheese-making town's history and tradition with street entertainers, falconry, living history encampments, music, dance, a traditional funfair, craft stalls and a food hall. The whole event kicks off with a fancy dress relay race carrying a Caerphilly cheese around the grounds of Caerphilly Castle which becomes the backdrop to an amazing firework display once night falls.
Where: The Big Cheese Festival, Owain Glyndwr Playing Fields, Crescent Road, Caerphilly, Mid Glamorgan, CF83 1JL
When: 27-29 July Fri (3-10pm), Sat & Sun (11am-11pm)
Need to know: Event is free. Additional charges for funfair rides etc.
Planet patrol
What: Take part in Operation Earth, an exciting new family show exploring the amazing stories and science of the environment. Earth is feeling a little under the weather and is going to the doctors for a check-up. Listen and chat with experts to investigate what is causing the problems. Become a trainee environmental scientist and help investigate Earth's land, air and oceans and see if you can find a solution.
Where: Techniquest, Stuart Street, Cardiff, South Glamorgan CF10 5BW
When: 23 Juyl- 5 August, 1pm-3.30pm
Need to know: Family ticket costs £28.
Peace and love
What: Get in touch with your creative side at this hands-on creative workshop. Use printmaking techniques to make a poster that shows what you think about peace and visit the exhibition Poppies for Remembrance which looks at the poppy in the natural world, as medicine and how it came to be a symbol of remembrance after the First World War.
Where: National Museum Cardiff, Cathays Park, Cardiff CF10 3NP
When: 25-27 July, 10.30am, 12pm, 1.30pm & 3pm  
Need to know: Cost £3, book at the shop on your way in.
Summer holidays 2018 family activities in Northern Ireland
Wet and wild
What: Curious about nature? Visit Castle Espie's all new secret swamp and learn how to become a wildlife ranger. There are lots of exciting challenges, from bug hunting to learning bushcraft. Take on the obstacle course in a race against time and have a go at pond dipping, animal crafts and even a mini-beast safari.
Where: Castle Espie Wetland Centre, 78 Ballydrain Road, Comber, Co Down, N Ireland BT23 6EA
When: 1 Jul- 31 Aug, 10am-5pm
Need to know: Free with admission. Family ticket from £23.80. Under 4s free.
It's a Thor Thing
What: Gather around once more and hear stories of Odin, the King of the Gods, Thor and his mighty hammer and Loki, the shape changer, adventurer and mischief maker. Battle 'Frost Giants', dodge magical beasts and feel the thrill of storytelling, just as the children of the Norse once did. With magical lighting, sound and imaginative and skilled storytelling, the award-winning Clydebuilt puppet theatre will transport you back in time to the age of the Vikings.
Where: Roe Valley Arts and Cultural Centre, Limavady, County Londonderry, BT49 0FJ
When: 1 August, 12 noon
Need to know: Suitable for 6+. Tickets £5.
Spring along to Springhill
What: Come along with all the family to enjoy fun and games at Springhill House in Londonderry. There's a BBQ, traditional games, face painting, live music, nature trails to explore and much more.
Where: Springhill House, 20 Springhill Road, Moneymore, Magherafelt, County Londonderry, BT45 7NQ
When: 12 August, 11am-4pm
Need to know: Family ticket costs £16.50
Totally roar-some!
What: Ever wonder what it would be like to visit Jurrassic Park? This summer, let W5 take you back 160 million years on a journey to the lost world of the dinosaurs with moving, roaring animatronic robots including a Triceratops, a Ornithomimus (yes, really) and a T-rex 4 metres tall and 7 metres long. Step into a land that time forgot and meet the most awesome creatures that ever roamed the Earth!
Where: W5, 2 Queens Quay, Belfast, BT3 9QQ.
When: 6 Jun-31 Aug, 10am-6pm
Need to know: Event is free with admission. Family tickets start at £27.50
Top Of The Bogs!
What: Head to the stunning Cuilcagh mountain park and celebrate International Bog Day this holiday. Learn about the fascinating bog habitats that dominate the Geopark, home to several rare or endangered species of plants and birds. Find out how people hand cut peat, listen to stories from days gone by and take part in some bog pool dipping activities.
Where: Cuilcagh Mountain Park, Marble Arch Caves Global Geopark, County Fermanagh, BT92 1EW
When: 29 July, 1-4pm
Need to know: Free. Sturdy footwear required.