Top tips to help your dyslexic child enjoy reading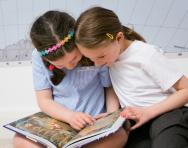 Reading might be more difficult for dyslexic children, but that doesn't mean they can't enjoy it. Follow the advice in this exclusive extract from The Dyslexia Toolkit for Parents, published by TheSchoolRun, to inspire them to love books.
Encourage your child to read by finding topics that interest them and that they're keen to learn more about, or simply enjoy for entertainment.
Ask at your local library or bookshop if they have reading lists for dyslexic children.
Encourage discussion. What would they do if they were the character in the book? By discussing the book and empathising with characters, your child will feel more involved.
Create a cartoon about the characters by following a storyline or making one up.
Older kids might be inspired by graphic novels which have a dramatic visual format and fewer words.
Don't be too concerned about what they're reading. It could be a magazine, a pamphlet, a comic or a non-fiction book. What matters is that they are reading!
Look for film tie-ins. Did they love the latest animated film? Perhaps they'll be eager to continue the story in book form.
Read to your child. Let them listen and follow the story while you throw yourself into the drama. Your love of reading will transfer to your child.
Never say a book is too big or difficult for your child. Instead, if the content is appropriate, let them have a go.
Create a home library. Help your child organise a bookcase with non-fiction and fiction, just like their school or local library.
Books about dyslexia for children