Is your child a sports star?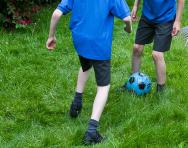 Identifying your child as Gifted & Talented in PE and sport will help to make the most of their ability – but Andrew Shields cautions against believing that stardom beckons.
'My boy's going to play for England!' beamed the proud dad on the touchline. His son had just scored a fantastic goal for the under-nines football team; faster, taller and stronger than everyone else on the pitch, the lad certainly looked a cut above the rest.
Dad's pride was understandable, but needed to be laced with a strong dose of realism. Around two million people play football in the UK yet fewer than 4,000 make a living from the game – and only a tiny fraction go on to reach the level where salaries have seven digits. After all, a nine-year-old who towers above his peers may not grow much more; as others catch up, the advantages that once made them exceptional will gradually disappear.
In accordance with government Gifted & Talented guidelines, children competing in sport at county level or above are recorded on a G&T register, which is shared when they move on to secondary school. However, an important aim of PE in primary schools is to identify others whose physical ability also needs to be nurtured.
'We want every child to get the right level of support to maximise their potential throughout their school life and beyond,' says Elaine Burgess, who works as Partnership Development Manager for schools in an east London borough. 'If your child is involved in sport at a high level outside school, make sure this is recorded.'
Early specialism in sport: the downsides
Early sporting success can bring a tendency to specialise too soon. Our ambitious dad may tell his son to give up other activities in a belief that concentrating solely on football will help him – when in fact it may be more of a hindrance. Not only does this bring the risk of repetitive strain injuries, it may also limit the broader physical, creative and cognitive development that comes from taking part in a wide range of pursuits.
'Parents have to realise that the chances of their son playing in the Premier League are tiny,' says Burgess. 'If they focus all their efforts on one sport, the big setback – rejection, injury, whatever it may be – can leave a child without anything to fall back on. At 15 or 16, a child who can only kick a ball and can't catch, throw, dance, swim, somersault or play tennis has far fewer options.'
That's particularly important given the approach now taken to talent identification across many sports. Several members of Team GB's Olympic handball squad who competed at London 2012 were recruited not from a search for world-class handball players, but from an initiative designed simply to find tall people with good all-round ability.
Meanwhile, Lizzy Yarnold, who thrilled us all when winning gold at the Sochi 2014 Olympic Winter Games, was originally an athlete who thought she would be good at sports involving horses but was actually redirected into skeleton. 
'Take pleasure in your child's athletic success,' says Burgess, 'encourage them to be ambitious but, crucially, keep them playing as many sports as possible.' There's so much out there to enjoy – and, truth is, the gap between even the most starry-eyed ten-year-old footballer and that million-pound contract is unbelievably wide.
Is your child talented in PE and sport?
Are they:
Quick to learn skills or activities
Confident and responsive to new challenges
Motivated to practise and keen to perform
Without fear of failure
Able to reflect on how they performed and how to improve
Keen to take the lead
Fit for their age
Fluent and co-ordinated in their movement
Spatially aware
If so, they should be included on the Gifted and Talented Register to make the most of their ability. As Lizzy Yarnold discovered, there are many more sports than the one you thought you were good at!