Photography for children – the benefits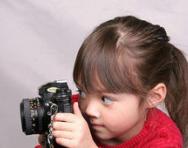 Find top tips on children's photography and great photographic 'assignments' you can try with your budding photographer.
With all the developments in technology and the advent of specially designed cameras for children, it has never been easier or cheaper for children to get involved in photography. Photography for children can develop their learning across the curriculum and enable them to build an understanding of themselves, others and the world around them.
What are the educational benefits?
Photography for children offers a range of exciting and valuable learning experiences, not to mention some great experiences. The benefits include:
learning a new skill, which can boost children's self esteem
encouraging planning and presentation skills
allowing children to display their potential through creativity
providing children with the opportunity to be innovative
giving children the opportunity to communicate their ideas, thoughts and feelings
stimulating children to develop their own ideas on design
How do I get my child started?
Buy a camera that has been especially designed for children. Owning their own camera is enough to get them really inspired. Ask yourself the following questions to ensure you make a wise buy:
Can my child hold it easily?
Has it got automatic settings?
Can it turn itself off automatically?
Is it simple to use?
Is it durable?
Photography activities
Once your child has got to grips with their camera, inspire them with these fun and easy photo 'assignments':
Provide a list of specific things to find and photograph (a cat, a fire hydrant, a school bus)
Get descriptive. Use adjectives to describe the types of pictures to take. For example, 'soft' could be a puppy or a dandelion. They may interpret 'tall' as a building or a friend on the basketball team
Go crazy with colour. Provide a list of colours that need to appear in the photos, or create a challenging assignment by having your child take ten pictures that represent a single colour
Pick a subject your child is interested in, such as insects – then take a stroll and let your child take pictures of what they find
Encourage your child to tell a story with photographs. There are several approaches to this project. They can take pictures and write a short story to go along with them, or they can photograph an event as it happens, such as a family picnic or a football game.