Encourage a love of drama and the stage
Whether your child is a diva in the making or more inclined to be backstage crew, drama and acting could help develop skills that will offer a boost in many areas of life, says Lucy Dimbylow.
Some children are born to seek out the limelight, but for others, the mere thought of performing in front of an audience brings them out in a cold sweat. But drama and performance can boost your child's development and confidence in many ways, and there are many ways to encourage a love of theatre and acting. Here's how to bring out your child's inner superstar.
Start a unique learning programme!
Weekly programme for each school year
Worksheets sent direct to your inbox
Keeps your child's learning on track
Extra-curricular drama clubs
After-school drama clubs can be a good way to introduce your child to acting, without the pressure of being in a classroom situation – or in front of an audience. 'They help to fire imagination through drama games and improvisation, and approach acting and performing in a fun way,' says actor and drama coach Brogan Meadwell. They're also good for more reticent kids; 'A child should never be forced to join in or perform if they don't want to; they can learn a lot just from observing,' Brogan says.
Youth theatre and amateur dramatics
If your child has a real love for performing, youth theatre and amateur dramatics groups could nurture his passion. 'Children need to be committed, as they often have to audition for parts, but these groups are great for building confidence and working towards a big production,' Brogan explains. 'There are also opportunities to be involved in other roles, such as in lighting, sound and costumes – all vital in showing children the different aspects of theatre.'
Performing arts schools
Typically running at the weekend for three-hour sessions, part-time stage schools like Stagecoach, Theatrebugs, Perform and Top Hat are ideal for budding Gleeks, teaching children not just acting, but also dance and singing. These schools generally work towards an end-of-term show, and can be a good way for children to socialise with others their own age and work collaboratively towards a performance.
Theatre visits
'This is the best way, in my opinion, to get children interested in theatre from an early age,' says Brogan. 'If possible, go to a performance where the cast and crew come out and talk about the performance after the show, or ask when booking if you would be able to have a quick look backstage afterwards. You'll be surprised how many theatres – West End included – will agree to this. It's an unforgettable experience for children, and shows them that actors are actually real people who have become a character to tell a story.'
You can also watch behind-the-scenes information about everything from acting, directing and playwriting to puppetry, special effects and set design on the National Theatre's NT Learning website.
If you are able to visit London's West End, Kids Week should be a highlight of your calendar. Every August the Society of London Theatre initiative offers children aged 16 or under free theatre tickets to selected performances when they're accompanied by a full-paying adult (you can buy up to two extra kids' tickets at half price, too). There is a huge selection of shows to choose from and a whole programme of activities to go with the performances, from Q&As with the cast to dance and acting workshops. Ticket sales open in June and it's wise to book as soon as possible – the most popular musicals and activities sell out in hours!
You don't have to travel or even leave home to access amazing theatre – the digital theatre space is thriving and wonderful shows produced all over the world are available to watch, for free and through ticketed portals. Find the best of what's on offer on Children's Theatre Digital, which directs audiences to the high-quality theatre content for children aged 0 to 12 that's available online publicly, ensuring that no child misses out.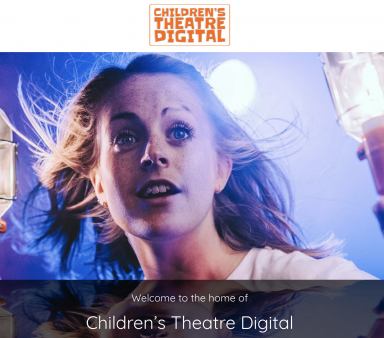 Films and cinema
Taking your kids to the cinema or sticking a DVD on at home isn't just a good way to buy yourself some peace and quiet; it can also inspire them to perform. 'Children often pick out their favourite characters and act them out afterwards, which is great for encouraging role play,' Brogan explains. 'Boost your child's enthusiasm by talking about the characters, music and relationships in the film, encouraging them to form their own opinions.'
Performing at home
Even if you're not the outgoing type, you can still encourage a love of performance at home. 'Puppet theatres are a great source of fun for young children,' says Brogan. 'All you need is an old cardboard box, some teddies and dolls and old socks! Get your children to paint the theatre and make tickets, programmes and interval snacks; they'll have hours of fun putting their show together, and enjoy the applause at the end.'
Reading with your child also helps to encourage creativity and expression. 'Children love reading with different voices for each character,' Brogan explains. 'Ask questions to help them develop the story: what kind of voice do you think the old woman would have? Can you act out this page? What sounds might we hear?'
Some children, despite your best efforts, are too shy or self-conscious to ever really love acting. 'But every child has a voice, and building confidence and self-esteem through drama, poetry and speech really helps,' says Brogan. 'Even if they don't feel able to perform, working with groups, listening to  and respecting others and feeling comfortable within a group is an important part of everyday life, and will arm your child with great skills for their future.'