6 ways to introduce your child to classical music
Open up a world of amazing music for your child by introducing them to classical music composers and performances. With loads of resources available for free online, there's no better time to dive in and start listening.
Music is one of the great pleasures of life, whether you're a player or simply a devoted listener. If you'd like to introduce your family to classical music and centuries of amazing sound and artistry, primary age is the perfect time to start.
Download a FREE Creative Writing toolkit!
KS1 & KS2 workbooks
Bursting with fill-in prompt sheets and inspiring ideas
Story structure tips, style guides and editing suggestions
"Music is such an enriching part of all our lives and often families have music which is special to them without even noticing it.
This can be singing a song together before bedtime or sharing the moment when hearing a favourite piece on the radio or TV," says Ellara Wakley, Senior Learning Manager, BBC Proms.
Established in 2015, the BBC Ten Pieces programme invites children aged 7-14 to develop their own creative responses to classical music and has so far reached over four million school children across the UK. Though it was developed for schools, the initiative comes with a wealth of classical music resources parents can use at home.
Classical music exploration strategy 1: listen!
Want to find out more about classical music? Play it! Turn on the radio and make it part of your family life, as much a soundtrack to breakfast and car journeys as every other genre of music you love.
As Ten Pieces Ambassador and world-famous British violinist Nicola Benedetti says, "Classical music is one of the greatest creations of humankind. People often make the mistake of thinking that because I am advocating for one thing, it's to denigrate something else. That's not the case at all! Explore as much of the arts world as possible. Artists have and still do deal with all the things in life you cannot see – like our feelings and how we interact with each other. These aspects of life need nurturing and developing. Music, and classical music, can help with this."
You'll soon realise you're familiar with a huge number of classical music pieces, old and new... 
Classical music exploration strategy 2: explore
Are you a classical music beginner? There's loads of expert guidance available to help you find pieces you love, from the BBC Proms' hand-picked list of concerts featuring the best-known and most-loved music from the classical repertoire to Ten Pieces film clips designed to introduce a generation of children to classical music.

"When choosing the pieces we aim to show the breadth of classical music composed in the past 500 years and to create a complementary playlist of pieces that showcase different sound worlds, narratives, influences and nationalities," explains Ellara Wakley. "We've chosen pieces that will immediately engage young ears, including both popular classics and pieces that will be new to the audience." Find out more about individual music classics, from Shostakovich's Symphony No 10 and Holst's Mars to Elgar's Enigma Variations and Beethoven's Symphony No 5, with videos and commentary.
Classical music exploration strategy 3: use your imagination
Music can be the starting point for some amazing flights of fancy, whether your child is imagining a story of their own or sharing in someone else's interpretation.
We love English Symphony Orchestra's series of brand-new works for narrator and orchestra. You can watch and listen to Kenneth Woods' powerful setting of the Hans Christian Andersen classic, The Ugly Duckling, narrated by Downton Abbey actor Hugh Bonneville, on the ESO's digital portal.

The Ten Pieces Story Time online collection introduces younger listeners to classical and contemporary music to help inspire their imaginations, and the CBeebies show Melody takes a young girl on amazing musical adventures.
Classical music exploration strategy 4: find out more
For the youngest listeners, the CBeebies Prom website offers loads of clips of short classical pieces introduced by Cbeebies presenters, as well as brief introductions to orchestra conducting and the Proms' impressive concert venue, the Royal Albert Hall in London.
Ten Pieces Live Lessons were filmed for primary and secondary schools, but you can watch them (for free) at home to find out more about the orchestra, composition and performance. The lessons come with downloadable activity sheets, clips and other teaching resources if you want to explore further.
Child-friendly guides to composers and individual pieces of music are available on the Ten Pieces website, as well as videos of orchestral performances of the Ten Pieces music.
The London Symphony Orchestra's film Where's Simon? introduces children to Mozart's The Marriage of Figaro through a musical journey in which the players rehearse, explain how their instruments work and prepare with Sir Simon Rattle, all of them playing from their front rooms, their kitchens and their bedrooms. The film concludes with a full performance of the Overture to Mozart's famous comic opera, conducted by Sir Simon from his home.

The free eBook Ten Pieces Guide to the Orchestra is a video-rich interactive guide to the orchestra for all age groups, presented by Barney Harwood from Blue Peter, with the BBC National Orchestra of Wales. Basic facts about writing music and each of the orchestra's instrument families introduce kids to how classical music works, with plenty of quizzes to test their new knowledge. All text is voiced by Barney and can be listened to as well as read. If your child has lots of "how do they do that?" questions about instruments, explore the science of sound as applied to drums and woodwind, brass and string instruments.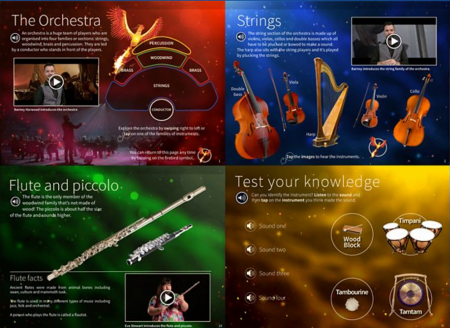 Classical music exploration strategy 5: be inspired by other people's musical passions
Classical music exploration strategy 6: take part
If you're looking for family-friendly live performances of classical music there's plenty to choose from, wherever you live.
"Attending concerts together as a family creates special times and kids taking up instruments through school or local music services can start the whole family journey of music making-pleasure," says Ellara Wakely. "There are also lots of youth orchestras and local music services who can help support families and young people who are interested in music. The BBC has five orchestras, two choruses and a professional choir that regularly perform throughout the year all across the UK. It's always worth keeping an eye on the BBC Orchestras and Choirs website to see what events are coming up."
For a list of orchestras across the UK who put on concerts targeted for families, look through the BBC Ten Pieces Champions list. If you can't make it to a concert in person, the BBC Proms (the world's largest classical music festival) is broadcast on the radio, and you can also watch videos of performances online. 
Best children's books about classical music