Adjectives describe nouns, but how will your child be taught to use them correctly? We explain how word banks and a thesaurus can help improve your child's writing by encouraging them to use effective, powerful adjectives in their work.
What is an adjective?
Adjectives are words used to describe and give more information about a noun, which could be a person, place or object.
Children are encouraged to use adjectives in their stories to make them more interesting for the reader. It is very common for children to race ahead with the action of a story, and they often need reminding to stop and think about what a character looks like or feels or how they might describe the setting of their story.
Download Fantastic FREE Grammar Resources!
Perfect Punctuation Workbook
Grammar Games Pack
PLUS 100s of other grammar resources
How are children taught about adjectives in the classroom?
Children need to get into the habit of using adjectives from a young age, so that this skill becomes innate in their writing. From Year 3 onwards they will be expected to start using more sophisticated adjectives. For example, in Key Stage 1 they may use the word 'scary'. In Key Stage 2 they would need to start thinking of other words for 'scary', synonyms such as: 'terrifying', 'haunting', 'chilling', 'creepy', 'intimidating' or 'menacing'. Use of a thesaurus can help with finding more effective adjectives.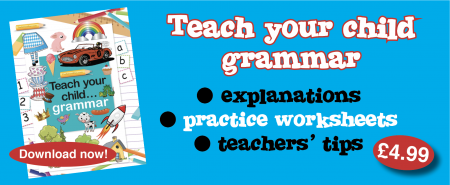 Children in Key Stage 2 will further their use of adjectives by forming similes.
For example, in Key Stage 1 you might expect a child to write the sentence:
She touched the warm, yellow sand.
But in Key Stage 2, you would want them to move onto a more detailed description of the sand, incorporating a simile:
The pale, fine sand ran through her fingers, as soft as silk.
 
How do children learn to use adjectives in their writing?
These are some ways that teachers encourage children to use adjectives in their writing:
 
A word bank of adjectives for the child to have by their side while they are writing to help them improve their description.
Underlining nouns when marking a child's writing, with a written comment to prompt them to add an adjective to the noun.
Modelling on the board how to incorporate adjectives into writing.
Providing a thesaurus so that children can find more interesting adjectives that they might not have previously known.
Having a list of adjectives as part of class display, that children constantly add to.