We explain what diagonal means in geometry and why it is important that children understand this term when learning about 2D shapes in primary school.
What is diagonal?
A diagonal is a straight line joining two nonadjacent vertices of a shape, that is, two corners of a shape that are not next to each other.
Each of the following shapes have a diagonal line drawn on them:


It is important for children to learn this geometrical term, as often the word can be part of the definition of a shape.
For example, a kite has two angles which are the same size, and these angles are diagonally opposite each other. (For more definitions of 2D and 3D shapes see our guide to shape names.)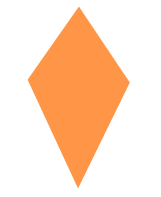 As part of their work on shapes children will also learn about horizontal, vertical, parallel and perpendicular lines.