Why children's books need more disabled representation
Actor, children's author and former CBeebies presenter Cerrie Burnell shares what it was like growing up with a disability, and why children's books need more disabled characters.
Cerrie Burnell was born with a right arm that ends just below the elbow. Best known for her eight-year stint presenting CBeebies, she's also the author of many children's books featuring a diverse cast of characters, including those with disabilities.
 
She spoke to TheSchoolRun.com about growing up with a disability, and chooses her favourite children's books with disabled characters.
'I stopped wearing a prosthetic arm when I was nine'
'I don't remember a specific point where I realised I had a disability. Yes, other kids would ask me questions about my arm in the playground or sandpit, but children really don't make a big deal of disability or difference; they just accept it and move on.
 
'My primary school years were really happy, and my physical disability was never an issue. I didn't even consider myself disabled, or that it was an obstacle I had to overcome. In fact, my dyslexia was far more disabling: I had an enormous imagination, but I couldn't read or write until I was 10.
 
'Initially, I wore a prosthetic arm to school, but I hated it and would take it off as soon as I got home. When I was nine, I stopped wearing it altogether. I did PE just like everyone else, and my disability simply wasn't discussed. As a teenager, I was picked on more for my braces than my arm.
 
'Growing up, I loved books. There were no characters with disabilities in the books I read; the only one was Captain Hook – not much of a role model for a young girl! But I didn't really notice the lack of representation. I had no problem imagining myself as Alice in Wonderland or Little Red Riding Hood. It's only since being a parent that I've noticed how few children's books have disabled protagonists.
'There was a campaign to get me off CBeebies'
'I was delighted to get the presenting role on CBeebies in 2009, but as far as I was concerned, I was just a woman doing a job I loved. The other presenters and team felt like my family, and my disability was never mentioned.
 
'However, it threw me into the limelight as a TV personality with a visible disability. Parents' reactions were generally positive, and many saw me as a role model for their disabled children, but there was also a lot of negativity, including a huge campaign to get me off the channel.
 
'Some parents thought my arm would scare their children, and perhaps it did at first, but that's because kids are naturally wary of new things, in the same way that they might be scared of a big dog or a spider. As they learn about the world and have open conversations about differences and diversity, they realise there's nothing to worry about.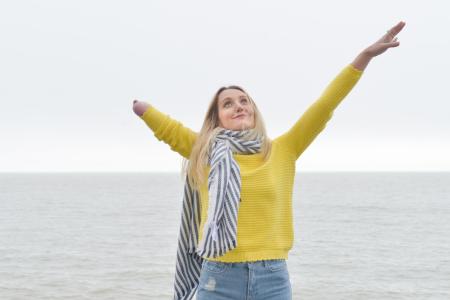 'Although it was hard to be on the receiving end of so much negativity because of my disability, I knew it wasn't personal; it was just a sign of the times. And although some parents were judgemental, there was also a lot of positivity. Children were just accepting, to the point that one day I was out walking with the pram, and a load of kids came running over. I thought they recognised me from CBeebies, but actually, they just wanted to talk to my baby daughter!
'All of my books encompass diversity in some way'
'When I started writing children's books, my daughter was my inspiration. She's dual heritage, and I discovered that children like her just weren't represented in books for kids. I then started to write about disabled protagonists, too. Not all of my books have disabled characters, but they all encompass diversity in some way, whether that's race, religion, sexuality or different types of families.
 
'Although I didn't feel unrepresented in books when I was younger, in hindsight, I would have liked to see disabled characters. But when I write about disabled protagonists, it's not just for disabled children; it's also so able-bodied children are exposed to more diversity.
 
'My book, I Am Not a Label (£14.99, Wide Eyed Editions), is a children's anthology of 34 different disabled artists, thinkers, athletes and activists – there were supposed to be 30, but the publisher and I couldn't narrow it down!
 
'As a fiction writer, I wanted to bring a sense of fairy tale to the book even though it's about real people. I discovered so many stories, from Stephen Hawking to Lady Gaga, and they all deserve to be heard. It celebrates diversity in a global sense, and my dream is for it to be on the shelves in every school library: it's a real textbook for inclusion.'
Start a unique learning programme!
Weekly programme for each school year
Worksheets sent direct to your inbox
Keeps your child's learning on track
Cerrie's top children's books for disabled representation
For more stories of physically or neurologically diverse people from around the world, Just Like Me by Louise Gooding (£12.99, Studio Press) is an anthology featuring inspirational figures including Simone Biles, Sudha Chandran, Stephen Hawking, Daniel Radcliffe, Usain Bolt, Warwick Davies, Selena Gomez, Temple Grandin, Frida Kahlo, Madeline Stuart, Sadako Sasaki and Greta Thunberg. Each profile includes their struggles and triumphs, a motivational quote and information on each condition, all illustrated in full colour by a team of artists who identify as physically or neurologically diverse themselves.