7 of the best early reader tools
From interactive games and apps to simplified reading books and learning-to-read devices, we love the early reader tools available to parents and children. Whether you want to motivate a reluctant reader or offer a huge selection of titles to a voracious bookworm, we've picked some of the best options to start your child on the road to a life-long love of reading.
Sparkup Magical Book Reader
A reading gadget that encourages independent reading, the Sparkup works with any picture book you already own. Record yourself reading the book (or ask grandparents or older siblings to do a few 'guest' recordings) and your voice is captured in the Sparkup. When you next clip it to the book, the camera sensing technology 'reads' it aloud as your child turns the pages (and if they skip a page or look at them out of order the Sparkup reads the correct page... impressive technology). Up to 50 books can be stored on the device, and it can be connected to a computer to back up and organise your recordings library. Priced £39.99, but special offers mean some retailers offer the Sparkup for less than £9.
Your complete 'at-home' phonics support kit
Step-by-step phonics programme
Your guide to phonics
Worksheets & games
Reading Chest
Reading Chest is a book rental service that specialises in reading scheme books for children aged 4 to 9. Select your child's school reading scheme level and borrow from a huge selection of fiction and non-fiction titles, posted to your door and returned and swapped for more readers in a pre-paid envelope. Prices start at £9.95 a month, and while your child is learning to read you'll have access to a huge number of stage-appropriate books to help keep at-home reading practice fresh and interesting. Our five-year-old tester loved seeing an envelope addressed to him come through the letter box and was very keen to read through his books as quickly as possible so he could swap them for more! Highly recommended.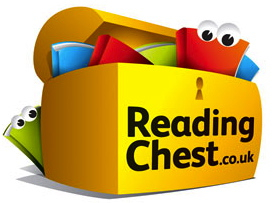 LeapReader
Designed specifically for early readers aged 4 to 8, the LeapReader is an interactive book reader and audio player. You touch words on LeapReader books to hear them sounded out and pronounced (in British English!) and to listen to stories and can also use the pen-shaped device for writing activities (stroke-by-stroke guidance helps children form letters correctly on special no-ink "learning paper"), on interactive maps and diagrams and as an audio player to listen to LeapFrog audio books and songs. 
If you're looking for an educational games device the familiar characters (Disney Princess, Dora th Explorer, Scooby Doo, Cars and Sesame Street) will definitely be a hit, and there are lots of non-fiction science, geography and puzzle books to choose from too. Reluctant readers will enjoy the in-book games and extra activities, while effortlessly practising phonics skills, tricky words and reading comprehension. Over 150 interactive books are available, and the full-colour illustrations mean they'll be part of your child's library long after they're confident enough to read them independently.
The LeapReader (£39.99) comes with a sampler book of activities; other books, games, audio books and handwriting workbooks are sold separately and prices start at around £6.
Reading Eggs
An online reading-support "world" for 3 to 8 year olds, Reading Eggs offers 120 interactive lessons (with a focus on phonics, tricky words, vocabulary and comprehension), animations, games, songs and lots of rewards. By completing reading activities children access their own virtual house to decorate and establish an avatar that can travel to lots of different destinations. A 12-month subscription costs £39.95 and offers access to all parts of the Reading Eggs programme, including 120 reading lessons and over 2000 e-books in the online library. A free two-week Reading Eggs trial is available.

Read with Biff, Chip and Kipper app
The Biff, Chip & Kipper learning-to-read books children use in the classroom and for at-home reading practice are also available as interactive reading apps for phones and tablets. Choose from 48 reading and phonics books (across six reading levels), and take advantage of features paper books can't offer, including an auto play option (so your child can follow along, looking at the words as the book is read to them) and puzzles and activities (looking for details throughout the story or playing a Biff, Chip and Kipper game).
The Read with Biff, Chip & Kipper: Library is a free app, offering two free books from level 1 when you download the library. Individual books from £1.79. Available on iTunes, Android on Google Play and Windows Store.
We've picked lots more great early reader apps in our Best apps for new readers guide.
Early reader books
Early readers or first readers are stepping stones from picture books and learning-to-read reading scheme books to longer chapter books. The words are carefully chosen to boost children's confidence in their decoding skills and the stories are as well-written and engaging as you'd expect from popular authors and well-established reading series.
There are hundreds of early readers on the market (and we've picked some of our favourites, including superhero stories and Star Wars tales, in our parents' guide to early readers), but new titles to look out for include non-fiction Early Readers from Orion like Dinosaurs by David Long, Rainbow Magic Beginner Readers, an Early Years version of the collectable Rainbow Magic series, and the Let's Read series, which features classic picture books redesigned in a smaller, 'grown-up reading' format.
Teach your Monster to Read 3: Champion Reader
New in June 2015 is the third in the free Teach Your Monster to Read online reading games series, created by the Usborne Foundation with reading experts at the University of Roehampton.
The game is compatible with Phase 5 phonics and the focus is on reading more fluently and for meaning, with lots of blending practice. We love the colorful, quirky monsters and reward system (players collect stars and get prizes for teaching their monster to read); individual player login means that your child's progress is tracked as they learn to read. Eagerly anticipated by fans of Teach Your Monster to Read: First Steps (also available as an IPad app, £3.99) and Teach Your Monster to Read: Fun with Words. Very addictive!