Best classic books for KS2 children
Our classic books picks cover a wide range of subject matter and historical periods, but what they all have in common are great story-telling, excitingly unfamiliar worlds, and colourful characters to root for. Our lives may have changed significantly since these books were written, but their portrayal of the pleasures and anxieties of growing up remains as relevant as ever. By Emma Harding
(£6.99, Vintage Children's Classics)
A gripping story of courage, war and separation. One cold night in Warsaw in 1942, the three Balicki children watch in horror as Nazi Storm Troopers arrest their mother. Their father has already fled the country, so the children are left to fend for food and shelter by themselves. When they get word that their father has made it to Switzerland, Edek, Ruth and Bronja are determined to find him and they set out on a long and dangerous journey across Europe. Their heart-stopping, deeply moving story is based on true accounts.
Claim A FREE Book Reviews Activity Pack!
A huge collection of creative writing & reading comprehensionresources
Explore texts, deepen understanding, share opinions
For Year 1 to Year 6
(£6.99, Vintage Children's Classics)
When Bonnie's parents leave Willoughby Chase to go on a sea voyage, Bonnie and her cousin Sylvia have to deal with a cruel governess and prowling wolves in the woods beyond the house. Left in the care of the wicked Miss Slighcarp, the house's furniture is sold, the servants are dismissed and Bonnie and Sylvia are sent to a prison-like school. They manage to escape with the help of Simon the gooseboy, but how will they rescue Willoughby Chase from the machinations of the evil Miss Slighcarp? Set in an alternative 19th century England, with a colourful cast of characters, this is a thrillingly exciting story. And if your child loves this book, there are several more in the series, continuing with Black Hearts in Battersea.
(£5.99, Red Fox Classics)
Emil's mother sends him on an important mission – to travel to Berlin on the train in order to take some money to his grandmother. On his journey, he shares a carriage with an odd man called Herr Grundeis, and though he tries to stop himself, Emil falls asleep. To his horror, he wakes up to find that his money has disappeared - and so has Herr Grundeis. Luckily, when he arrives in Berlin, he falls in with a group of local boys who help him catch the thief.  One of the first children's detective stories, this is an entertaining story about a generous and resourceful band of children, who manage to outwit the adults.
(£4.99, Scholastic)
Told from the perspective of a horse who is taken away from the tranquil green meadow he shares with his mother, and sold into a lifetime of labour, this novel introduces an unforgettable cast of characters. Black Beauty himself is passed from owner to owner – some treat him with great kindness; others work him to the bone. There's also Merrylegs, a pony of great charm and intelligence, Sir Oliver, the old war horse, and Ginger, who has suffered much cruelty. There are some heart-breaking moments in this beautifully written tale, first published in 1877 to make Victorian readers think about the feelings and suffering of working animals.
(£5.99, HarperCollins)
How many children have been inspired by this book to open a wardrobe in the hope of finding the door to a magical world? For that's exactly what happens to Lucy and her three siblings.  On the other side of the wardrobe is the land of Narnia, a land enslaved in an endless winter by the tyrannical White Witch. The creatures of the Narnia have almost lost hope, but the return of the Great Lion, Aslan, heralds the dawn of a new age. The four children join forces with Aslan to help defeat the White Witch, but this will require great bravery – and sacrifice.  This is the second book in C S Lewis' much-loved Narnia series – the first, The Magician's Nephew, is also well worth reading and full of strange magic.
(£6.99, Puffin)
Do things in your house sometimes mysteriously disappear? Then there's a chance that you might have Borrowers living beneath your floorboards. The Clock family – Pod, Homily and their daughter, Arrietty – live under the kitchen floor in their tiny house, where cupboards are made from matchboxes and postage stamps hang on the walls as paintings. The Clocks "borrow" whatever they need from the "human beans" who live above them. Because of the dangers, only Pod ventures into the human world above, but Arrietty is bored and when a human boy comes to live in the house, she takes terrible risks in order to have a friend. Children will identify with Arrietty's restlessness and longing for companionship, and the wonderfully inventive world of the Borrowers' life beneath the floorboards will fire their imaginations.
(£7.99 Alma Books)
When 10-year-old Mary Lennox's parents both die in a cholera outbreak, she is transplanted from the life she has known in British India to Misselthwaite Manor, her uncle's draughty old house on the Yorkshire Moors. Although her stubborn spirit and quick temper puts her at odds with the redoubtable housekeeper there, she discovers happiness in the form of the Manor gardens and her new friendship with local lad, Dickon, who has a talent for taming wild creatures. She also begins to realise that both the house and gardens contain secrets – secrets that will change Mary's life for ever. A compelling and heart-warming classic, first published in 1910, about friendship, nature and transformation.
(£6.99, HarperCollins Children's Books)
Judith Kerr's lightly fictionalised account of her own childhood as a German Jewish refugee from Hitler's Germany. Anna is nine years old when Hitler comes to power in Germany, too busy with her friends and school life to take much notice of the political posters all over Berlin. It's not long though before everything changes and her family are forced to flee Germany. They begin a new life, moving from country to country, and Anna and her older brother Max rather enjoy their new adventures, but they are less aware of the anxieties faced by their parents. The full horrors of the Holocaust are not depicted here; instead, this is a child's eye view of a turbulent time and a beautifully-pitched account of childhood.
Heidi by Johanna Spyri, illustrated by Susan Hellard, translated by Peter James Bowman
(£6.39, Alma Books)
Five year old Heidi is a clever and kind-hearted little girl, growing up in Switzerland. Even when she's sent to live with her curmudgeonly old Alp-Uncle in a remote house in the mountains, she's determined to make the best of it. Her spirit and good nature soon win over the reclusive old man, and Heidi comes to love life in the Alps. A charming and enduring story of courage, friendship and optimism.
If you're looking for a retelling of Heidi suitable for younger children, we love Jeanne Willis' version, published by Nosy Crow.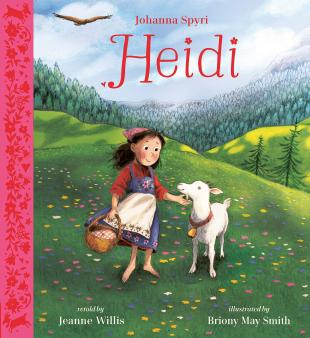 (£6.99, OUP)
Tom Long is sent away to stay with relatives, while his brother recovers from a bout of measles. He is bored and lonely in his aunt's flat, but lying awake in bed one night, he hears the grandfather clock in the hall strike eleven, twelve, thirteen… Thirteen? He heads downstairs to investigate and finds himself transported to the 19th century, where the house is no longer divided into flats, but is restored to its former glory, complete with a magnificent garden. In the garden, he makes friends with Hattie, a little girl just as lonely as him. A brilliantly atmospheric book about time-travel, friendship, growing up and the many lives of a house through time.
(£6.99 Virago)
Anne Shirley is a red-headed, freckled 11-year-old orphan who's been sent to the Green Gables farm in Avonlea by mistake. The elderly brother and sister who run the farm, Matthew and Marilla Cuthbert, had really wanted a boy to help with the chores but, before long, accident-prone, head-in-the-clouds Anne has captured shy old Matthew's heart and Anne is allowed to stay. Soon Anne makes friends, gets into scrapes, loses her temper, dyes her hair green, demonstrates her precocious imagination and even wins the love of tough old Marilla. Life in Avonlea is full of excitement, but there is sadness too, and all the anxieties and losses of growing up.
(£7.99 Vintage Classics)
Two rival groups of children battle it out for control of a small island in the middle of a lake. The four Walker children (John, Susan, Titty and Roger) are spending their summer holidays at a farm in the Lake District, from which they sail a dinghy called Swallow. While out on the lake, they meet the Blackett girls, Nancy and Peggy, who sail the Amazon. The two groups join forces against the Blackett's grumpy uncle, Jim Turner, nicknamed 'Captain Flint'. After various adventures including camping, boat battles, midnight expeditions on the lake, burglars and a case of a missing trunk, the children and Captain Flint are reconciled.  Set between the wars, this is a story of adventure and independence, as well as the importance of teamwork and friendship.