29 fantastic activities for the February 2018 half term holidays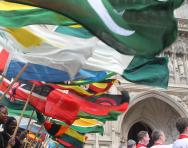 Go on a Stone Age treasure hunt, defend one of London's top historic landmarks or become a top puddle-jumping champion – you'll make a big splash whatever the weather this half term with 29 amazing activities for you and the kids to enjoy together! By Hetty Walton
February 2018 half term holiday family activities in England
Commonwealth Celebrations
What: Visit Westminster Abbey this half term and celebrate the Commonwealth during a week of special events designed for families. Explore art and culture from across this unique partnership of 52 countries, which together represent a third of the world's people – you'll be able to create your own masterpiece celebrating the cultures of the Commonwealth, enjoy performances by Commonwealth dancers, musicians and storytellers and discover the history and meaning of the flags of the Commonwealth nations.
Where: Westminster Abbey, 20 Dean's Yard, London SW1P 3PA
When: 12-16 Feb, 10am-3.30pm
Need to know: Family ticket costs from £45 online.
Image: © Westminster Abbey
Neolithic Knowhow
What: Brush up your Stone Age skills this February with English Heritage and award-winning animation studios Aardman as they celebrate the release of Nick Park's EARLY MAN with a brand-new quest at 13 sites across the UK. Take part in the special Neolithic trail and successfully follow the clues to receive an Aardman model making kit, as well as entry into a special competition to win tickets to a VIP screening of the film at Stonehenge.
Where: Stonehenge and Old Sarum in Wiltshire, Beeston Castle in Cheshire, Dover Castle in Kent, Battle Abbey in East Sussex, Carisbrooke Castle in Isle of Wight, Scarborough Castle in North Yorkshire, Belsay Hall, Warkworth Castle and Hermitage in Northumberland, Audley End in Essex, Eltham Palace in London, Framlingham Castle in Suffolk and Bolsover Castle in Derbyshire.
When: 10-18 Feb, 10am-4pm
Need to know: Event free with admission. Prices vary with venue.
All In The Game
What: Calling all tech-heads! Take a trip to Kent this half term for GEEK, a three-day festival of play and gaming at Dreamland in Margate. Packed with future technology and retro favourites, it celebrates all aspects of gaming including board games, computer games, retro and next generation, card games and real world games. You'll be able to celebrate 40 years of Space Invaders, visit a Minecraft cave, master some serious lightsaber skills at the Jedi Fight Academy as well as taking part in coding and board game workshops.
Where: Dreamland Margate, Marine Terrace, Margate, Kent CT9 1XJ
When: 16-18 Feb, 11am-6pm
Need to know: Family day ticket from £35.
Back to (Knight) School
What: Grab your sword, don your helmet and defend the capital's most famous fortress at the Tower of London's Knight School this half term. Travel back to a world of heraldry and valour and learn manners, etiquette, entertainment, martial prowess and fitness. Medieval pages will provide schooling in jokes and dancing, squires will teach swordsmanship and chivalric duties and there's even a knighting ceremony to make sure you're ready to defend the Tower and keep it safe from any marauding peasants. You can also make and decorate your own helmet and shield, as well as trying on medieval fashions.
Where: Tower of London, London, England EC3N 4AB
When: 10-18 Feb, 11am-3.30pm
Need to know: Event free with admission. Family ticket from £53.20 online.
An Awfully Big Adventure
What: Set off on a very big adventure this holiday thanks to Seven Stories, The National Centre for Children's Books in Newcastle. Inspired by the Enid Blyton classics you'll find a fun-packed programme of mysteries to solve and secrets to discover with plenty of intriguing (if suspicious) characters along the way. Head on up to the Seven Stories Clubhouse for Blyton-inspired storytimes, get arty and explore the Enid Blyton archive at a mysterious creative session or construct a secret hideaway for your secret club meetings with some drop-in den-building. You can also go on a mystery torchlight adventure after dark to help solve the mystery of the missing manuscript!
Where: Seven Stories, The National Centre for Children's Books, 30 Lime Street, Ouseburn Valley, Newcastle NE1 2PQ
When: 10-18 Feb 2018, 10am-4.30pm
Need to know: Event free with family ticket (£23.10).
Body Matters
What: Get set for a range of biological-based workshops looking at the human body held in a unique cell-shaped pod suspended above the laboratories of London's Blizard Institute. You can learn all about DNA, take a weird and wonderful journey with your gut or even unlock the mysteries of the human heart.
Where: Centre of the Cell, Blizard Institute, 4 Newark Street, Whitechapel London E1 2AT
When: 12-16 Feb, 10.30am-4.15pm
Need to know: Adults cost £7.50, children (3-15) £5.50. Book online or call 020 7882 2562.
The Play's The Thing
What: Catch a performance of Much Ado About Nothing against the backdrop of Shakespeare's Globe theatre with this new production specially designed for young people. The full-scale, fast-paced 90 minute performance is packed with intrigue, double crossing and plenty of laughter and a perfect introduction to Shakespeare for families.
Where: Shakespeare's Globe, 21 New Globe Walk, Bankside, London SE1 9DT
When: 24 Feb-20 Mar, 2pm, 6pm or 7pm
Need to know: Tickets from £5-£15.
Ready, Get Vet, Go!
What: Animal lovers can experience first-hand what it takes to be a vet at the UK's largest zoo this half term, with Whipsnade's unique Vet Hospital. Celebrating the work of the zoo's veterinary team, budding vets will be kitted out in gloves, hairnets, face masks and shoe covers before being placed at the heart of the action in a specially created surgery. The team will demonstrate how they examine, X-ray and perform treatments and explain how they keep Whipsnade's 3,000 animals fit and healthy.
Where: ZSL Whipsnade Zoo, Dunstable, Bedfordshire LU6 2LF
When: 10-18 Feb, 10.30am-12pm, 2.30-3.30pm.
Need to know: Event free with admission. Family ticket costs £70.50.
Watch With Mother
What: Meet some much-loved children's television characters at Wolverhampton Art Gallery thanks to family friendly exhibition Clangers, Bagpuss & Co showcasing the work of animators Oliver Postgate and Peter Firmin. Meet snuggly old cloth cat Bagpuss, the Soup Dragon and Noggin the Nog and learn how Smallfilms developed their own stop-frame animation techniques before having a go yourself using 21st-century technology. You can also check out the TV Puppets: Icons from 80 Years of Entertainment exhibition featuring the earliest TV puppets such as Muffin the Mule, as well as Lady Penelope and Parker from Thunderbirds, Basil Brush and caricatures from ITV's Spitting Image.
Where: Wolverhampton Art Gallery, Lichfield Street, Wolverhampton, West Midlands WV1 1DU
When: 10 Feb-29 April, 10am-4pm
Need to know: Exhibitions and entry, free.
Festival Fun
What: Children in Luton can get the best of the fest this half term as Feb Fest comes to town. With more than 16 different theatre and arts activities at venues, you can catch performances including Tidy Up! by Peut-Etre Theatre, First Person by Zest Theatre, Lyngo Theatre's Tom Thumb, A Square World by Daryl Beeton and A Heart at Sea by Half a String as well as taking part in music, dance theatre and prop making workshops.
Where: Venues across Luton
When: 10-16 Feb, times vary.
Need to know: Prices vary with activity/event. Many are free.
Two Is The Magic Number
What: Discover a poo with a view, thanks to a new show all about what gets flushed away at Newcastle's Life Science Centre. Number 2 – the poo show explores the weird and wonderful world of waste, from the cubed droppings of wombats to how astronauts manage to poo in space. The science behind household sanitation will also be covered, revealing why there's always some water in the toilet bowl.
Where: Life Science Centre, Times Square, Newcastle upon Tyne, NE1 4EP
When: 16 Jan-18 Mar, 10am-6pm
Need to know: Event free with admission. Family ticket costs £34.
A Bug's Life
What: Scuttle off to Down House in Kent and celebrate Charles Darwin's birthday creepy-crawly style with a hands-on encounter with insect species from around the world. You'll be able to touch an Emperor scorpion, have a red knee tarantula on your shoulder and come face to face with a giant millipede while learning about classification, adaptation, habitats, camouflage, predators and prey, life cycles and more!
Where: Down House, Luxted Road, Downe, Kent, BR6 7JT
When: 11 Feb, 11am-4pm
Need to know: Event free with admission. Family ticket costs £30.70
Fit For A King
What: Mix and match colour to make a mini masterpiece inspired by the RA's current Charles I: King and Collector exhibition at this arty workshop. You'll discover secret tricks and tips for painting people as you make use of dazzling props. You can also try on lush costumes to accompany your family portrait, which you can take home and treasure forever.
Where: Royal Academy of Arts, Burlington House, Piccadilly, London, W1J 0BD
When: 11 Feb, 11am-3pm
Need to know: Free, drop-in.
Roll Up, Roll Up!
What: Tumble along to Eureka! and celebrate 250 years since the creation of the circus with two weeks of thrills and spills. Be amazed by fire-eating and knife-juggling entertainer extraordinaire The Great Mandavi, join Circus Sensible for an interactive show in the Little Big Top and have a go at stilt walking, plate-spinning, slack-lining and more! You can also catch the Ringmaster and street performers out and about with circus tricks to entertain all ages.
Where: Eureka! Discovery Road, Halifax, West Yorkshire, HX1 2NE
When: 10-25 Feb, 9am-5pm
Need to know: Events free with admission. Tickets £12.95 per person.
Tough Mudders
What: Be prepared for rain or shine this half term, with a week of mud-based fun at RHS Hyde Hall in Essex. Take part in the Great British Mud Pie Off and see if you can make a prize-winning mud pie, create and decorate your own scarecrow and take part in some muddy puddle jumping as well as following garden trails and taking a spin on a vintage tractor.
Where: RHS Garden Hyde Hall, Creephedge Lane, Rettendon, Chelmsford Essex CM3 8ET
When: 13-17 Feb, 10am-3pm
Need to know: Family ticket from £28 online. Craft workshops: £2 per child. Scarecrow making: from £7 per kit. Booking essential on 020 3176 5830.
In the Dock
What: It's judgement day for parents at Attenborough Arts Centre thanks to fun interactive comedy show, Kids' Court. Part of the Leicester Comedy Festival, the judge, prosecution and defence will all be played by local comedians with children getting their chance to put their parents (or older siblings) on trial. The audience then helps them decide if they are guilty or not – and devises a suitable penalty for their misdemeanours!
Where: Attenborough Arts Centre, University of Leicester, Lancaster Road, Leicester LE1 7HA
When: 14 February, 1.30pm-2.30pm,
Need to know: Family ticket costs £15.
Beside The Sea
What: Get set for some sea life shenanigans with the National Marine Aquarium in Plymouth and find out more about the UK's coastal waters and its unique marine life. Partnering with organisations including RSPB, Devon Wildlife Trust and Shark Trust, you'll meet scientists, conservationists and marine heroes who all champion ocean conservation and learn about the threats facing native marine life and the actions you can take at home to help. There will also be plenty of activities, games and ocean adventures too.  
Where: National Marine Aquarium, Rope Walk, Coxside, Plymouth PL4 0LF
When: 10-18 Feb, 10-5pm.
Need to know: Events free with admission. A family ticket costs from £48.15.
Horses For Courses
What: Celebrating the final weeks of their Michael Morpurgo: A Life Time in Stories exhibition, be inspired by his stories, at the V&A Museum of Childhood this holiday. You can work with set designers and puppeteers to bring stories to life, enjoy live performances by Ben Murray, former War Horse National Theatre song man, take part in creative writing sessions, have a go at set design and even watch a puppet demonstration and make your own.
Where: V&A Museum of Childhood, Cambridge Heath Road, London E2 9PA
When: 10-18 Feb, 10am-4pm
Need to know: Workshops £5-10 per child
The Car's The Star
What: Experience a touch of class at Beaulieu this February thanks to the National Motor Museum's new display, The Luxury of Motoring. You can enjoy a taste of the finer things in life and discover what life was like for those at the top, then take a peek 'below stairs' to see how their chauffeurs, maids and cooks lived. And why not have a go at designing your own car mascot, recreate the iconic pose of the Rolls-Royce Spirit of Ecstasy and even create your own top hat?
Where: Beaulieu, National Motor Museum, Beaulieu, New Forest, Hampshire, SO42 7ZN 
When: 10-18 Feb, 10am-5pm
Need to know: Events included with admission. Family ticket from £49 online. 

Bag A Book Bargain
What: Fancy picking up some great family classics for free? Well, if you take part in this year's annual London Children's Bookswap you can! Just bring your old books to one of the family friendly cultural venues taking part across the city and swap them for a different read for absolutely nothing!
Where: Venues taking part include Southbank Centre, Museum of London and V&A Museum of Childhood.
When: Saturday 10 February, 11am-4.30pm
Need to know: Free - just bring some books to swap!
Ice, Ice Baby
What: Freeze is the word down in Bristol this February as you can spend an action packed day investigating all things ice related in the We The Curious Frost Lab. You can then warm up by mixing spices in the Kitchen, helping out fairytale heroes in the live science show and visiting far-flung worlds in the Planetarium before checking out the giant ball run and using your imagination to help create the most topsy-turvy-twisty-turny route possible.
Where: We The Curious, One Millennium Square, Anchor Road, Harbourside, Bristol BS1 5DB
When: 10-18 Feb, 10am-6pm
Need to know: Events free with admission. Family ticket from £39.50.
February 2018 half term holiday family activities in Wales
Make A Splash!
What: Have you got what it takes to be the Welsh puddle jumping champion? Well, grab your wellies and head to Llanelli! After rehearsing in practice puddles, you can visit the competition splash zone where extra points will be awarded for enthusiasm, creativity and the biggest splash. There's also bird watching, den building and craft workshops too.
Where: Llanelli Wetland Centre, Llwynhendy, Llanelli, Carmarthenshire, SA14 9SH
When: 17-25 Feb, from 9.30am-5m. Puddle jumping starts at 2pm.
Need to know: Most events included in admission. Family ticket costs from £23.95.
Perishing Pirates
What: Leave the scurvy landlubbers behind and set sail for a week of pirate-themed events at The Gower Heritage Centre. Take to the seas of your imagination in interactive stories, train to be a pirate and even find yourself a spot of treasure. You can also do some gold panning, get crafty or cross swords with infamous Captain Jack Sparrow and Captain Charlotte Duberry!
Where: Gower Heritage Centre, Parkmill, Gower, Swansea, SA3 2EH
When: 17-25 Feb, 10am-5pm
Need to know: Events free with admission. Family ticket from £25.
OK computers
What: Take a fun look at how science works in cartoons and computer games at this new show at the National Waterfront Museum. Find out if the laws of physics in cartoons and computer games are really that different from the scientific laws within our world, then check out the retro games and consoles in the Generation Game exhibition and follow the Pac-Man trail and make a clever dial decoder to uncover facts about some of the biggest technological innovations in history.
Where: National Waterfront Museum, Oystermouth Road, Maritime Quater, Swansea, SA1 3RD
When: 17 Feb, 10am-5pm
Need to know: Exhibition, events and trail are all free.
February 2018 half term holiday family activities in Scotland
Reach For The Skies
What: Jet off on a journey of discovery at East Lothian's East Fortune Airfield and discover more about the iconic Spitfire aircraft. Explore the two newly-open hangars, learn more about what the pilots who flew Spitfires wore, from their boots to their helmets, and try on a real WW2 flying jacket before making your way to the Education Centre to make and paint your very own Airfix Spitfire model to take home.
Where: National Museum of Flight, East Fortune Airfield, EH39 5LF
When: 10-18 Feb, 12 noon-4pm
Need to know: Events free with admission. Family ticket costs £31.
Trench Treasures
What: Meet old soldier Private Angus McNiven and discover how First World War soldiers made artworks in their spare time. Have a go at creating your own embroidered postcard, bullet aeroplane and engraved artillery shell case.
Where: The Black Watch Castle and Museum, Balhousie Castle, Hay Street, Perth PH1 5HR
When: 15 Feb, 11am-3pm
Need to know: Free with admission. Family ticket, £18.
Love Is All Around
What: Get a warm and fuzzy feeling at Loch Garten Osprey Centre by taking part in some Valentine's Day nature-themed make and do. Show nature you love it by joining in with a group art project and then make a wildlife friendly home to take back to your garden. You can also warm up with a hot drink and a chocolate brownie!
Where: Loch Garten Osprey Centre, Forest Lodge, Nethybridge, Inverness-shire, PH25 3EF
When: 18 Feb, 11am-2pm
Need to know: Costs £3 per child, £5 per family
February 2018 half term holiday family activities in Northern Ireland
Science Spectacular
What: Discover more about the wonderful world around you at Belfast's NI Science Festival – a yearly celebration of science, technology, engineering and mathematics. This year there's more than 100 events and workshops on offer, covering everything from pizza and puzzles, the science of Harry Potter and the Cabinet of Thoughts and Experiments to robots, beasties and dragons and some hands-on kitchen chemistry!
Where: Northern Ireland Science Festival, Innovation Centre, Queen's Road, Belfast BT3 9DT
When: 15-25 February, times vary.
Need to know: Prices vary with event
Make Some Noise!
What: Percussionists O Duo bring rhythm, beats, and wonder to Belfast with this fun family concert. Performing a mix of classical music suitable for the whole family on a selection of percussion including marimba, vibraphone, glockenspiel, drum kit and African and Brazilian drums, and a multitude of handheld instruments, the pair have performed across the world from the BBC Proms to the Melbourne Symphony Orchestra.
Where: Crescents Art Centre, 2-4 University Rd, Belfast BT7 1NH
When: 14 Feb, 2-3:30pm
Need to know: Tickets cost £5 per person.