How to get children involved in exercise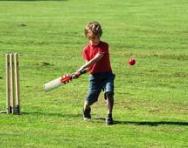 After long days at work and school, exercise is often the last thing on our minds, yet it's crucial for our good health. What can we do to keep active as a family? Emily Organ finds out.
The word 'exercise' is enough to make many people groan. Lots of us could do more to be physically active and we need to encourage our children to  exercise, too.
Young children are naturally active but as they get older they spend more time on sedentary activities, such as watching television and playing computer games. Children are also more likely to travel by car than walk or cycle and worries about 'stranger danger' keep children indoors more than they used to be.
Benefits of exercise
James Metcalf, a member of the British Gymnastics Association, has taught children and adults for seven years from basic 'tumble tots' to regional level. He says, "I think children should exercise as it has too many benefits not to! Physically it burns fat, develops balance, strength, flexibility, stamina. Mentally it can reduce the likelihood of depression, boost confidence and can lead to wider skills in socialising, analysing problems, leadership and goal setting. For a parent trying to equip their child with the best tools to tackle life, physical exercise is a great asset."
The Government recommends that children do 60 minutes of moderate intensity physical activity each day, yet there are regular headlines about child obesity. According to the NHS Information Centre the prevalence of obesity in children aged 2-15 increased from 11% to 17% in boys and from 12% to 15% for girls between 1995 and 2008. Currently one in ten children aged 2-10 is obese. There are dietary factors involved here too, but there's no doubt that more regular exercise can help. So why not try one of these activities:
Swimming
This doesn't have to be endless lengths of front crawl. Find a pool with water chutes, flumes, waves and other fun features and the children will have hours of fun. Most adults like an excuse to slide down a water chute, too!
Walking
You can combine a walk with a nature trail or take a spotter's book which the children can use to tick off things they find. Don't be put off by bad weather, children love splashing in puddles as long as they have the right clothes to keep them warm and dry.
Team sports
If your child enjoys kicking, throwing or hitting a ball about then look for local sports clubs for football, cricket and hockey. Training sessions are at least once a week and it's a chance to make new friends and have fun too.
Dance
It's not just for girls, but is also becoming very popular with boys. There's a choice for everyone from the traditional ballet and tap to street dance.
Active days out
There are lots of exciting days out you can have together. Try a climbing wall, ice skating, indoor skydiving or skate boarding. There are a few indoor snow slopes in the UK where everyone can have a go at skiing or snowboarding. And many riding schools can offer family hacks which are suitable for all abilities. Or why not get on your bikes and go cycling for the day?