The importance of children's play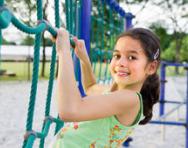 Play helps a child develop their creative abilities, and takes them into a fun, positive and imaginative world where anything is possible. We explore the benefits of play and offer top tips on how you can encourage all the family to join in.
All children participate in creative play, and seven year-old Adam is no different. He darts across the lounge, crashes to his knees, and then rolls over the sofa cushions that litter the floor. As he positions himself between the turned-up legs of the coffee table to get a good view of the enemy advancing, it is clear that he's engaged in some serious play.
At that point mum, Sharon, enters the room and almost throws a fit. "Adam!" she snaps. "Put those cushions back on the sofa! Can't you see I'm trying to tidy up."
To Adam's mother he's created a mess, to Lieutenant General Adam World it's up to him to save the world and little else could be more important.
This is a fine example of the 'Peter Pan syndrome'. In Steven Spielberg's 1991 sequel, Hook, a stern and grown-up Peter Pan is forced to return to Neverland to fight Captain Hook but has no power because his imagination has completely shut down. If Peter is to save his children from the evil Hook he must rediscover that special place inside where wonder and imagination lives.
Similarly, as parents, we sometimes need little reminders from our children to stop, kick off our shoes and get into the mindset of being a child.
What is important about imaginative play?
Nineteenth century literary critic George Bernard Shaw said, "We don't stop playing because we grow old; we grow old because we stop playing." And we can all remember, as children, pastimes that used to occupy us for hours on end that today we would probably view as folly.
But child development experts all agree that play is a child's 'work' – it's the job they do to each day. And they take it very seriously. Play develops children's physical, emotional, social, mental and creative abilities. It helps them practise hand eye coordination, to develop the physical agility to run, jump, walk and balance. Through play a child learns the social etiquette of taking turns, developing awareness of other people's views and feelings. Plus they learn how to problem solve and develop curiosity and intellect.
A child's eye view
Working with child expert Dr Pat Spungin, the Toy and Hobby Association asked 1,000 primary school children what advice they would give to their parents to try to make play more fun. Here are their top 10 tips:
Parents to spend one on one time together with us children. Make time to play, spend more uninterrupted time together, give each child special time
Go to the park and play sports together, such as football, cricket and catch, and go on a bike ride
Play board games, cards or puzzles as a family
Dad to not go on the computer as much and mum to not do as much housework
Play games such a piggy in the middle, chase, hide and seek and skipping
Days out together to the zoo, museum, theatre, cinema and bowling
Bake and cook together
Make things and doing arts and crafts, such as painting, pottery, writing stories or making face masks
Parents come home from work earlier
Be funny, playful and silly by telling jokes. Be more impulsive, laugh more and jump in puddles!