Easy outdoor learning adventures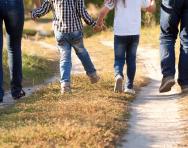 Exploring the outside world is an important part of a child's learning experience, but it's not always easy when you have space and time limitations. We've compiled a list of fun, simple suggestions to keep families connected to nature without having to go far or break the bank.
For most of us, getting out and about with our children is important but not always easy.
It can be difficult to encourage kids to explore and go for walks when the comfort of home (and screen time!) is more appealing. Where you live and what space you have available can also make a big difference – these tips were made with that in mind.
Whether your home is surrounded by fields and forests, or you live in a town or city with buildings and vehicles on all sides, there's something for everyone to explore and try out. 
Mini outdoor research projects 
Next time you go on a walk with your children, try picking a plant, a vehicle or a building to take notes on and research later at home. This can involve writing down size, shape and colour. If it's a plant, how many leaves does it have and what do they look like? If it's a car, how many wheels does it have and what colour is it? If it's a building, how tall is it, how many windows does it have, what is the shape of the roof? Is it a home for a family, or a building for a business? Once you have your notes, go home and do a little research, maybe even draw the object from memory.
What can you find out about the plant/car/house? Does it have a name/type/history? If it's a red car that had a symbol on it, what did the symbol mean? It might be a good idea to jot down a list of questions or features that you want the kids to focus on and find out about before you go on your walk.
Outdoor research extra help: 
Bug catching and insect habitats  
Minibeast observing is a classic outdoor pastime and there's usually no shortage of insects, regardless of where you live. You can buy cheap bug-catching kits online or just grab a few things from the kitchen to make your own. You may need to really hunt for some creatures, while others may crawl into your house!
This can be a good time to teach kids about living creatures and treating them gently, freeing them after they have had a look at them. If you'd rather not catch them, keep an eye out for habitats and signs of insects instead.
See how many spiderwebs are in your home, garden or out around the street. If it's an old cobweb you can grab it and let the kids have a feel. Ants are another common insect found in many places. They can be good ones to observe; discuss their behaviour and movements and find out more with some research. 
Minibeast observation extra help: 
Counting games
This is a simple idea that involves, you guessed it, counting! Anything and everything can be counted in a basic counting game: cars, windows, clouds, trees, people, feet, street signs and so on.
If you want to make the game a little trickier and more mathematical, you can ask your child to add numbers together. You can do this quite easily with things like door numbers. To keep it simple you can ask them to add a house number with two digits together, for example, the number 35. What is 3 + 5? Or if you want to throw multiplication in there, what is 3 x 5? 
Counting games extra help: 
Mapmaking
Try making a map of the walk you would normally go on or are planning to take. If you can create it from memory, any mistakes will add to the entertainment! Include checkpoints and mark them with a symbol on your map. Perhaps when you get to the corner of your road there is a checkpoint and you collect 5 points, or you have to complete a task like jumping on the spot.
You can even turn your map into a pirate's treasure map with a big X somewhere to mark the treasure. Include instructions like 'go left' or 'turn around' to help develop your child's spatial awareness and vocabulary.
Mapmaking extra help:
Different movement from A - B
This one is fairly self-explanatory. Try getting from one point to another by skipping, jumping, running, behaving like an animal, twirling and any other way you can think of! It's great for physical fitness, creativity and you can include elements of teamwork too.
You can bring a ball and ask your child to pass it to you or someone else in the family, but once you are holding the ball you can't move anywhere. Only when you throw it to the next person can you then move forward on your path, so that each person is passing the ball and moving a bit at a time in a forward direction until you get to your 'checkpoint'. You can also try funny walks, and include a competitive element – who can do the funniest walk or the most creative move?
Movement challenges extra help: 
Find five objects beginning with…
Start at the beginning of the alphabet and ask your child to find five things beginning with A on your walk; next time ask them the same but for things beginning with B and so on. Feel free to adjust the amount if you think it's too tricky. Maybe start with three things and vary the number depending on how difficult it may be to spot things beginning with that letter (X and Z are going to be difficult ones to find!). This game is great for counting, speech development, letter learning and reading. 
Dress up walk
This one is great fun – simply take a walk in fancy dress! This can be a costume or your pyjamas, or you can try wearing each other's clothes for extra comical effect. You can really go wild with this one and let your child pick your outfit for you, but just a warning: it may get crazier and crazier each fancy dress walk that you go on...
You can all really get into character and act your parts for the whole walk or mess around and behave in the exact opposite way to how your character would act (a nervous superhero or dog-like cat!). It's entirely possible your family will start looking like something from the Mad Hatter's tea party! 
Dressing-up walks resources:
Planting seeds
Gardening may seem like a lot of hassle, especially if you have a small garden or no garden at all, but it doesn't have to be. You usually just need some soil, seeds and pots and to do a quick bit of research on the seeds you have so you know when to water them and how much sunlight they need. Some plants, like cress, can be really easy to grow at home on the windowsill. All you need are cress seeds, paper towel and plates or trays! Cacti are really easy to keep alive and usually very cheap to buy, and they can come in all shapes and sizes. Venus Flytraps are also quite easy to keep alive and you can purchase grow-your-own kits that are simple to use. 
Kids' easy gardening extra help: 
Litter picking
Litter picking may not sound like a lot of fun, but you'll be surprised how much kids enjoy using a litter grabber and the sense of satisfaction when the street looks cleaner. It's a great activity to encourage children to think about the planet and caring for our environment and where we live. All you need is a litter grabber and a couple of bags for the rubbish and you can scan for litter as you go for your family walk. Maybe count how many pieces you each get and make it into a game. You can even create a litterbug superhero game and pretend you're saving the world (in your own small way). 
Litter picking extra help:​
Photography practice
Photography is a fantastic, creative pastime and primary school children of all ages can learn to use a camera and there are so many apps that can help with basic editing or making fun filters. There are many ways to enjoy photography and you can try different tricks on different days. Maybe one day you go outside and take a picture of a still object that is green or blue, next to something of a different colour for contrast, and on another day you take a picture of a shadow and note how light and dark make a difference to an image. You can try out different perspectives and do some silly things with objects that are closer and further away. For younger children, you can simply ask them to take a picture of the thing they liked the most on their walk and then talk about why afterwards. 
Photography for kids extra resources:
Make stick wands
It's surprising how a stick, with a little bit of imagination and maybe some glitter, can become something magical. Make a wizard's wand with any old stick you find on your walk. Kids will most likely spend a while picking the perfect one and will be excited to start casting spells. You can keep it simple and use your stick as it is, creating magical spells that can turn family members into frogs, or you can use some arts and crafts items to spruce it up a bit. You can also encourage the kids to pick up items on their walk that they need for a magical potion, like rocks or leaves or dandelions. Harry Potter fans will love this activity! 
Stick wands extra help: 
Circuits/obstacle course
You don't need a lot of space or any crazy items – just need a creative mind and willing children! If there are cracks in the pavement, then make sure you hop, jump, skip over them to safety. Do jumping jacks for 30 seconds and then hop on one leg until you get to the next corner. If there's an obstacle on the pavement, maybe a can or a big stick, make sure you leap over it or twirl your way around it. You'll find loads more ideas for easy, low-prep obstacle courses online.
Pavement chalk is great for adding to the obstacle course and making it more visual. If you have a garden you can make this a circular obstacle course and do circuits, perhaps getting the children to write down what needs to be done and sticking them outside in the correct place. For instance, placing a '5 jumps on the trampoline' sign on the trampoline or a '4 forward rolls towards the backdoor' sign a reasonable distance away from the back door! Get inventive and use things like ladders, hoops and buckets. 
Recording sounds and doing an outdoor interview 
If you have a recorder (maybe on your mobile phone) try getting the kids to record different sounds on your walk and play the recording back afterwards, either remembering what the sounds were and where they came from or thinking of similar sounds that they could be mistaken for. This is a good way to engage their senses and get them to focus on the world around them. It can also be a good memory game and spark some creativity when trying to compare sounds to other sounds. 
A fun one for any child is doing a mock interview or podcast outside. You don't have to record it, you can just pretend but sometimes it can be fun to listen to it afterwards. Take turns in being the interviewer as you stroll along, asking your pretend expert/celebrity/book character questions about their life or the things that you see. It can get as silly or as serious as you like! The interviewee can answer as themself or as a famous person or book character. If you do decide to record it, it'll make for a wonderful memory to listen to in later years – just be aware of windy weather and sound issues. 
Sound recording extra help:
Road sign games
For this, you can write down a list of road signs for children to spot along the walk, or you can focus on colour and ask them to spot as many red road signs as possible. For older children, try getting them to practice converting miles into kilometres when they see a speed sign. See if they can also guess what each road sign might mean. 
Road sign games extra help:
Weather watching
The weather is a great source for learning about the outdoors and uses all of the senses. Encourage your child to think about the weather on their walk, how does it make them feel (cold, sweaty), what does it look like (are things brighter, darker, greyer). Ask them to predict what the next walk will be like and see if they can get it right, or maybe tally how many walks have been dry and how many have been wet and base their next prediction on that. Ask them to layout the appropriate clothes for the next day depending on what their prediction is.
Maybe they can keep a weather journal with all of the things they have noticed or learned about the weather each day. They could also monitor the clouds and make a note of when there are clouds in the sky and when there aren't and if this can tell them anything about the weather. 
Weather watching extra resources: