Learning through Minecraft
You may think it's just another video game – albeit a particularly addictive one – but Minecraft could have educational benefits too…
Unless you've been living under a stone for the past couple of years, you're probably well acquainted – through your child – with the world of Minecraft. Officially released in 2011, the game now has over 22 million users on PC and Mac, and many more on Xbox, Playstation, tablets and phones.
Claim four puzzle packs!
Word Puzzle Packs
Numeracy Puzzle Packs
Challenging and exciting |  Boost key skills
Minecraft revolves around breaking and placing blocks to create structures. There are two modes: creative, where you have unlimited resources that can be used to build elaborate structures, and survival, where you need to craft and create structures to protect yourself from the monsters that come out at night.
The game may seem like a huge timewaster for your primary school child, but according to Graham Bridge, who runs Minecraft-based computer clubs across Hertfordshire and holds workshops for parents, it has many educational benefits in and out of school. 'It can show children everything from how to code to how electronics work, but parents don't know enough about it and quite often hold back their children's learning because they don't appreciate its value,' he says.
 How could playing Minecraft give your child's learning a boost?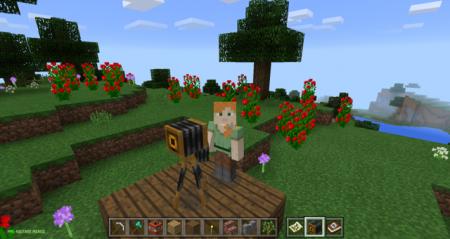 Learning through Minecraft in schools
In schools, Minecraft is being used to teach a wide range of subjects, with a special version – MinecraftEdu – having been developed especially for use in the classroom.
'There's huge educational value in the creative mode in particular,' says Graham. 'It relates especially well to STEM subjects, as children can create all sorts of buildings, machines and circuitry just using the materials within the game.'
There are many examples of how Minecraft is being used in schools to promote learning across the curriculum. For example:
Maths: children can develop their abstract reasoning and problem-solving skills by analysing situations and visualising solutions.
Literacy: children have used Minecraft to build their own interpretations of the fairy worlds in Shakespeare's A Midsummer Night's Dream.
Writing: children can be given writing tasks such as, 'Explain the story behind what you're building' or, 'Who are the characters in your made-up world?'
Geography: one project involved children using TNT to flatten the centre of Stockholm and then rebuild it, with features including roof gardens and swimming pools.
History: children might be asked to recreate 17th century London houses and then plan and build their own digital versions of the buildings on Pudding Lane where the Great Fire of London started.
Physics: using a mod such as ProjectRed, children can use wires, logic gates and circuits to build light and movement sensors.
Biology: Minecraft is used to make models of a plant and animal cell.
Computing: MinecraftEdu teaches coding by getting children to program turtles to perform commands.
'Setting children challenges helps them to develop their research and problem-solving skills, and the outcomes can be quite complex,' Graham says. There's also an important social side to Minecraft, with children working collaboratively on projects and problems.
The MinecraftEdu website has an expansive World Library where worlds relating to subjects as diverse as multiplication, navigation and Ancient Rome are available for teachers to download and use in their lessons. These are categorised by subject and age, so that teachers can pick activities that are a good fit for their class.
One school that is using Minecraft to great effect in the classroom is Lings Primary School in Northampton. 'Using technology in the classroom has helped children take a more active role in their own learning, improve their levels of attainment and, crucially, have more fun at school,' says headteacher Leigh Wolmarans.
Minecraft clubs
Many schools have tapped into the popularity of Minecraft and are running after-school Minecraft clubs, either led by a member of staff or by an outside agency. Children can be set projects such as measuring the perimeter of the school and then recreating it in the game, or setting up a scavenger hunt leading to a chest of diamonds. There's also often the opportunity for free play.
Learning through Minecraft at home
It might seem that all your child does on Minecraft is blow things up, but it can provide them with learning experiences at home too. 'One of the best ways to do this is to set your child a challenge, such as: "Can you build a Minecraft railway?"' suggests Graham. 'Challenges like this not only test their problem-solving skills but also develop their research skills as they look up solutions on YouTube and work out the best way to tackle the challenge.'
During the coronavirus school closures, Minecraft has made free lessons and worlds available to use for remote learning. Why not build a tree house, explore the human eye, become a marine biologist and roam through Washington DC in block form?
Several high profile organisations have also launched Minecraft learning tools for children to use at home. For example, the Tate Gallery's Tate Worlds are eight worlds inspired by classic works of art with stories and challenges relating to each piece.
But the most important thing, if you're hoping to encourage your child to use Minecraft as a learning opportunity, is to show an interest. 'Simply sitting with your child and asking them to explain what it's all about and how it works can encourage some great conversations,' Graham says. 'Helping you learn is empowering for your child and will boost their confidence and communication skills.'