Museums reviewed by parents: The Life Science Centre
An award-winning visitor attraction and educational facility, Newcastle's Life Science Centre is packed with hands-on science opportunities for everyone from toddlers to teens (and parents too!). Jo Dunbar got stuck into experiments and exploration with her children William, age 5, and James, age 3.
Download fantastic science resources today!
Experiments And Science Fun pack
Science Learning Programme for each school year
All the instructions, questions and information you need
There's opportunity for children to have plenty of hands-on time and the exhibits and activities are thought-provoking. Topics on show change every few months and we found there were plenty of knowledgeable staff with a real passion for science.
Best for Nursery and Reception
The Young Explorers' Zone upstairs has a huge range of imaginative play for little would-be scientists. From wooden building blocks (complete with dress-up hi-viz jackets and hard hats) to a large play shop complete with plenty of stock, several wooden train sets plus some soft-play plastic shapes to build with and climb on, this area will be a hit with the youngest members.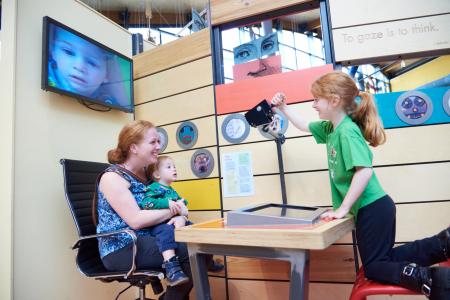 Best for KS1
The Making Studios allow everyone to get creative and try their hand at making something. This changes continually so whether it's poetry via robots, building a bridge, designing a rocket or creating a poster, everyone can get stuck in.
The Planetarium shows a variety of short films which are short enough for kids' attention spans but also introduces them to aspects of science and the planet with simple explanations. We watched a 15-minute show, 'Naughty Monsters in the Sky' about the night sky that had our children rapt
Best for KS2
The experiment zone includes hands-on science experiments that will appeal to most KS2 children who like to get stuck in. Kids can carry out practical experiments and be scientists for the day. 
There's a host of exhibits and activities on offer that looks at senses, communication and how the brain reacts and stores information. Touch screens ask questions and allow children to see what happens if they press different buttons.
Don't miss
If children are over 120cm tall then there's the opportunity to go on 4D motion rides such as The Legend of Apollo where riders can experience the Apollo 15 mission.
Half-term and holiday events for families
Educational workshops, guest visitors, and theme days run throughout half-terms and holidays. For more information take a look at the What's On section online. 
Food and drink options
The Life café serves up a choice of hot dishes ranging from chili to fish and chips and jacket potatoes plus there's an option to buy a kids' lunchbox deal. Staff members have access to a folder about any food intolerances to ensure there is something for everyone. Alternatively, bring your own food and sit in the designated indoor picnic area. There's also a Starbucks café connected to the centre which is for public use.
Getting there, prices and opening hours
Life Science Centre,
Times Square,
Newcastle upon Tyne NE1 4EP
Located very close to Newcastle's Central Station for rail and Metro travel, plus there is parking situated nearby if you are traveling by car.
Opening times and admission prices change on a regular basis so it's best to check their website first before visiting.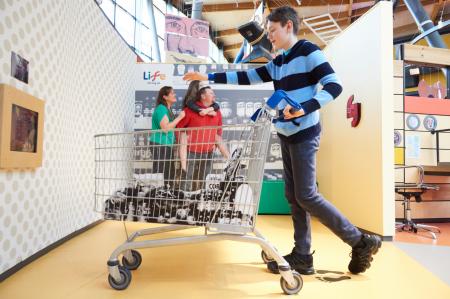 Pocket money purchases
There's a range of space-related games and books plus some more pricey science kits as well as make your own slime. Especially popular in our party was Goodnight Spaceman by Michelle Robinson and Nick East, £6.99.
Online treasures if you're too far to visit
The centre has a fantastic YouTube channel demonstrating some of its creative experiments and displaying what it has to offer throughout the year.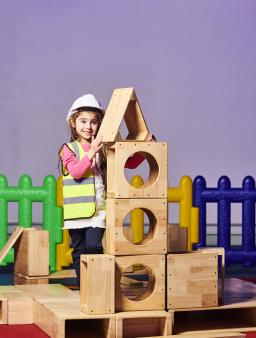 Links to the National Curriculum
Fossils (KS2) 
Recycling (Reception) 
Space and stars (KS2)
Forces (KS2) 
Plants and animal adaptation (KS1)
Maths (KS1 and KS2) 
Coding (KS2)
Micro-organisms (KS2)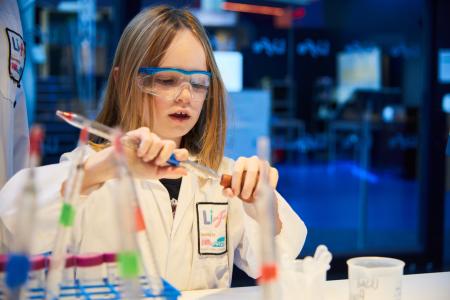 Museum reviews for parents: we need YOUR help!
TheSchoolRun is looking for families to visit museums and other educational venues around the country and 'review' them. Get in touch to have your say about the best family days out (with a learning twist!).